A Business and vacation trip to Italy:
To Rome
Recently I was invited to speak at a meeting in Rome, in one of my favorite Countries in the world, Italy. In Rome you have the beauty of Italy, it's culture, history, food, people, language and it's ambiance. Since I love food, drink and friends, it was just heaven.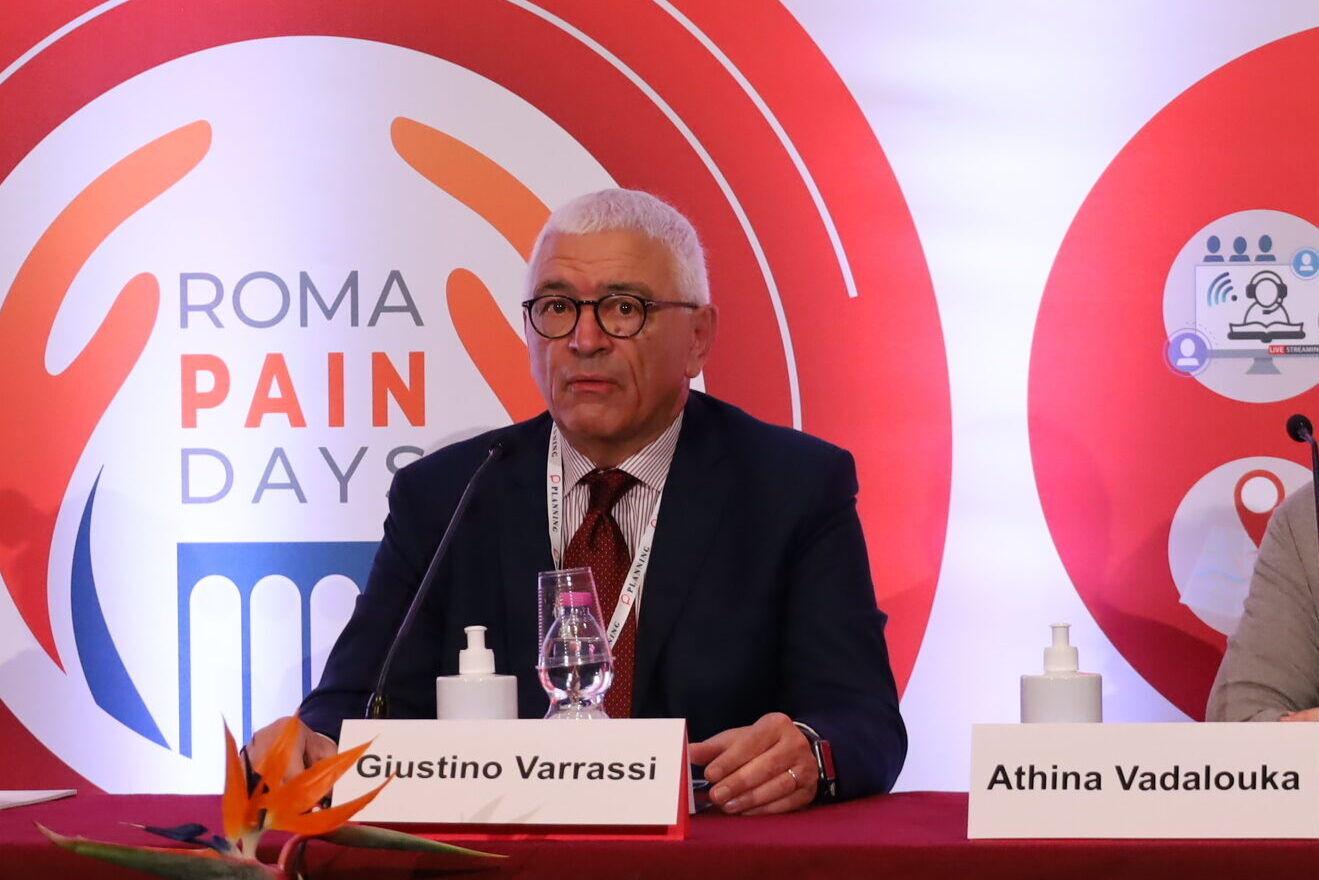 Pizza in Rome?
After checking into the hotel Grand Pallidino I walked a short few blocks to a small Trattoria and had pizza. My good friend Giustino Varassi told me not to have pizza in Rome, as Naples is the "only place for pizza in Italy". However, this margarita pizza was just the thing I needed for lunch, along with a cold beer, after my long flight from the USA. I was not allowed to sit inside, since I didn't have a "green card", nor my CDC vaccine card. I carried it everywhere after this. Note the bottle of Olive Oil that has been steeped with Calabria chilis. I poured this liberally over my pizza, yum!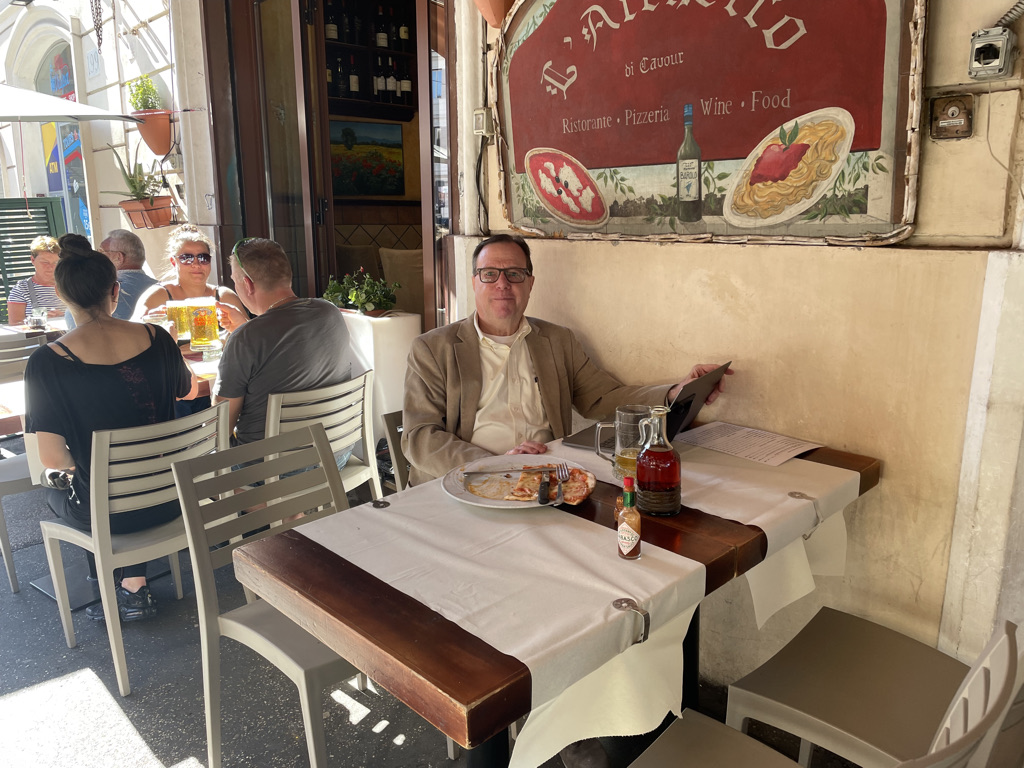 Antica Pesa: The Restaurant
The meeting was a great success with over 1000 attendees in person or virtually. The meeting planners and organizers treated the speakers and moderators very well and our culinary desires were all completely satisfied. We had 3 group dinners, the first was in a restaurant called Antica Pesa. Located on via Gariabaldi in Rome. A wonderful dinner in a very nice atomosphere. The food was squisito (delicious)!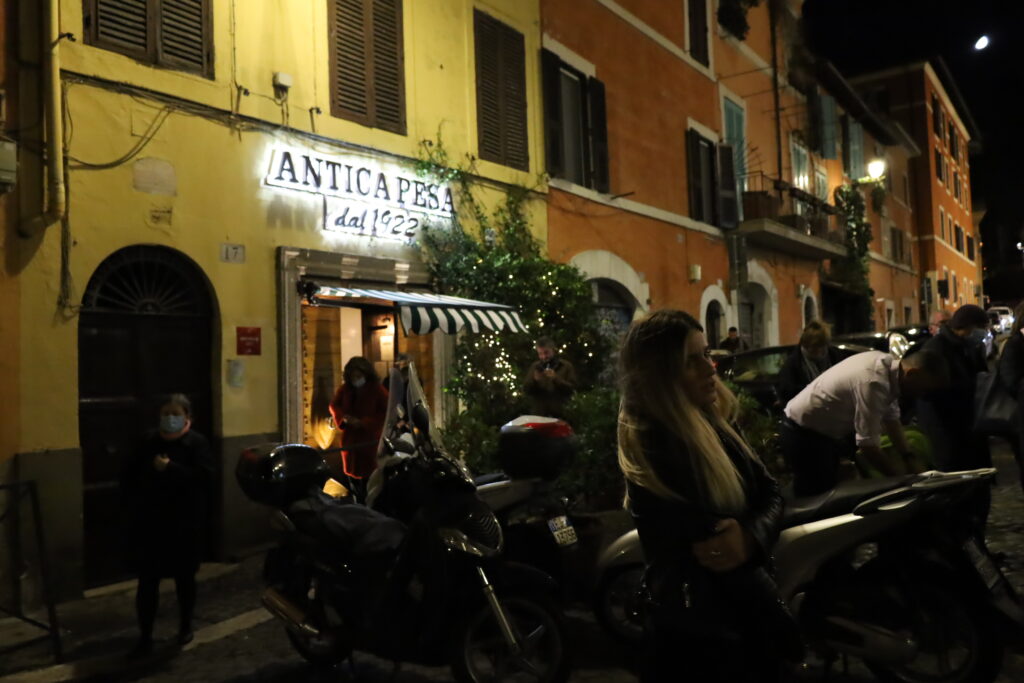 Filletto di vitella alla saltimbocca, patate e peperoni saltate (or Veal fillet with saltimbocca, potatoes and sautéed peppers) was wonderful. The potato was firm, yet melted in your mouth. Along with the sauce it made a very savory combination. The veal was tender and flavorful, just a hint of salt, again the sauce added to the savoriness of the meat. The peppers were not hot, but soft, tender with just a hint of spice. The picture doesn't do justice to the taste or the dish.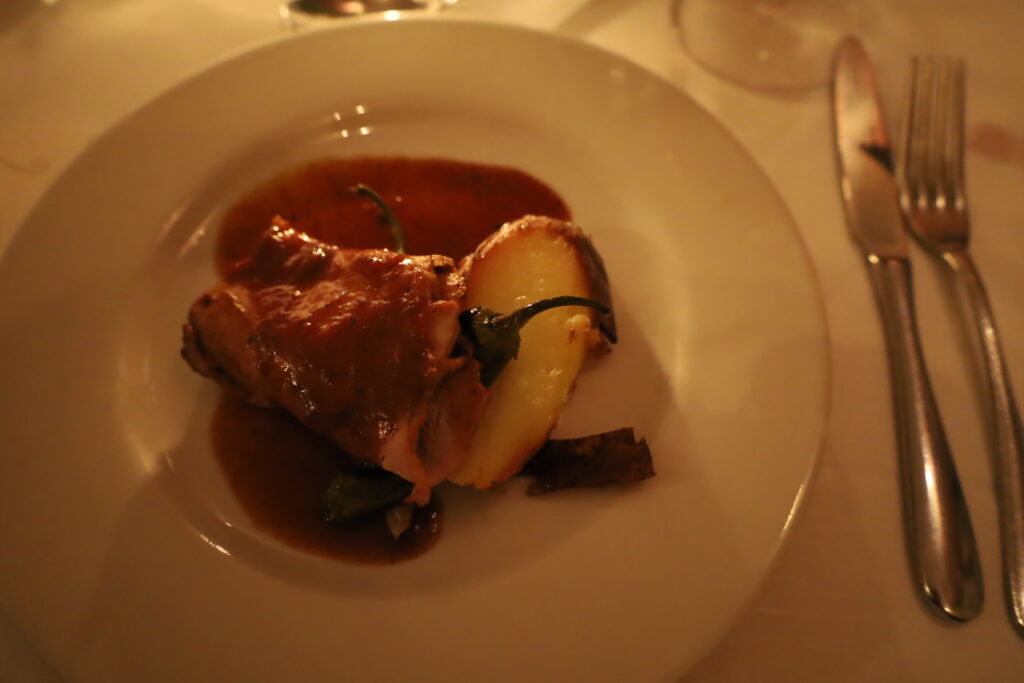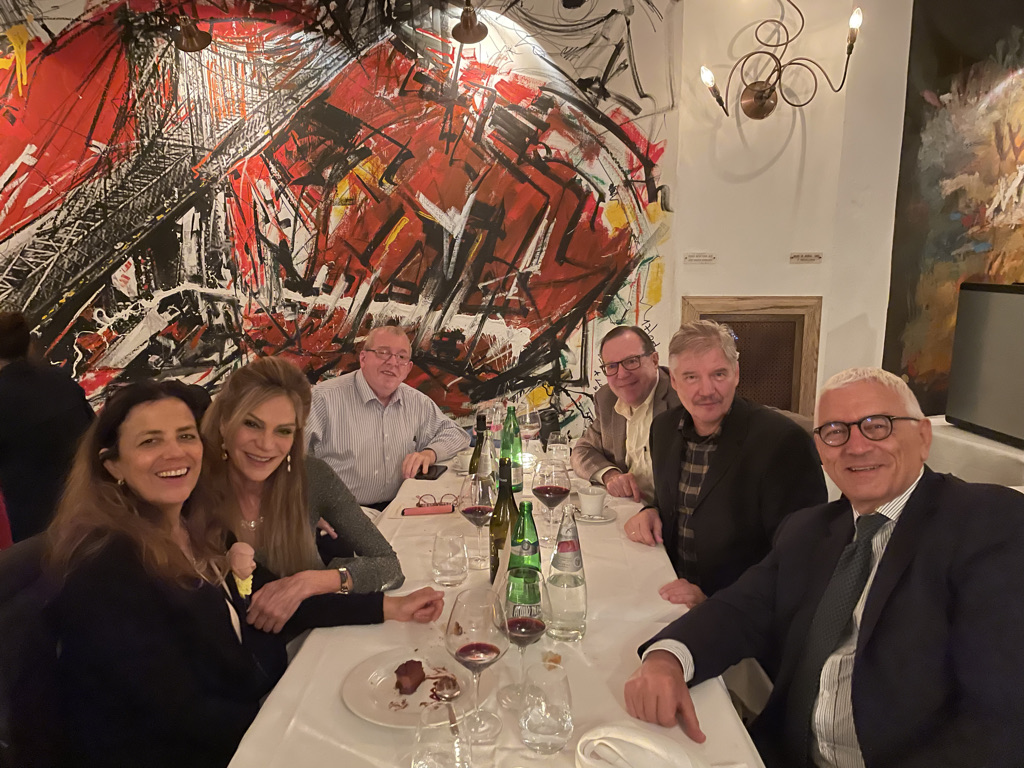 Mirabella: The Restaurant
Our second dinner was at Mirabella, a very elegant restaurant. We started on the roof with Proseco and appetizers, the picture below is just one direction of the 360 degrees of the city of Rome that could be seen from the top of this hotel and restaurant. Then on to the dinner in a wonderful setting.
The Carpaccio di baccala di morro con insalatina di fagiolini e patate novelle al curry was a fascinating dish. I am a fan of Baccala and this dish was just wonderful. The fish was very tender and must have been soaked in milk for some time (just a guess). The potatoes were spiced with curry, but just enough for a background spice. It was not overwhelming, just enough and the potatoes were cooked very well, not mushy, just the right amount of bite. The Cannoli di pasta fresca con ricotta Romana borragine, cremoso di parmigiano e tartufo nero estivo, was amazing. So a wrapped and stuffed pasta. Truffels are a favorite of mine, and I rarely get to eat them. These were soft, with that earthy truffel taste that is so wonderful. The pasta was just al dente, and the sauce had a forward parmesian taste, one of my favorite cheeses in all the world. The Farona in sfoglia di patate con scapevce di zucchine e riduzione di aceto balsamico or Guinea fowl in a potato puff pastry with marinated zucchini and a balsamic reduction was the next dish. The fowl was very tender, easy to cut with a fork, and had a fresh sweet taste. Of course it was wrapped in a puff pastry that was just a heavenly cloud on your tongue. The balsamic reduction topped off this dish with the brightness of that vinegar. Finally the Millefoglie con frutti di bosco e crema chantilly or a layered berry pastry was another wrapped dish, sort of, with layers of delicious pastry, soft fluffy and fresh berries in a chantilly cream sauce. Wonderful. We were all very full by the end of the meal, but very satisfied.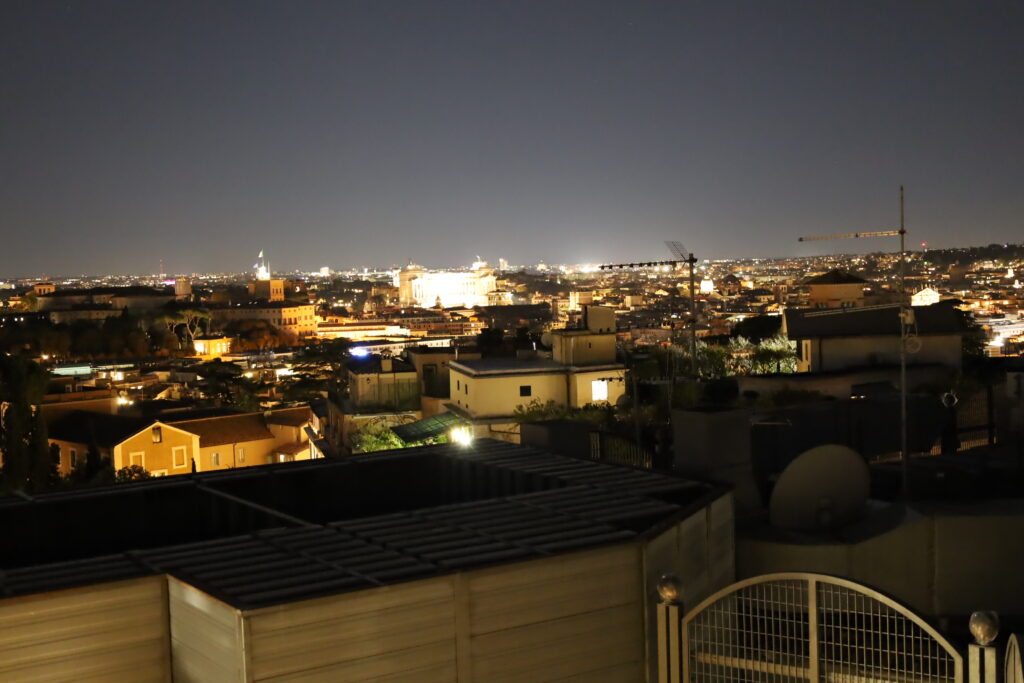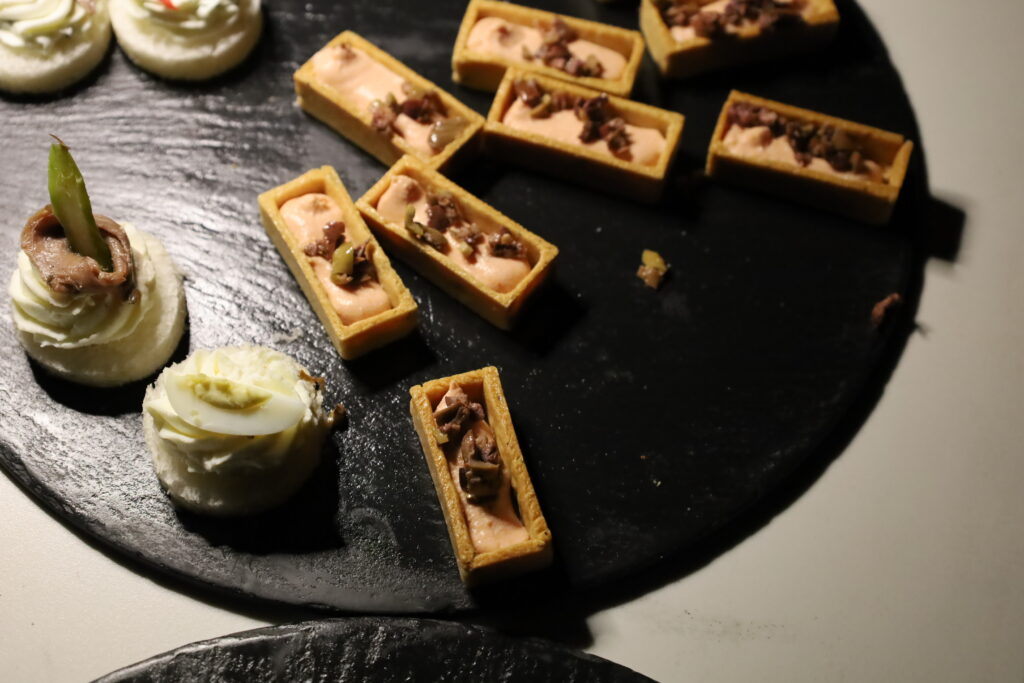 The appetizers were unique, and look at the wrapped square piece with a filling that included anchoives (one of my favorite tastes). These reminded me of small funeral caskets … a little morbid, but that is what I thought when I first saw them. The crust was made with a semolina flour. I am not sure how the rectangle box was made, and anyone with any thoughts please let us know.
da Giggetto Hostaria: The Restaurant
The third group dinner was in the restaurant da Giggetto Hostaria … in the "Jewish" quarter of Rome. A sad reminder of the horrors of the war, but a wonderful restaurant and area today.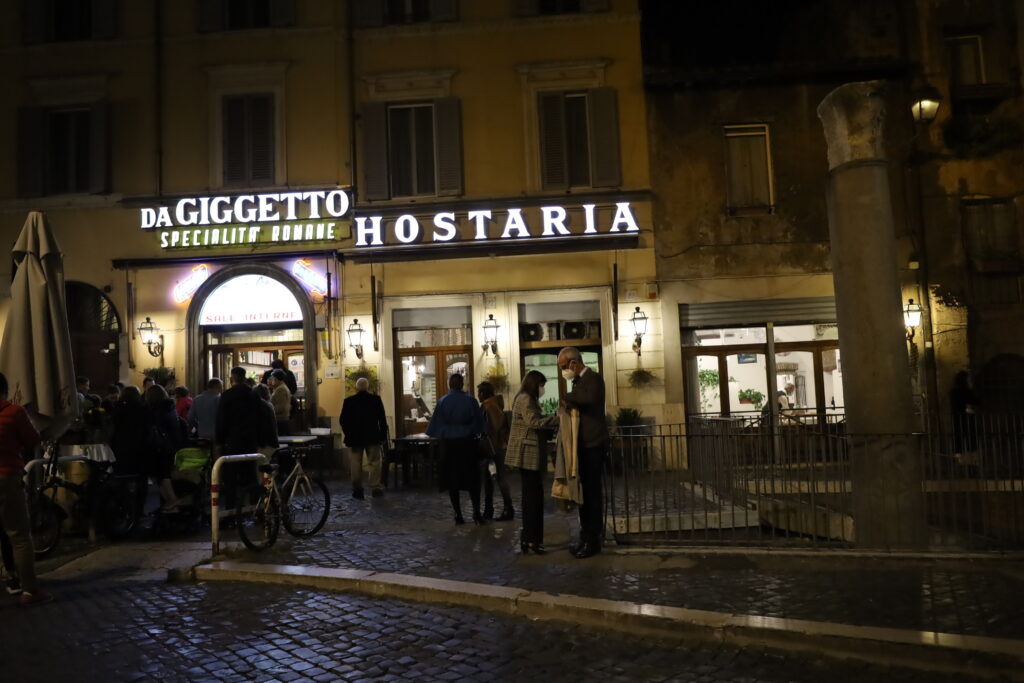 Here the servings were more "family style", all being served the same thing, although we had the option of changing our orders if we so desired. The deep fried artichokes were delicious! After the apperitivi, pane, and vino, they served two delicious pastas, each a variation of Carbonara. By this time I was "sono pieno", full. But still yet to come was lamb, probably the most tender I have ever had in my life. "Molto Squisito"!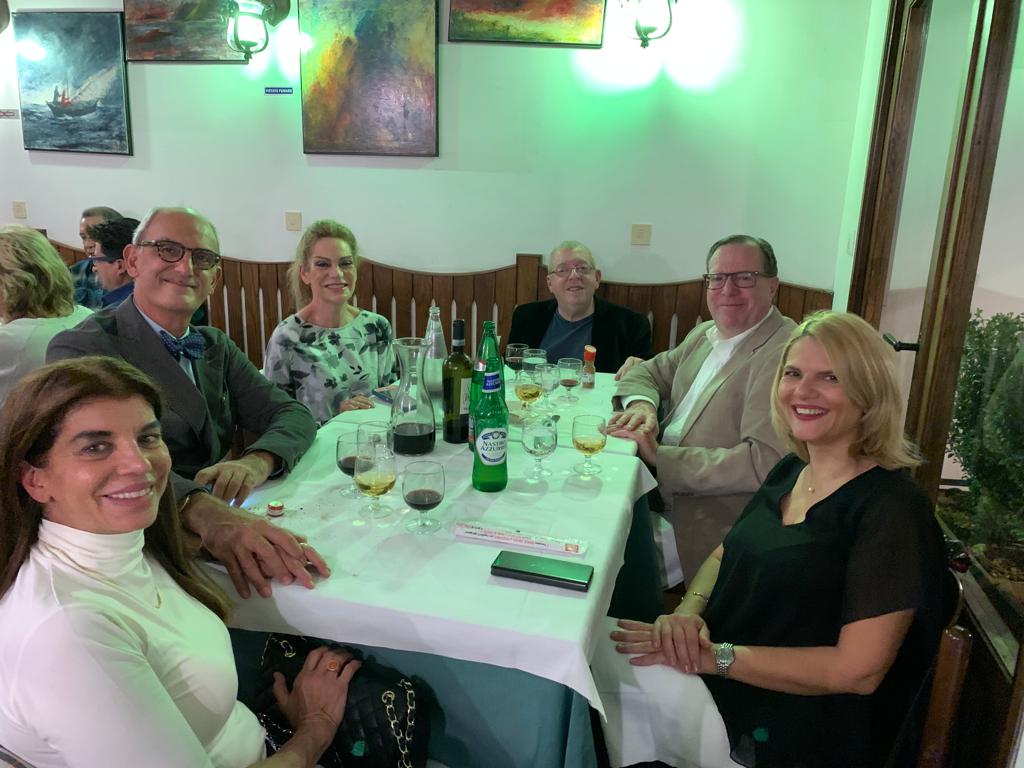 The Colossium
Each of the restaurants had it's own ambiance and it's own food style. Each was excellent in different ways. For example if you want an elegant romantic dinner, Mirabelle is the place. But for a larger group and good basic Italian food, da Giggetto is the option.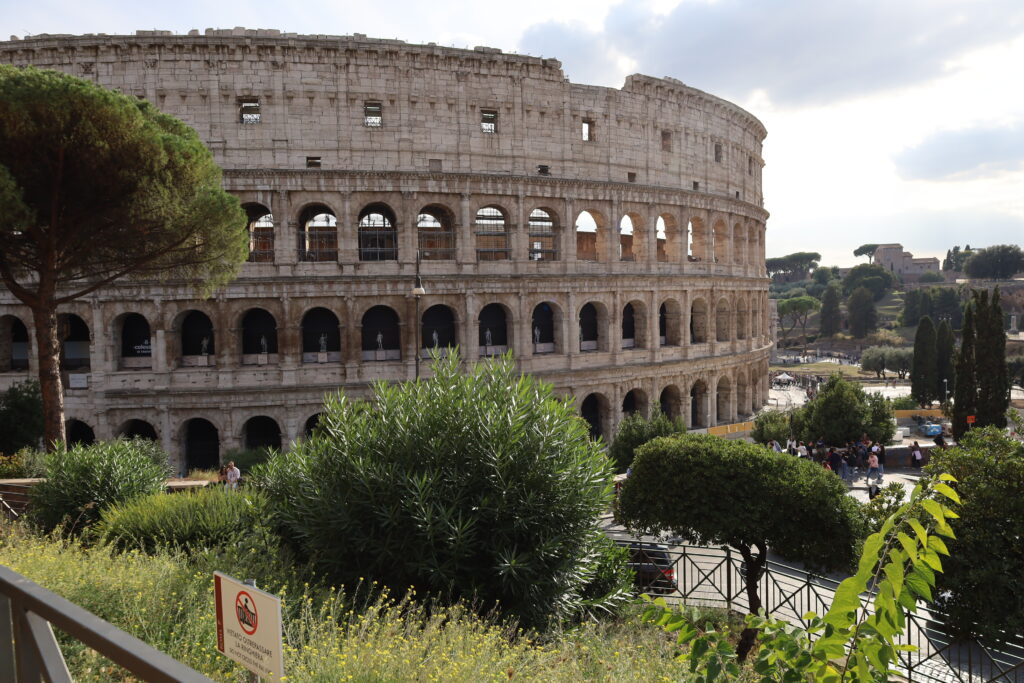 You can never have enough time in Rome to see all the antiquities and fascinating building going back centuries. Fortunately our hotel, Grand Hotel Pallitino, was close to many of these structures, only a few blocks from the Collisieum seen above.
San Pietro in Vincoli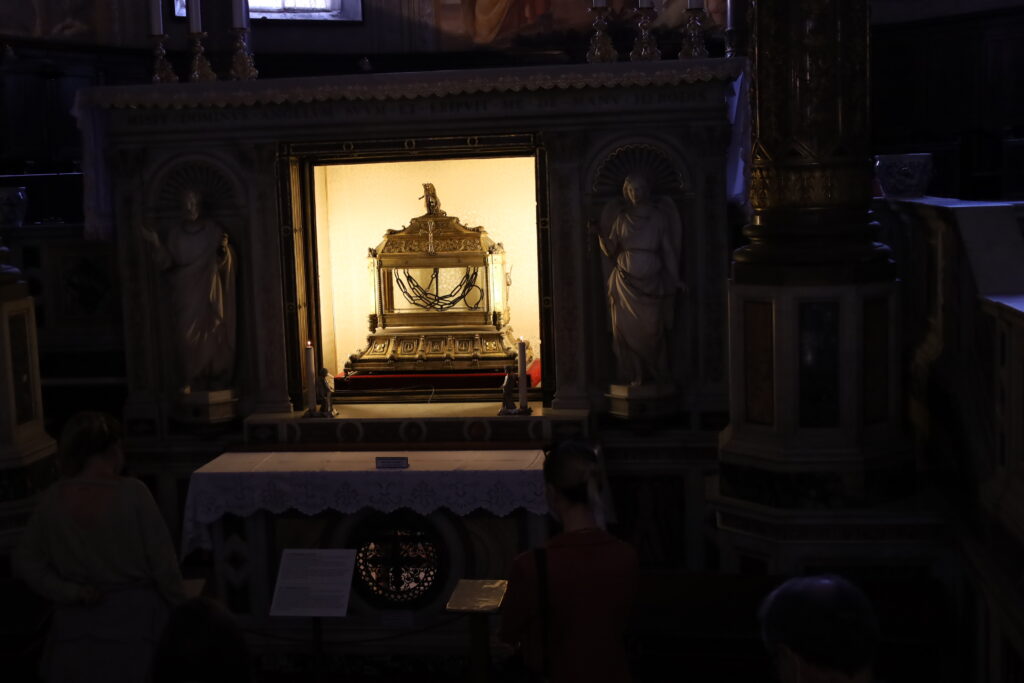 The above picture is from the Church San Pietro in Vincoli, or Saint Peter in Chains. These are the very chains that St. Peter was put in, when he was finally arrested and then crucified upside down in Rome for his Christian Faith.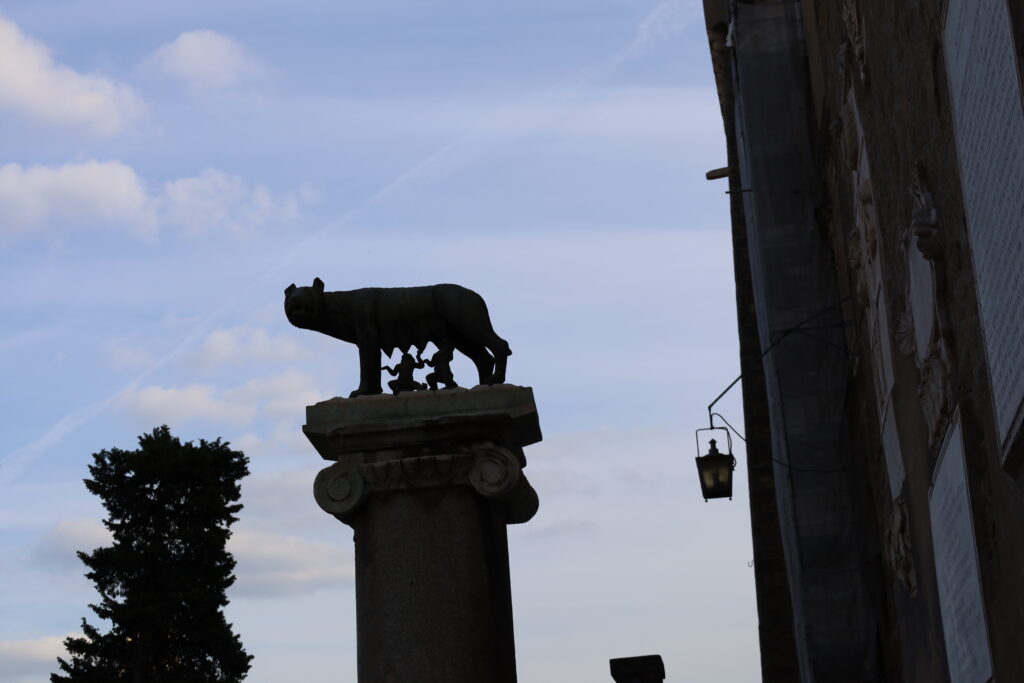 Il Chicco di Grano: The Restaurant
For a lunch with friends I have a Calzone at Il Chicco di Grano near the Gran Hotel Palitino. The Calzone apparently originated in Naples in the 18th century and has obviously spread around Italy and the world. These are always made from yeasted doughs and folded over to form a cresent shape. They are filled with all kinds of things, but usually cheese and some form of meat. This restaurant has a brick oven that attaines the heat needed to make great pizzas and calzones. The one below was stuffed with mozarella, arugula and prosciutto, all I can say is yumm, what a great wrapped lunch. This Calaone was fantastic. I also ordered a salad with bresaola which is a dried salted beef sliced very thin. Overeating in Italy is so attractive with all the wonderful food, it is hard not to overdo; I just don't know how the italian's do it … :).
From a Wrap Cook perspective, I would make the yeast dough and let it sit for a good 48 to 72 hours in the refrigerator to help develop a deep flavor, then make the Calzone (or pizza). A recipe will follow on this web site soon. This is not to say the dough wasn't delicious at Il Chicco.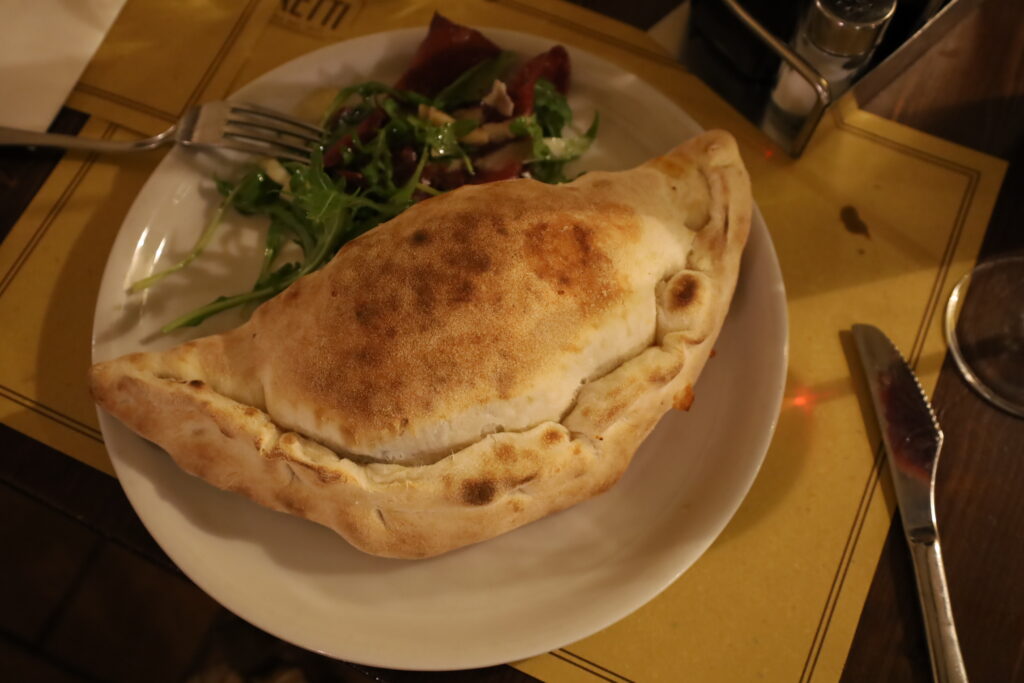 La Vecchia Conca: The Restaurant
A wonderful restaurant near the Basilica Papale di Santa Maria Maggiore is La Vecchia Conca. I was the only person there, which amazed me, since the restaurant has a wonderful ambiance and delicious food. As you can see I had the Spaghetti e Sugo all'Amatriciana un Classico. The pasta was perfectly al dente, and complimented by the sauce that has a slight piccante background taste, with sweet tomato in the foreground. These noodles just slid into my mouth and exploded on my tongue! The restaurant has a nice wine selection, good selection of Digestivos (although I was there for lunch). They had Menabrae birra, see the picture below. This Northern Italian beer made in Piedmont is one of my favorites. Although I did't expect to see it in the South, this restaurant had it and I enjoyed it immensely.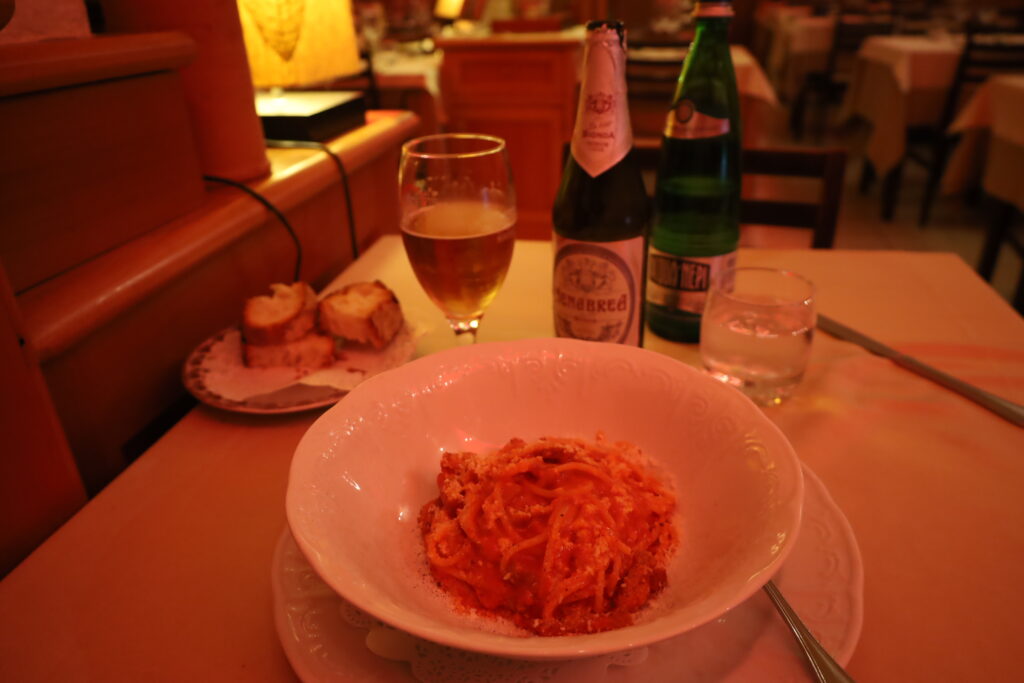 The owner of La Vecchia Conca was nice enough to give me a taste of a delicious Amaro. It is a local Amaro made in the Abruzzo region of Italy and is called Punch Jannimico, delicious. Wonderful service, very friendly owner and waiter, a great place I highly recommend.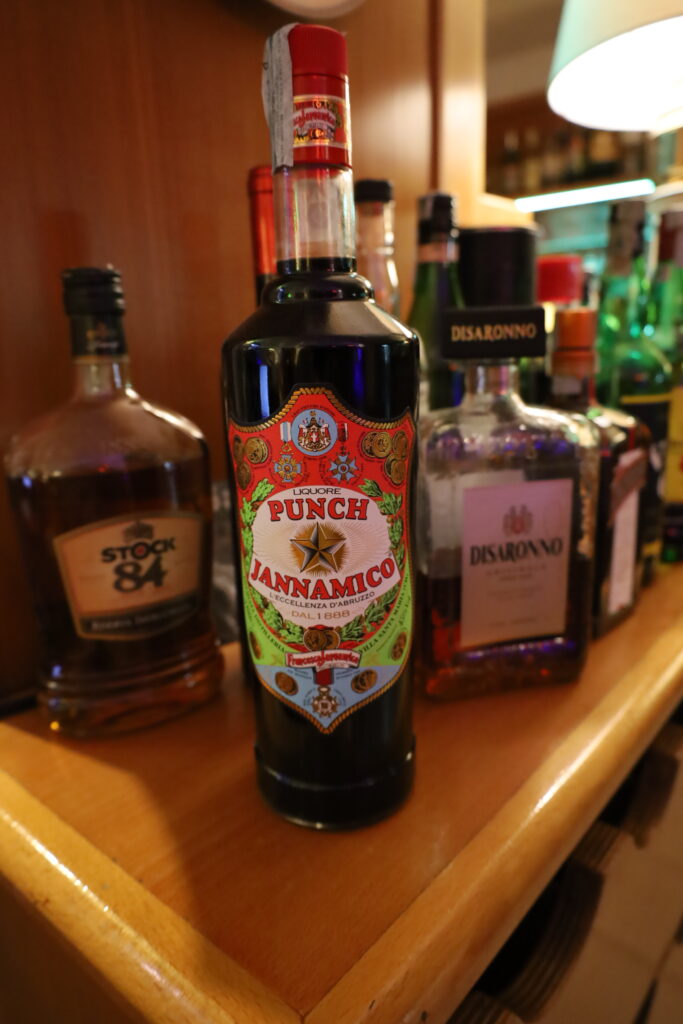 I enjoyed my lunch so much, I returned for dinner.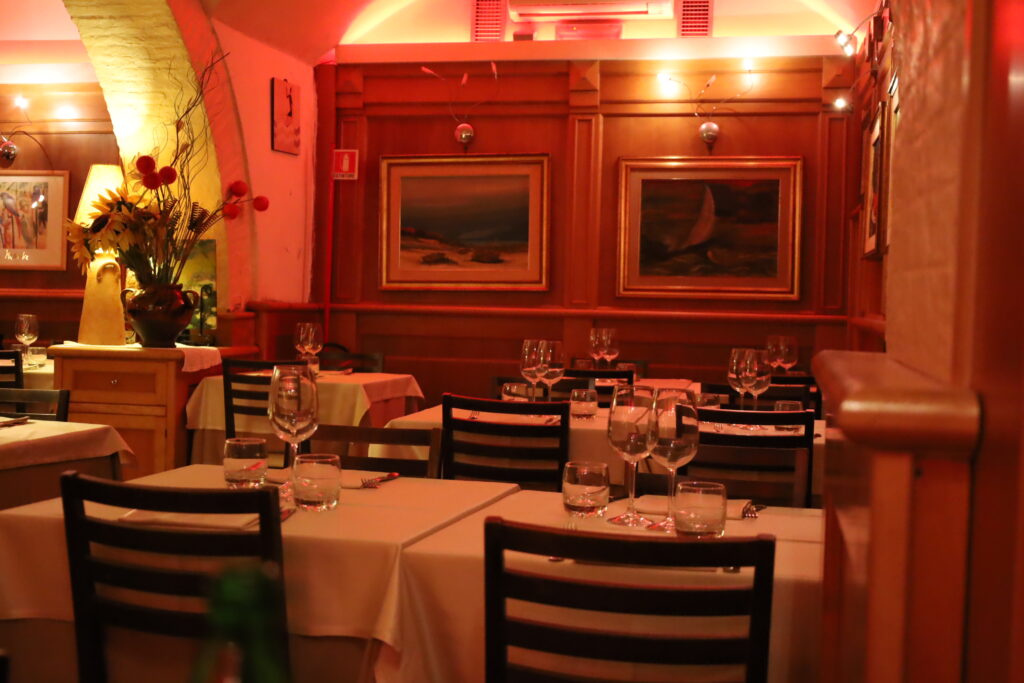 I had the breaded and fried fresh anchoives. They were not overbreaded, the fish was obviously fresh and delicate.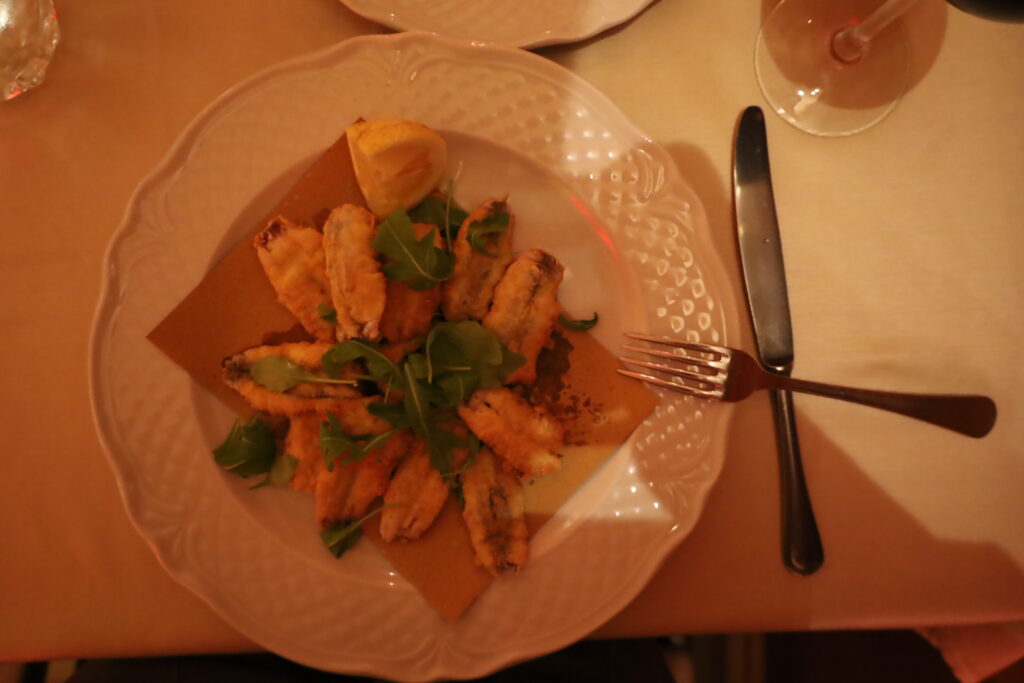 I added to this the bruschette with a cream of olives. It does not have the eye appeal that I would have liked. A little more parsley, or some whole olives, or perhaps some leaves of basil would go a long way to helping with the plating. The cream of olives is more of a tamponade, but made into a smooth paste. It was salty from the olive brine, but not overly so and the smooth and eatrthy olive taste came through tremendously. Perfect on a rustic piece of Italian bread. For a final secondi, I ordered Calcio e Pepe, one of my most favorite pasta dishes.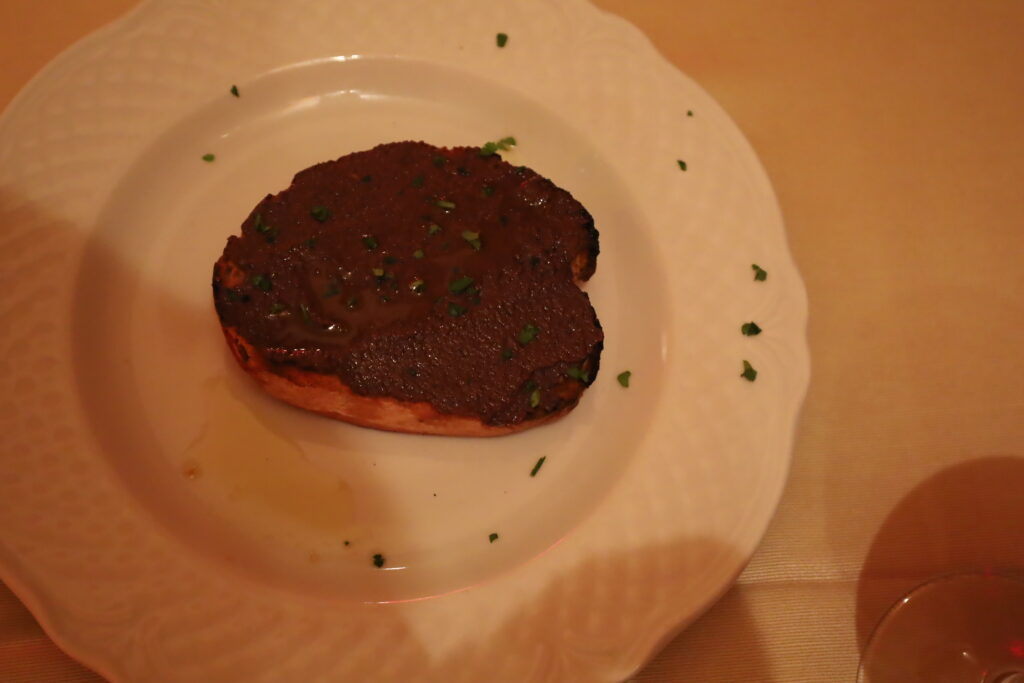 The Tour of Rome
I was blessed enough to have a tour of some of the major sites in Rome. The tour guide was great and never stopped talking for the entire 3 hours … she was amazing and obviously very knowledgeable about the history, architecture and locations in Rome. For those of you who know me, I almost never do tours, but was glad I went on this one, although I may have remembered only 10% of all the history, stories and information that our guide told us during our long walk.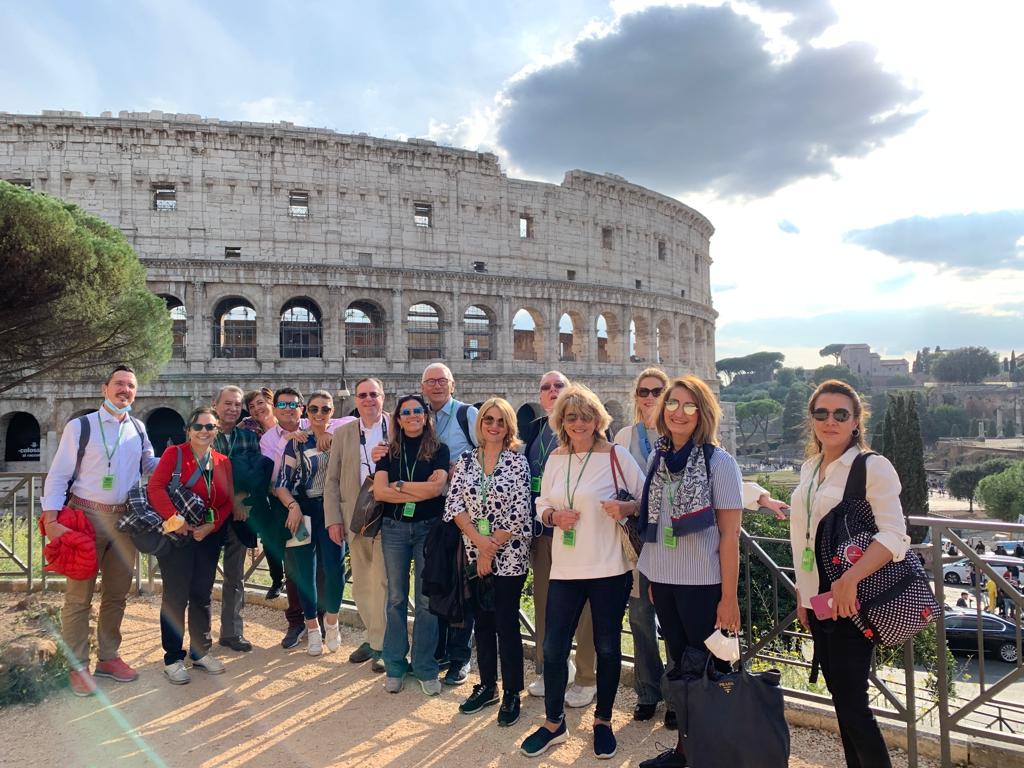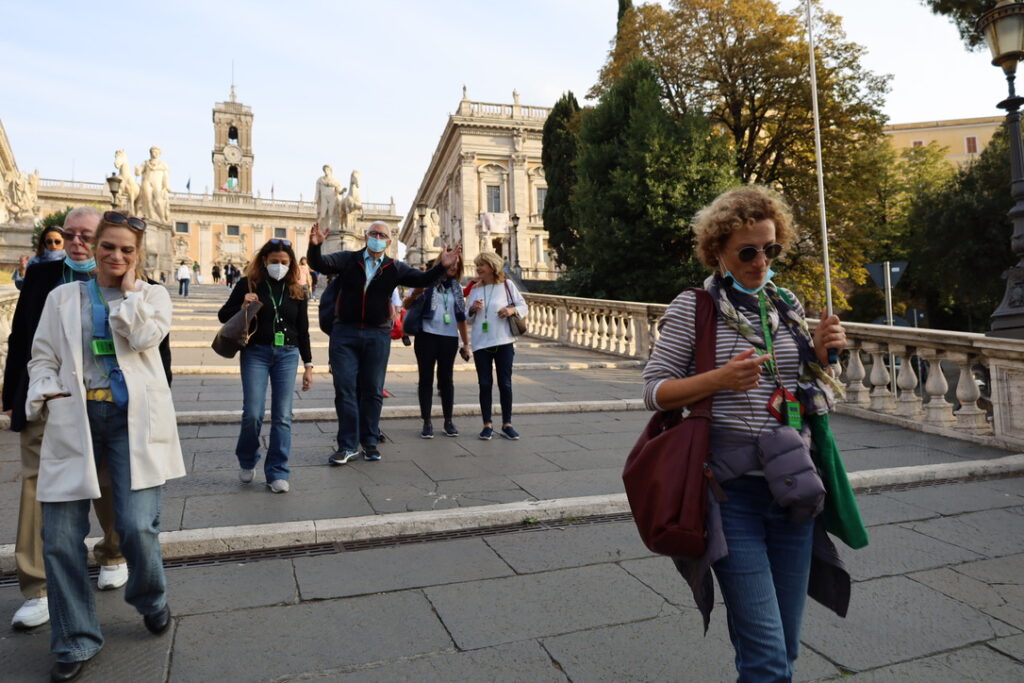 Of course I couldn't return to the US without my COVID test, in spite of the demonatrations against the "Green Card" here in Italy. Just thinking about it makes me want to sneeze. But a nice glass of vino seemed to make it all better.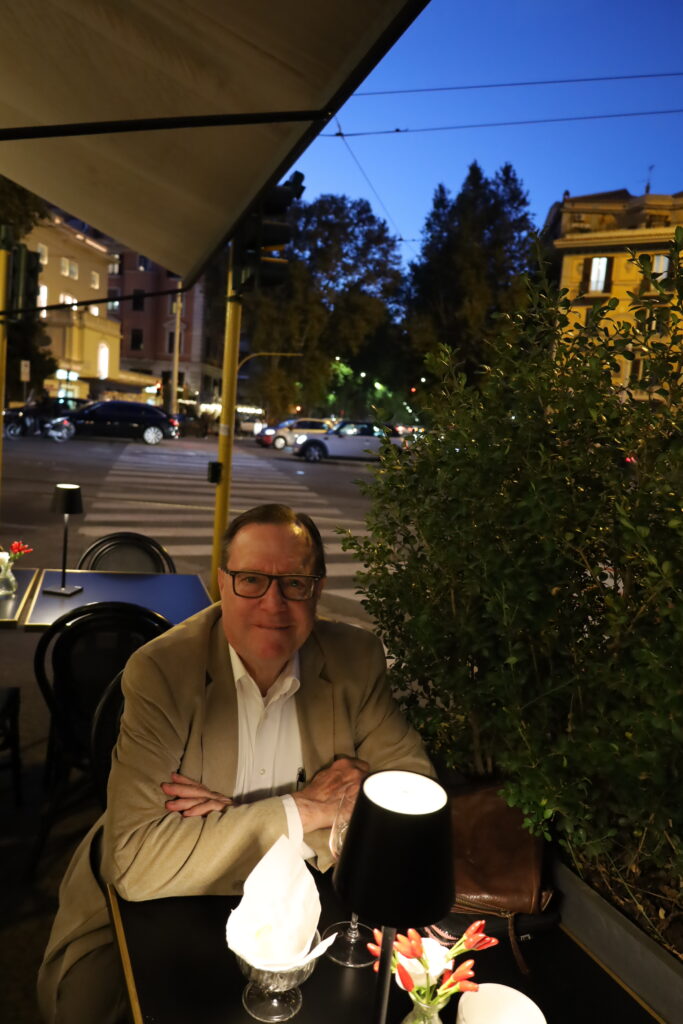 It is difficult to seperate the quality of meals and food in Italy from the abundant ambiance that is Italy. Just being here seems to bring out flavors better and impacts the entire experience. Something about this culture just lends itself to good food, wine and friends.
The Boys and Home
As the adage goes, all good things must come to an end, and so this trip as well. But it is always great to return back to one's home. My little guys will be happy to see me.