The Culinary Center on board the Oceania cruise ships the Riviera and Marina is unique. It is the first such center on any cruise ship and has been extremely popular. Multiple classes are offered, including a very popular knife skills class offered in collaboration with Zwilling Company. I was very happy to be able to attend 2 such classes on my cruise. These classes are very well constructed and it is obvious that a tremendous amount of thought goes into the set up, preparation and examples used during these classes.
Chef David Shalleck gave the first of these classes on seafood. Chef David has worked with Jacques Pepin and been a chef at numerous high end restaurants.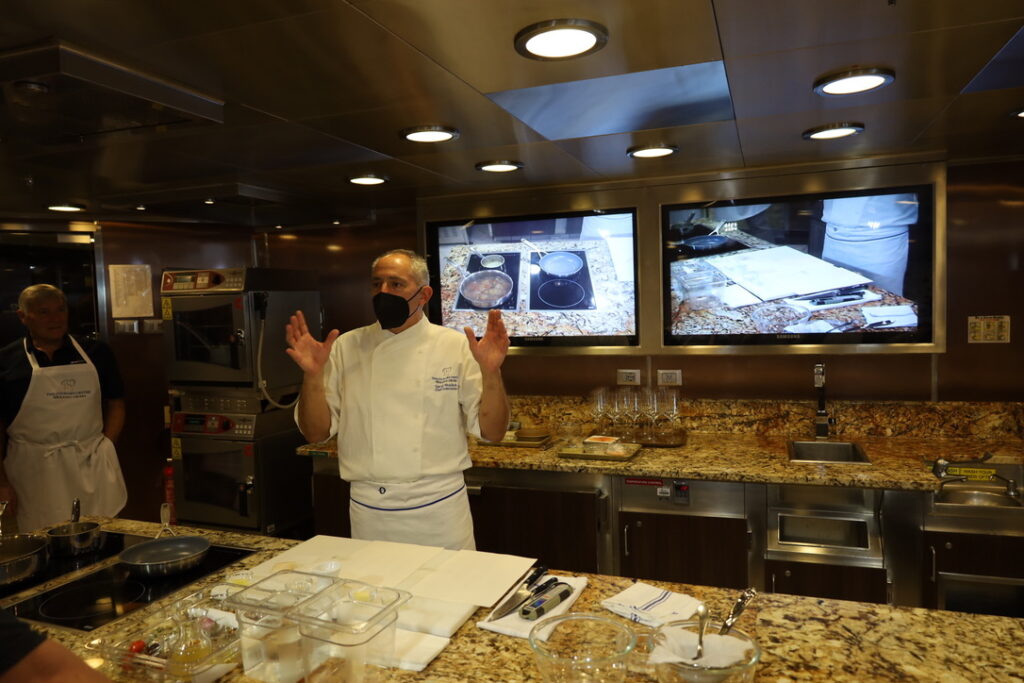 Chef David has developed a short rhyme for those who want to cook seafood at home, "If it smells like fish it is not for this dish. If it smells like the sea then that's for me", see the middle photo. The Center has demonstrations of various techniques just for the groups edification. The center consists of individual stations that include all you need do cook the dishes illustrated. A set of induction burners, sink, utensils, knives, everything is available for the student to prepare what is described. Each of the ingredients is measured out mise en place so pulling everything together is fairly simple.
Below Chef David shows us how to salt a filet Jacque Pepin style. We didn't make this dish, this was part of our education in cooking seafood during the few hours we were in the center. He also demonstrated cooking using acid, i.e., lemon juice or vinegar and cerviche of a scallop and shrimp.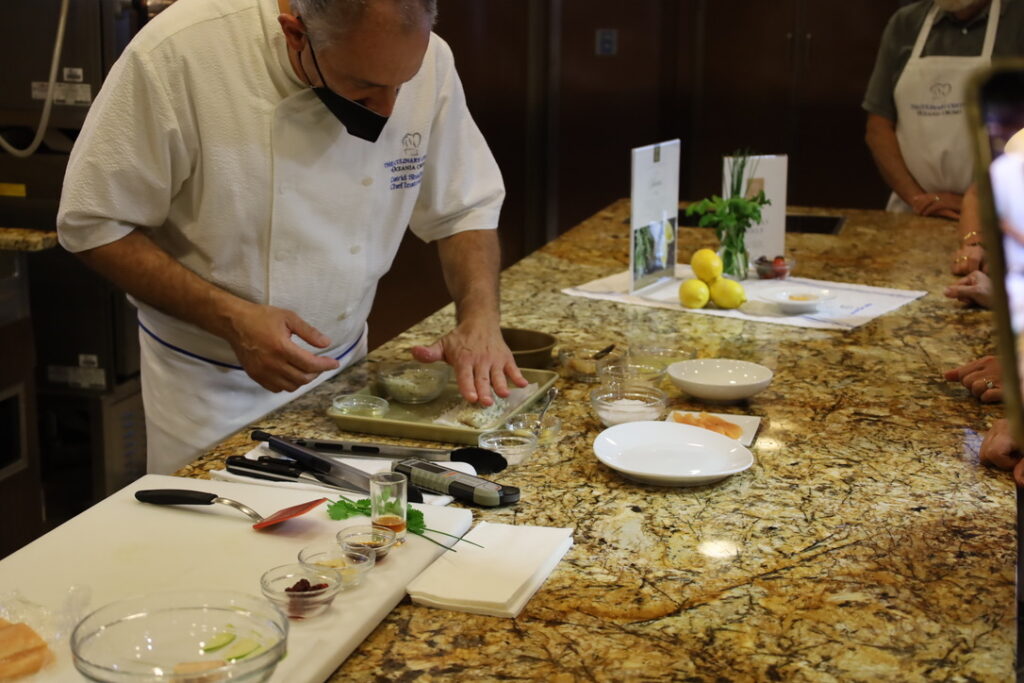 We were also shown step wise approaches to the dishes that we prepared. This day we cooked a scallop with a delicious simple sauce, a rice paper wrapped salmon roll, and a piece of sea bass in a great clear sauce.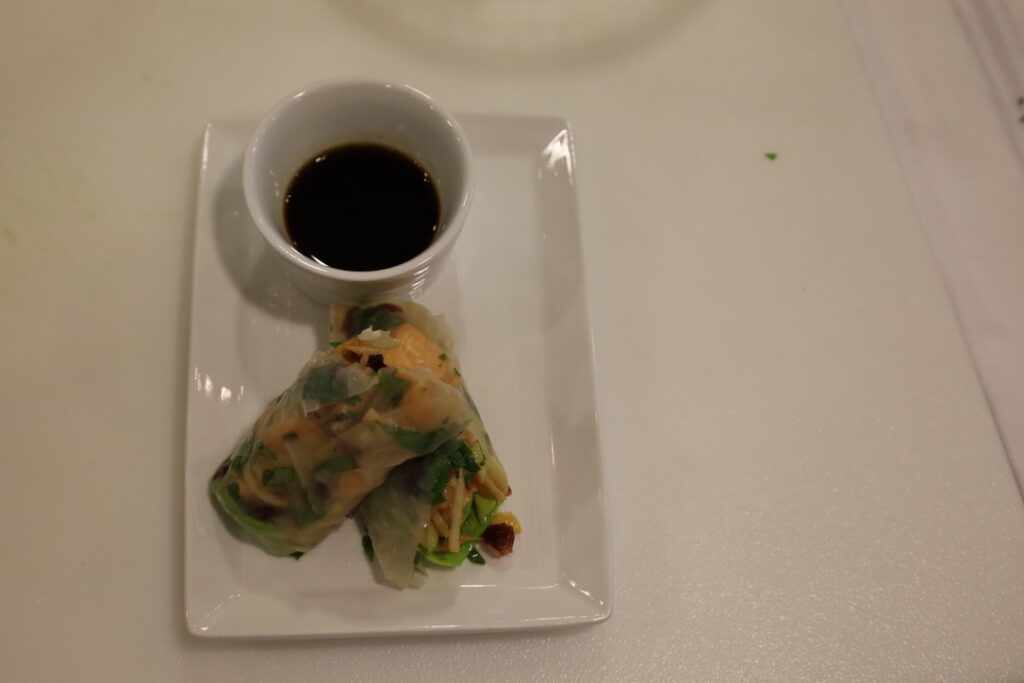 Of course there is a comradship between the students in these courses, and you see fellow students on deck as well. Oceania has developed this approach to a fine art.
Chef David has written a fascinating and interesting book about his experiences as a chef aboard the classic sailing yacht Serenity, sailing the Mediterranean. For those of us who are interested in both sailing and cooking it is well worth the read. His book, Mediterranean Summer is a fascinating description of being a chef on a yacht and the difficulties and joys of that experience. In addition Chef David has a website, that I highly recommend.
My second cooking class was on grilling. It was taught by Chef Stephanie Hersh. Chef Stephanie worked with Julia Child for years. All the chef's who teach in the culinary center have remarkable pedigrees and Chef David and Chef Stephanie were no exception.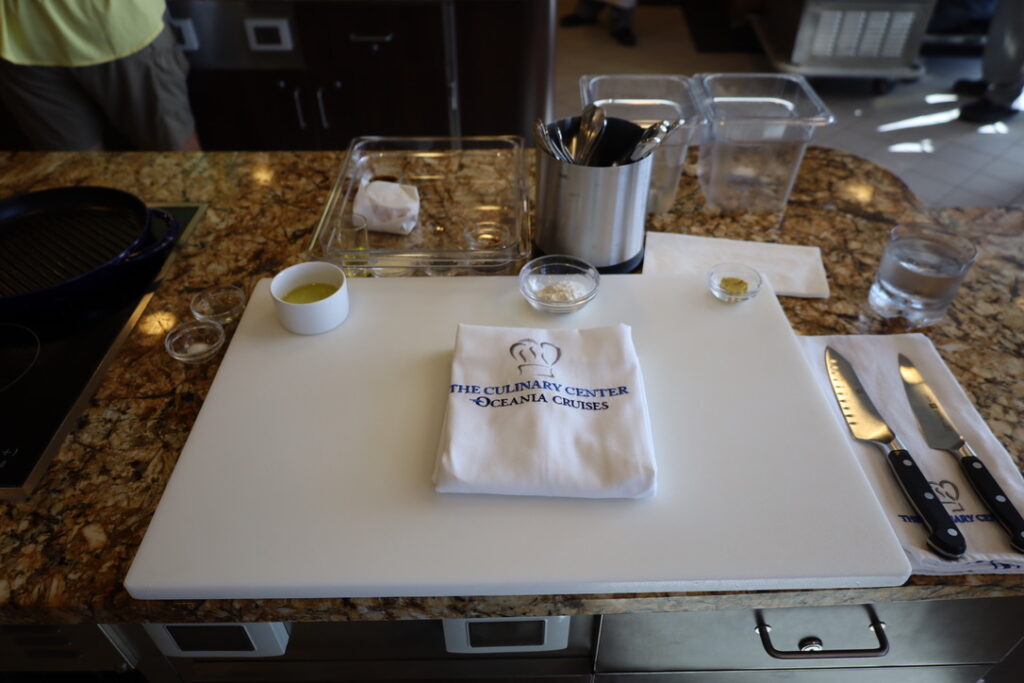 During this class we learned how to grill, beef, lamb and salmon. In additionally, we grilled vegetables. The vegetables we julienned and stacked this into a ring "mold". Then removed and plated. See me in the middle picture above.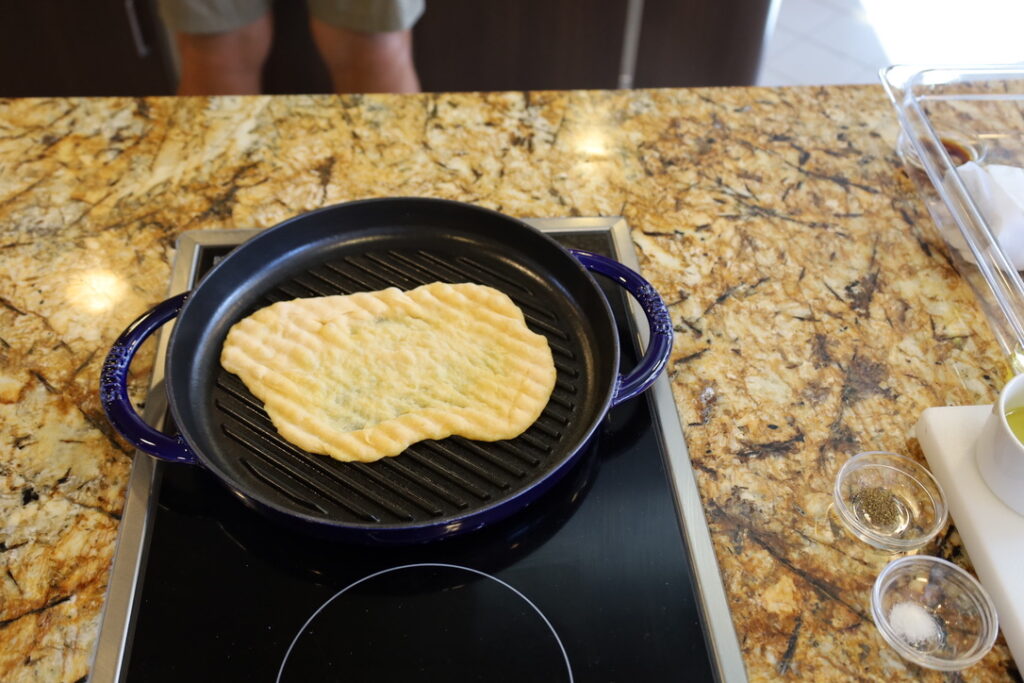 The sweet potato bread was a fascinating dish to grill. As you can see, mine was not very round, but Chef David suggested it was "artisanal"! This bread was topped with a Maderia butter and was delicious. The vegetables were julienned and cubbed and placed in the stack mold, see above. The meat and fish was coated with a light oil and grilled. Then we ate it! A delicious class on grilling.
All the recipes that we cooked in the Culinary Center can be found in the Culinary Center Recipe Collection Favorites. The book is only available from Oceania Cruises.