On October 10 the Kitchen at Bleubird Studio had another of their cooking evenings on October 10th with Chef Rodney. Chef Rodney is the Chef and owner of Rodney's on Broadway, a fine restaurant in Georgetown Kentucky. He has done a number of these dinners at the Bleubird Studio. The Studio kitchen is a bright and intimate setting that holds around 20 or so folks. Rodney, shows you how to cook various dishes and gives you pearls of culinary wisdom as he demonstrates. For example he explained that Halibut is a flat fish, something I did not know.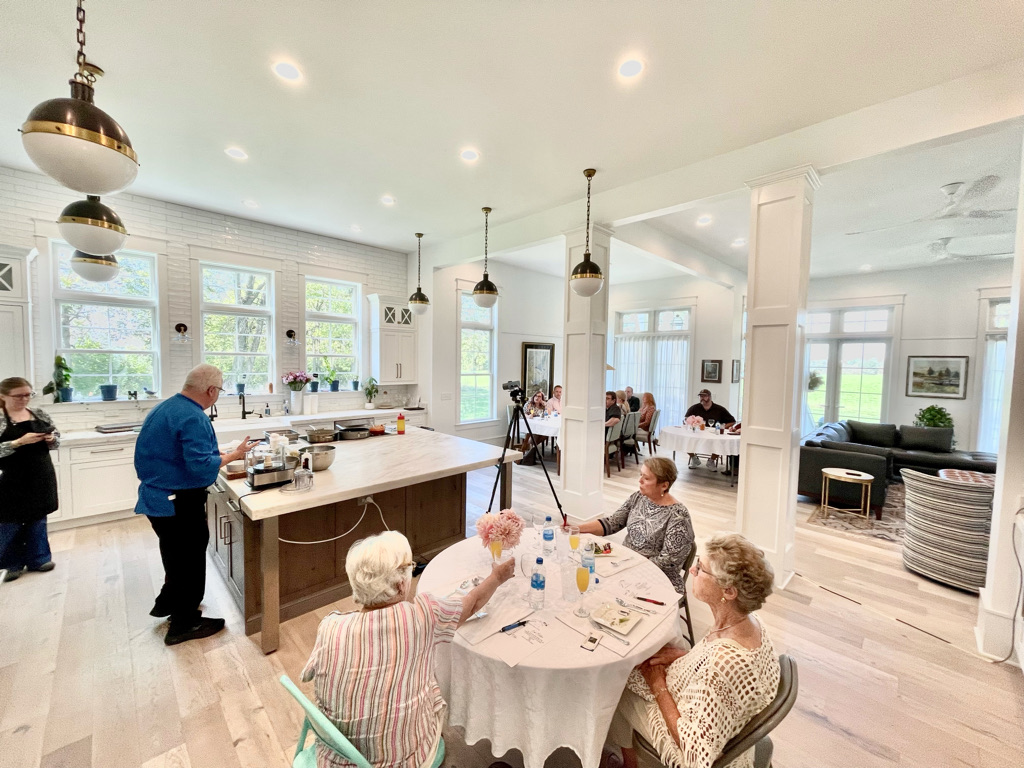 This evening Chef Rodney was going to cook Sole, one of my favorite fish, but his fish monger was out so he used flounder. He did a breaded flounder fried in his special oil, and suggested the ghee could be used as a substitute. It had a sweet withdrawan taste. The crust was just crunchy enough, thin enough and certainly not overpowering. Rodney then did a crabcake placing it on top of the sole, with a marinara sauce over both. The crabcake was made with Maryland Bluecrab. I have had lots of crabcakes, usually they are filled with bread crumbs, not so with Chef Rodney's iteration, a delicious cake.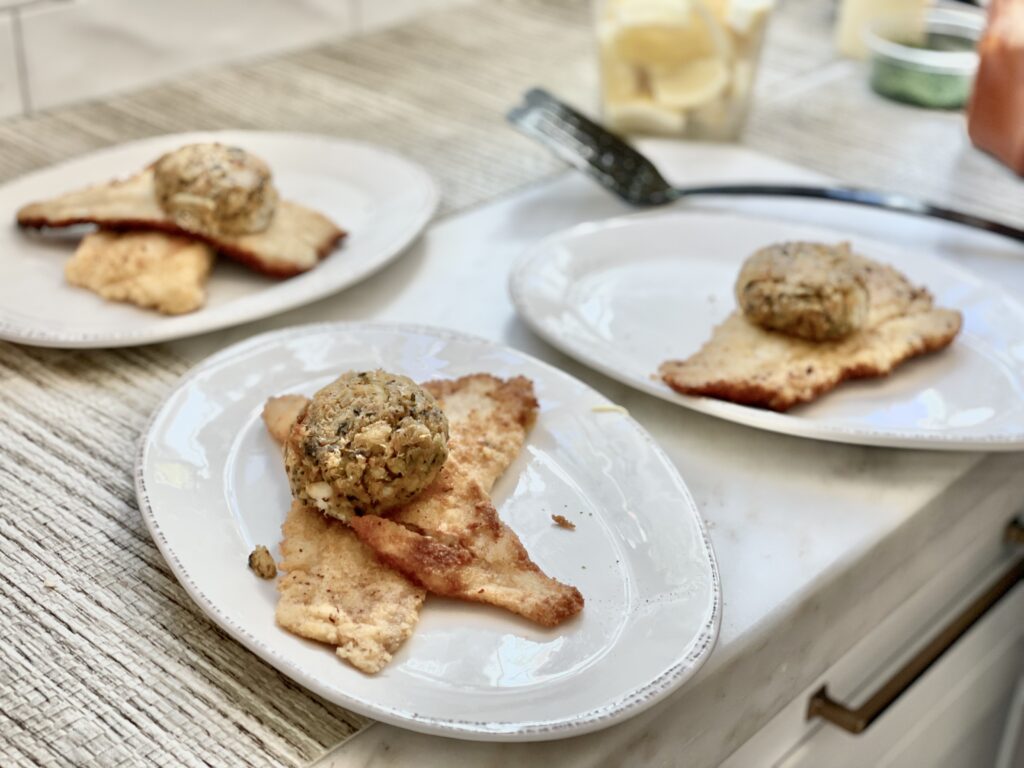 He showed us how to make Hollindaise, a sauce at which I have been successfully and failed miserably. Chef Rodney made this quickly, it seemed easy for him and it was delicious, the way a Hollindaise sauce should be. It was delicious drizzled over the crabcake and fish adding just the right blend of spice, smoothness and savoriness to these two seafood soupçons. The marinara sauce was not an addition I would have chosen, although as a sauce it was delicious; the fish and crab cakes were very good.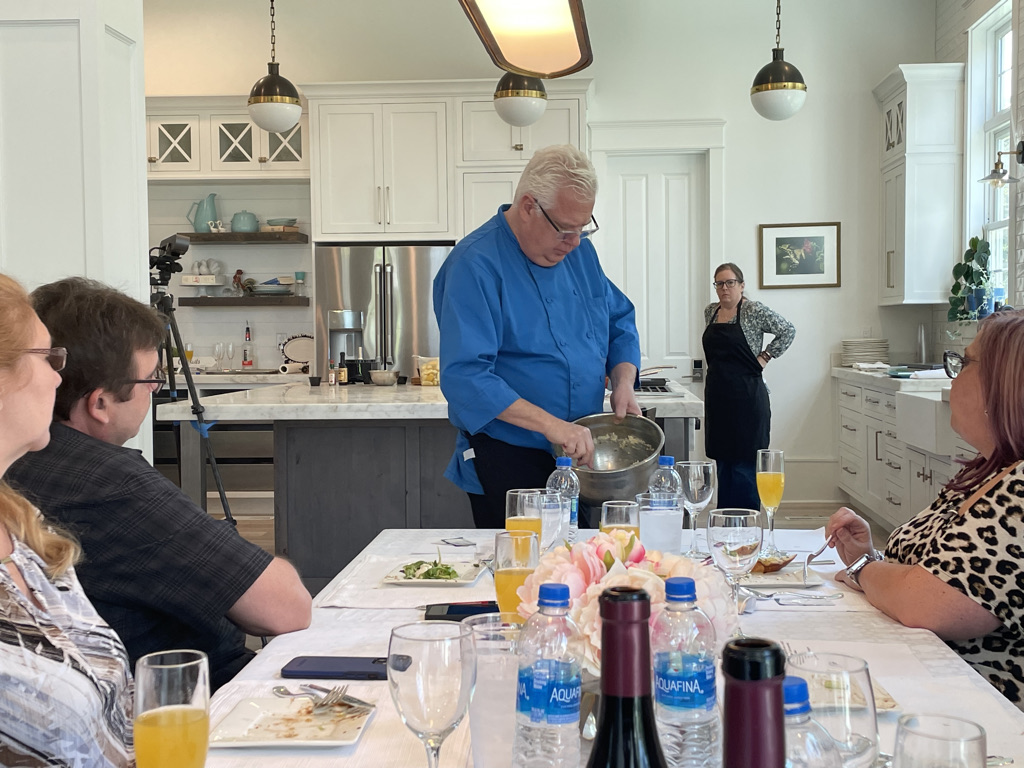 There was a salad of fresh vegetables and a nicely blended vinegrette, along with a Sangria desert. All in all a wonderful meal complemented by a tremendous venue, good wine, and good company. What more could you ask for?
Chef Rodney mixes his own frying oil and salt, which I found fascinating. As I understand, Rodney's in Georgetown will be offering this salt mix for sale in the near future.
Chef Rodney and the Bleubird studio do these dinners every month. Rodney's is closed Sunday, Monday and Tuesday, but opened from 5-10 PM the rest of the week. I suggest you head out there for a wonderful dinner. It is a BYOB, but we were provide Bleubird Bellini in abundance, so watch your alcohol intake. I brought to our table a nice Barbera, which went well with the fish.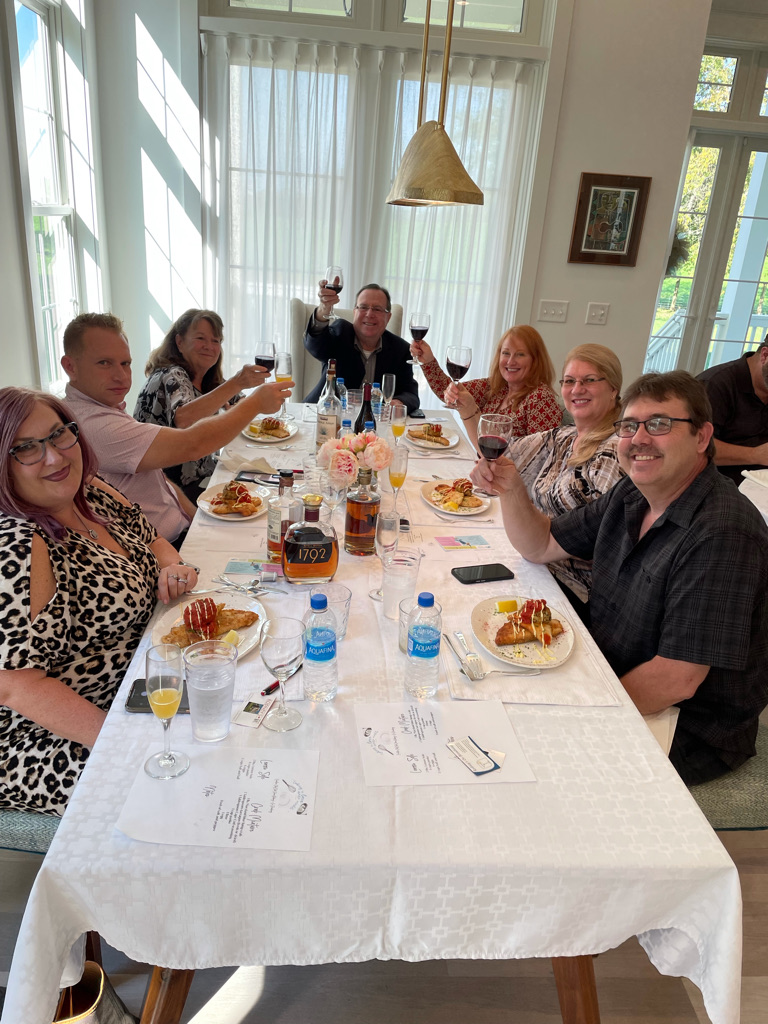 The Bleubird Studio provides a Bed and Breakfast, instruction in Yoga and Pilates, local art on exhibit, dancing lessons as well as the Cooking demonstrations by Chef Rodney. I hesitate to recommend the Bleubird and Chef Rodney's dinners, since it would mean a more difficult time for me to get reservations. However, I can't help it – make a reservation – and join Chef Rodney, the Bleubird and us!