My travel agent, Debbie Welch of Cruise Insider, came up with an amazing trip, 16 days traveling from Rome Italy to Miami Florida USA. It is quit the adventure, especially with all the COVID stuff that one must go through to travel. But I was able to overcome these things and am having a great time. It is always an adventure, when looking back over these events. However, during them there is lots of angst.
My first "adventure" occurred when I was told I had to fill in some EU/Spanish forms to go through check-in in Lexington. This was frankly irritating since I had called American Airlinesds, and checked the web, and specifically asked if I needed any special forms filled out and was told no. Ah well, it all worked out. There was a wonderful agent at the check in desk who was a world of help. Without her help I would probably have had to stay in Lexington.
My flights were a bit odd, from Lexington to Chicago, then on to Madrid and then Rome. In Rome I had transportation to Civitavecchia. for the flights I used miles and this gave me the best "bang for my buck". Boarding the plane in Lexington at about noon, then on to Chicago for about a 2 hour layover, on to Madrid for an 8 hour layover, on to Rome (about 8 hours in the air), then by car to Civitavecchia, about 1 hour. Needless to say, I was exhausted by the time I arrived and slept fairly well.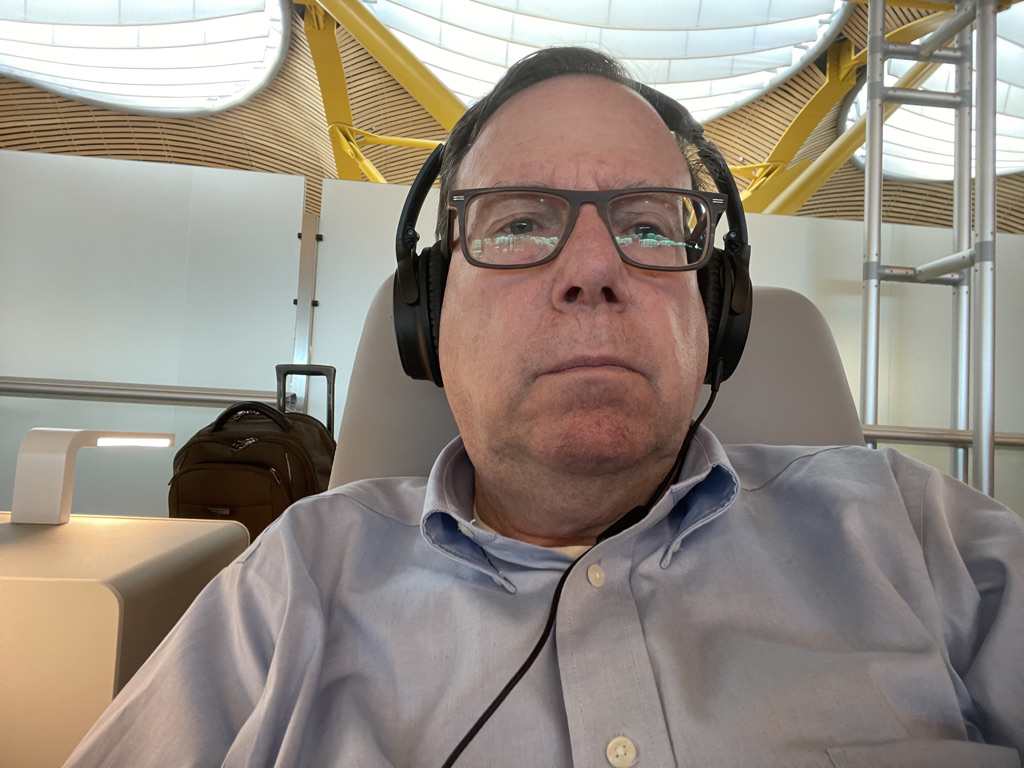 Note the look on my face in the picture above. This was after about 8+ hours on the plane and about 5 hours sitting in the Madrid airport club. Looks like miles of bad road, and that is about how I felt.
My hotel in Civitavecchia was recommended by a dear Italian friend, the Hotel de la Ville. This is, in my opinion, a typical Italian hotel, but very clean and comfortable. Staff were very friendly and accomodating. Arriving in Civitavecchia I planned an entire day before I would be boarding the ship. Also I had planned on getting yet another COVID test, since I needed one within 72 hours of boarding the ship. The cruise ship folks did not tell me (or others) that they would be testing everyone getting on the ship, so I was out 20 euros for the rapid test in Civitavecchia … just part of the journey.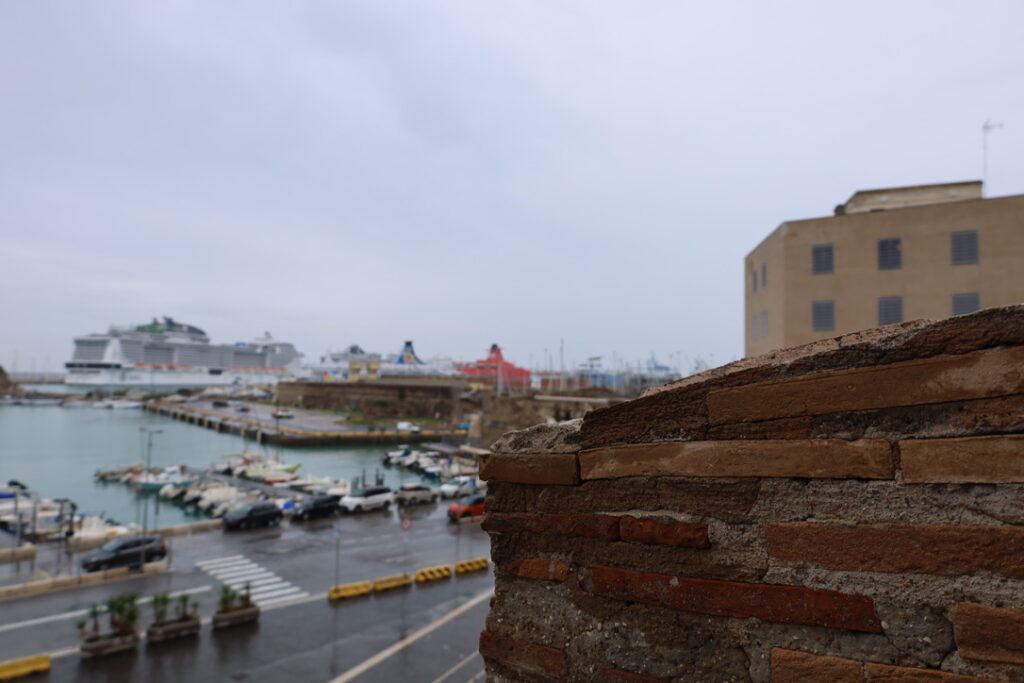 Since I had a day, I did some walking around to see the city. Civitavecchia is a very old city with a history beginning with the Etruscans. The Romans under the Emperor Trajan, but a city on top of the Etruscan city, in the second century. This city has gone through numerous rebuilding's since that time. During World War 2 the allies bombed Civitavecchia causing significant damage. Currently this is where all the cruise ships to and from Rome begin and end. Rome is about 40 miles from this port.
I was able to have a very nice meal at Sora Maria Trattoria. I ordered stuffed anchovies and pasta. The pasta was fresh, with the small Mediterranean clams that are so delicious. The pasta had just the right amount of olive oil, and a sprinkling of red pepper flakes. The clams just melt in your mouth, leaving a sweetness.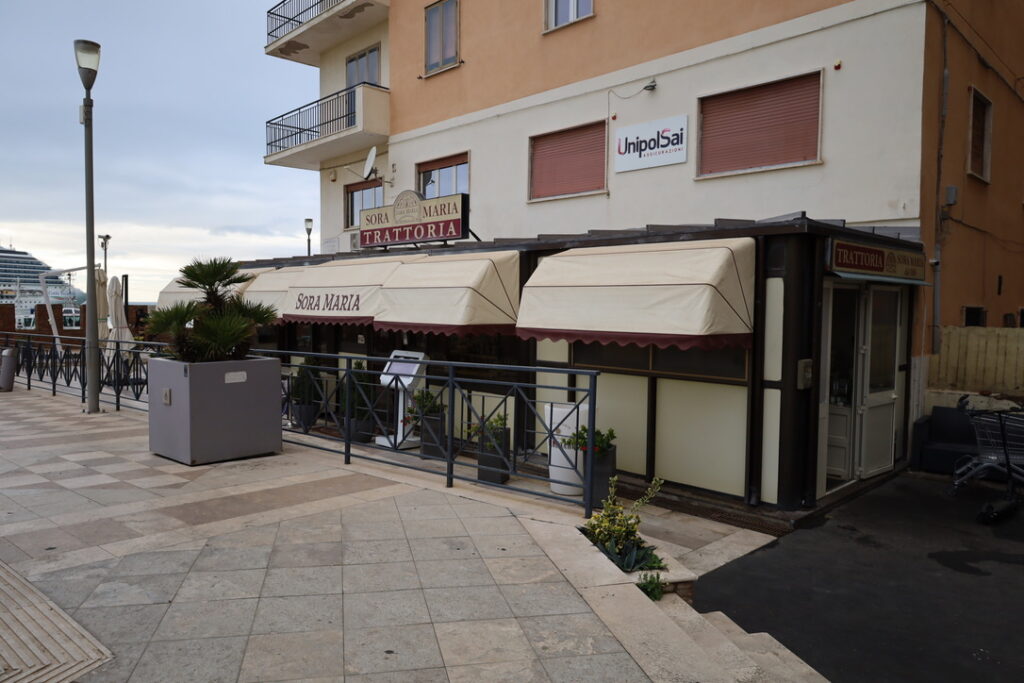 After boarding the ship, the Oceania ship the Riviera, the first stop was Nice France. We had to use the lifeboats as transport to and from the harbor of Nice. There is a wonderful restaurant there I wanted to try, the Calade, about 1 hour from the port and about a 50 Euro cab ride .. a bit steep, but well worth the trip. You could not walk this distance due to the hills, narrow roads, etc ..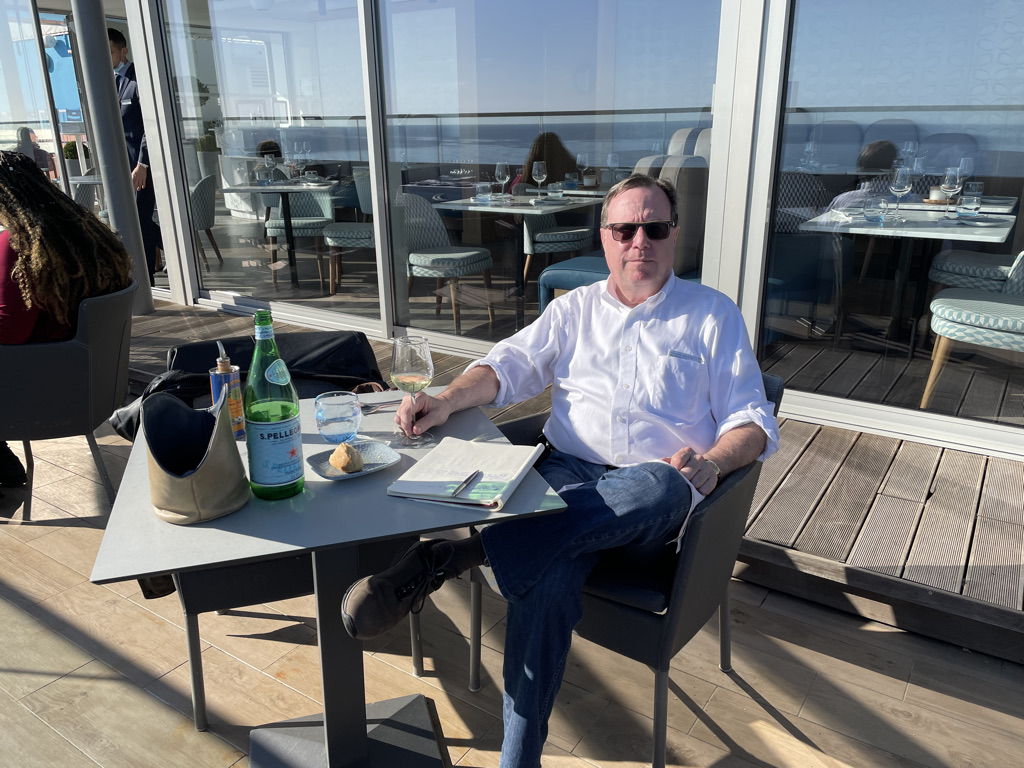 The Calade restaurant is on top of the Radisson Blue Hotel in Nice. As you can see from the pictures it has an amazing view of the water, and to the right the Nice airport. As I entered the Hotel lobby, I was asked for my "pass". This is apparently something French, but I had something that looked like what she wanted, but it was back onboard the ship. After showing her my CDC card, and letting her know it was a sacred document, she finally allowed me access.
I was brought an amuse bouche soon after ordering. A single breaded shrimp with a wonderful dipping sauce, slightly spicy, but sweet. I could have eaten an entire plate of these. However, on their menu they had Dover Sole, one of my favorite fish. You can see this dish above. It was so tender, just about melted in your mouth. It was covered with an interesting sauce. I tasted a bit of heat and spice, which I found very good. But the server insisted that it was just a butter sauce. However, you can see in the picture there are bits of red on top of the fish. Regardless, it as light, tender, and the spice did not hide the taste of the sole. The asparagus was fairly simple. Parmesan Reggiano was sprinkled over the asparagus and this was roasted, just delicious. For dessert, which I rarely eat, they had a strawberry soup. It intrigued me so I tried it. The sweetness of the strawberries permeated the dish. Very good.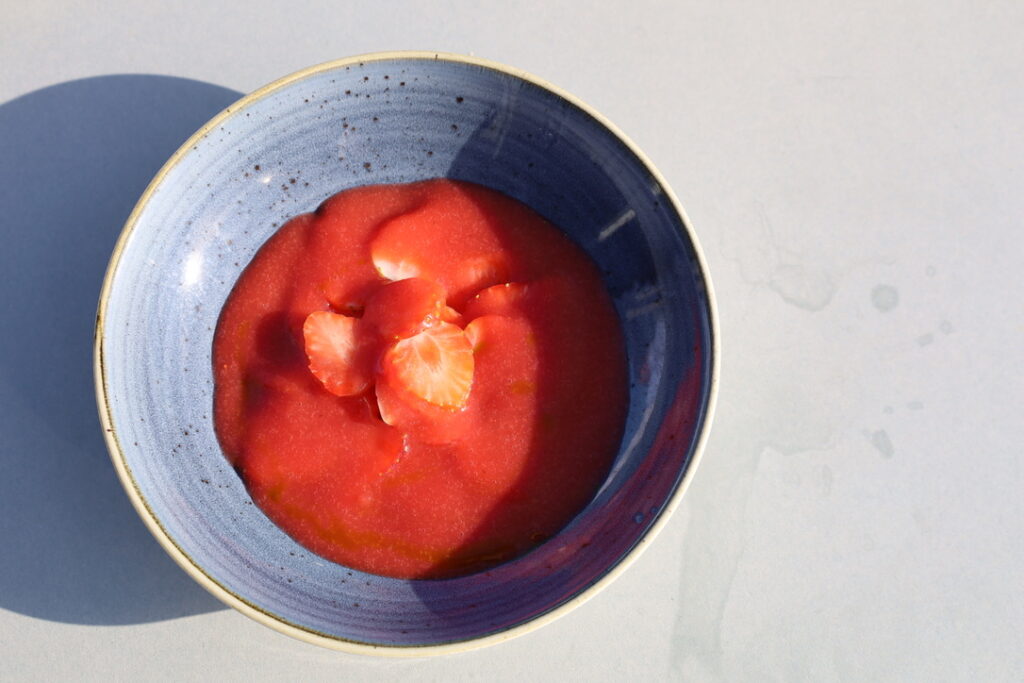 The soup was served in a small portion, which was perfect. After this I had a calvados, and then a Sprtiz to Wrap Up the meal. I was saddened, when I had to zip back to the port to catch the ship.
Back on board with time to spare. It is a long trek from Nice to Barcelona. See the blog on Barcelona and Cartagena.