I believe it is critical for the home cook to taste everything. If you are using a teaspoon of garaham masala then dip your finger into the spice and taste that spice. Try to remember the taste, so you can apply that knowledge to future dishes you are creating or recipes you are following. Although spices and ingredients are legion, some are found frequently in many styles of cooking and in wrapping of dishes. Feel the ingredients are they soft, firm, pliable, or dried? Smell the ingredients, different from taste, and try to remember that smell. Look at the ingredients, what is their color, what should they look like if fresh, compare this to other similar ingredients.
The Banana Plant Leaves
The Banana plant is a flowering herbaceous plant. It has a central stalk and blades (leaves) on all sides. These leaves can grow to a size of 6 ½ feet (2 meters). Banana leaves are used throughout Asia to wrap food. They do lend a subtle flavor to the food and a "vibrant" color. They are inexpensive, can usually be found in oriental food stores, or on line. They store well in the freezer. However, they can become moldy, break or split easily and can be hard to find in some areas. It is unlikely that the reader will find full and fresh banana leaves available. Those in the stores usually have been trimmed, may have been frozen multiple times, and are usually not "fresh". However, if you find a good Asian or Latin grocery that provides fresher leaves, so much the better.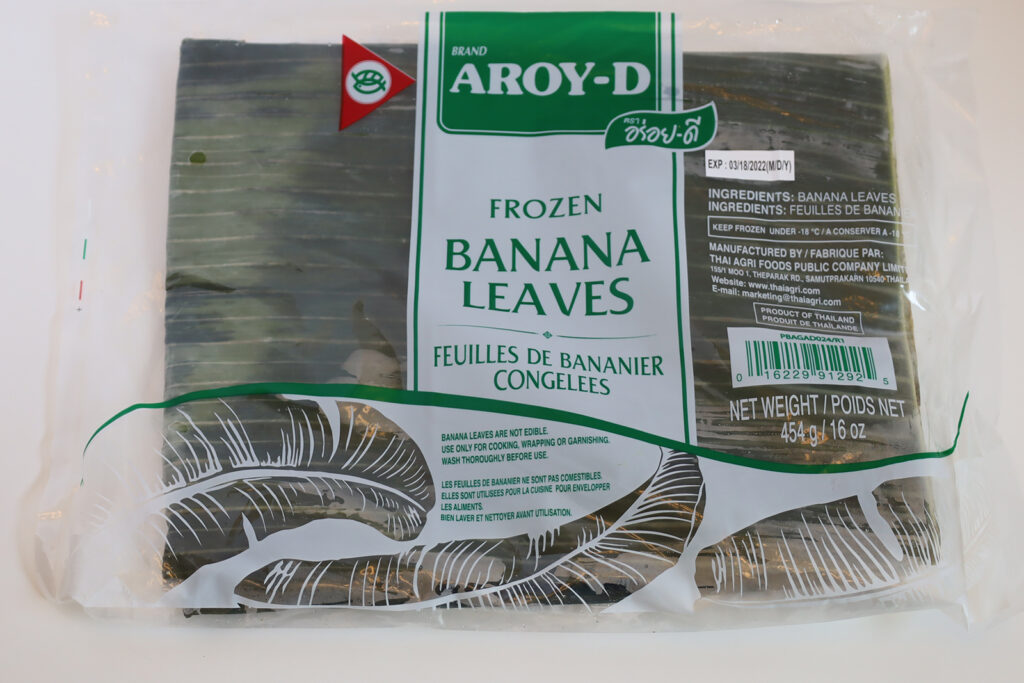 In using the banana leaf there are a few steps to take before using them with food. Firstly, you need to wash the leaves well. Go through the package of leaves, lay them out on a clean counter and remove stringy or damaged parts. Next use a clean dish sponge, wash all the leaves both sides. Be careful not to move the sponge or paper towel against the grain of the leaf, this can tear the leaves. Once the leaves are clean and dirt removed, use paper towels to dry the leaves. The good leaves not being used can be placed flat in plastic bags and stored in the freezer or frozen and then vacuum packed. The fibrous edge that was attached to the central stalk, if present, should be removed. You can use this to tie the packets if you wish, however I find kitchen twine to work much better. Cut the leaves into the desired size. It is not a bad idea to buy extra leaves since some will be damaged and unusable, and they easily tear during the wrapping process, further they store well in the freezer.
The leaves may not be very pliable and can tear or break if you try to use them therefore they may need to be softened. This can be done in a number of ways. They can be placed in a 200 F degree oven for 5-10 minutes. Alternatively, they can be placed over a gas (or electric) burner passing them back and forth, similar to the charring of a chile in removing its skin. Obviously, care must be observed to not burn the leaves. Any charring can be whipped off with clean paper towels. A hot water bath is another approach. The water needs to be hot, and you submerge the leaves until they begin to change color to a more vibrant green. Do not oversoak. You can use the microwave, probably the simplest approach. Set the time for 30 seconds and test the leaves for pliability. Once pliable, they are ready to be used.
All of the above preparation sounds daunting but using banana leaves in cooking is another wonderful way to prepare and present food. Further, these leaves can be used with cuisines other than Asian and can be frozen.