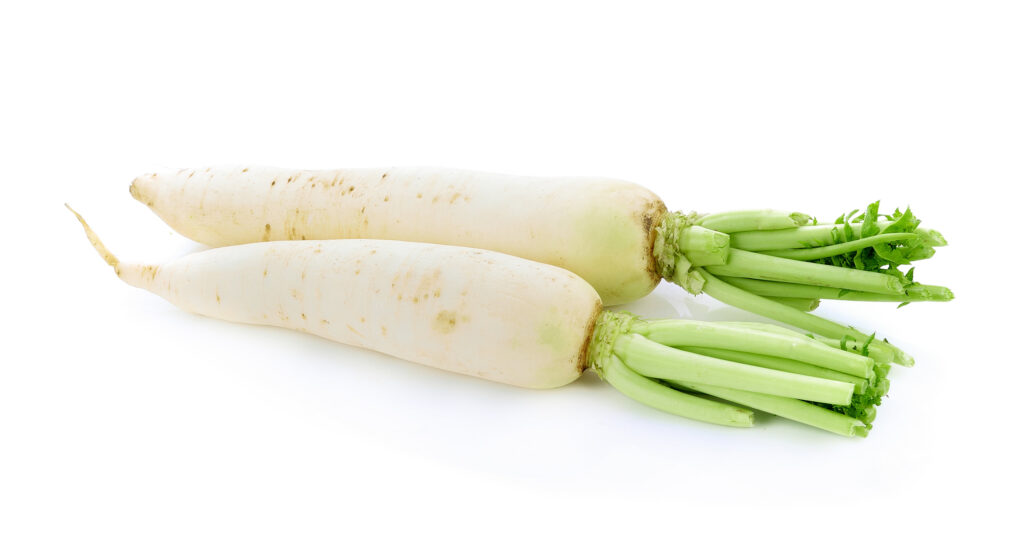 Daikon is a well known vegetable in asia. It is frequently used as a pickle, as we describe below. When julienned and pickled, these pickles are wonderful on salads, on sandwiches or in sushi. The Japanese have a sushi made with sushi rice and pickled daikon called, oshinko sushi. In Korea they make a type of sushi called Gimbap. Adding the pickled Daikon to this vegetarian sushi, that includes Kimchee, gives a wonderful savory sushi role.
Pickled Diakon
Pickling julienned diakons for salads, sushi and other dishes.
Ingredients
1

lb

Daikon

¼

Vidalia onion sliced thin

2

Garlic cloves sliced thin

1

cup

Rice Vinegar

1

cup

Water

1

TBS

Kosher Salt

1

TBS

Honey

2

tsp

Black peppercorns
Instructions
Peel daikon and julienne into small sticks about 4 inches long.

Pack the clean jar with onion, garlic and the julienned daikon.

In a saucepan add the vinegar, water, salt, honey, peppercorns. Bring to a boil and whisk mixing the brine well. Boil for a good 5-10 minutes

Pour the brine over the packed daikon, garlic and onion.

Screw on the lids, set aside until cool, then refrigerate.