I obtain great joy and satisfaction when I prepare and serve friends a 5 or 6 course formal dinner. It has taken me years to come up with a process that allows me time with my guests, and good food for us all to share. I have made blunders and had failures, however there have been successes as well. I think this process can be applied by any home cook, if they wish to put in the time and perform a formal meal for good friends. You want to make sure you have time to spend with your friends, to sit and enjoy the fellowship, but you also want good and delicious dishes. You don't want to be spending all your time in the kitchen, with your friends at the dinner table, a problem I had when I initially started to do these types of dinners. These events require lots of patience and planning, but, at least for me, the entire process is great fun. Further, being a widower, I am by myself, so if you have a wife or significant other, they can obviously be of great help in this process and allow you to spend more time in the kitchen and with your friends.
However, I will describe what I do, as a single person, for a formal dinner with friends. My process reminds me of the Japanese Tea ceremony. There everything is part of the ceremony, the walk-way, the entry-way, the ambiance, and a myriad of details.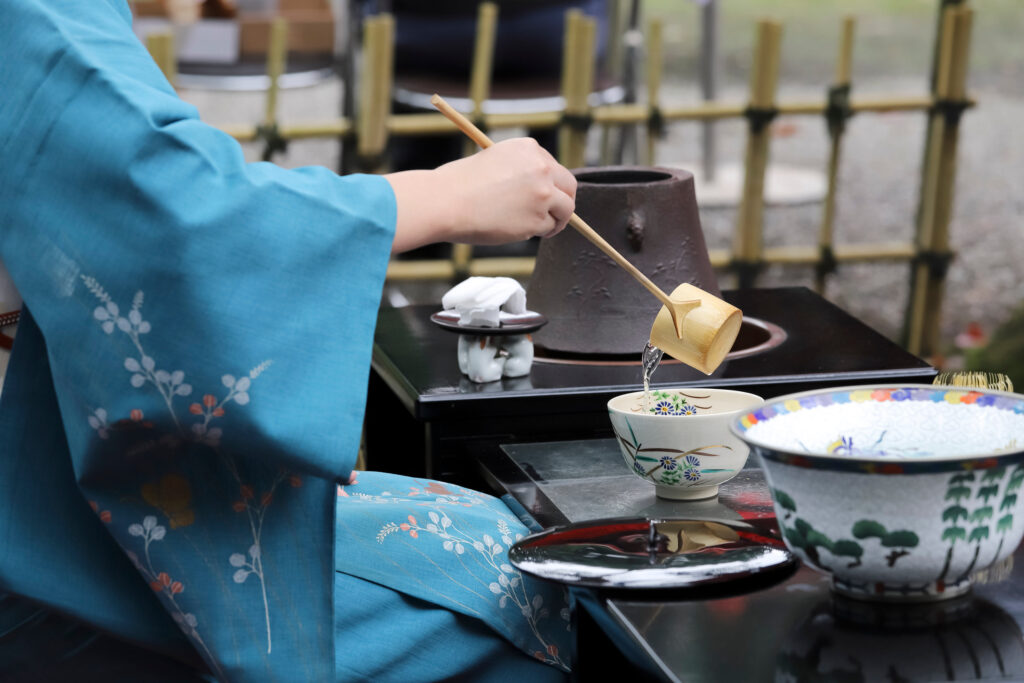 A fully cleaned entry area, even how the front entrance is opened is important. Sights, smells, everything is taken into consideration. So, I include things such as making sure the front walkway is swept, washed and blown clean of leaves, the front steps have hurricane candles on both sides and the inside of the house is cleaned top to bottom. My dinners also involve sight, smell, even touch, so in the winter the fireplace is going, and I always have flowers and candles arranged in the rooms where my guests will be spending time, usually my living room and dining room.
When you invite your guests ask about allergies, foods they may not like or won't eat, and if they are allergic to animals. Since I have cats, they are my family, I am sensitive to folks to may be allergic or even not like cats. I recently had a gathering, not a formal dinner, of friends from church and asked these questions. I was informed that one of the guests had a fear of cats, dogs and other animals, so I made sure my boys were upstairs and kept separate from the party.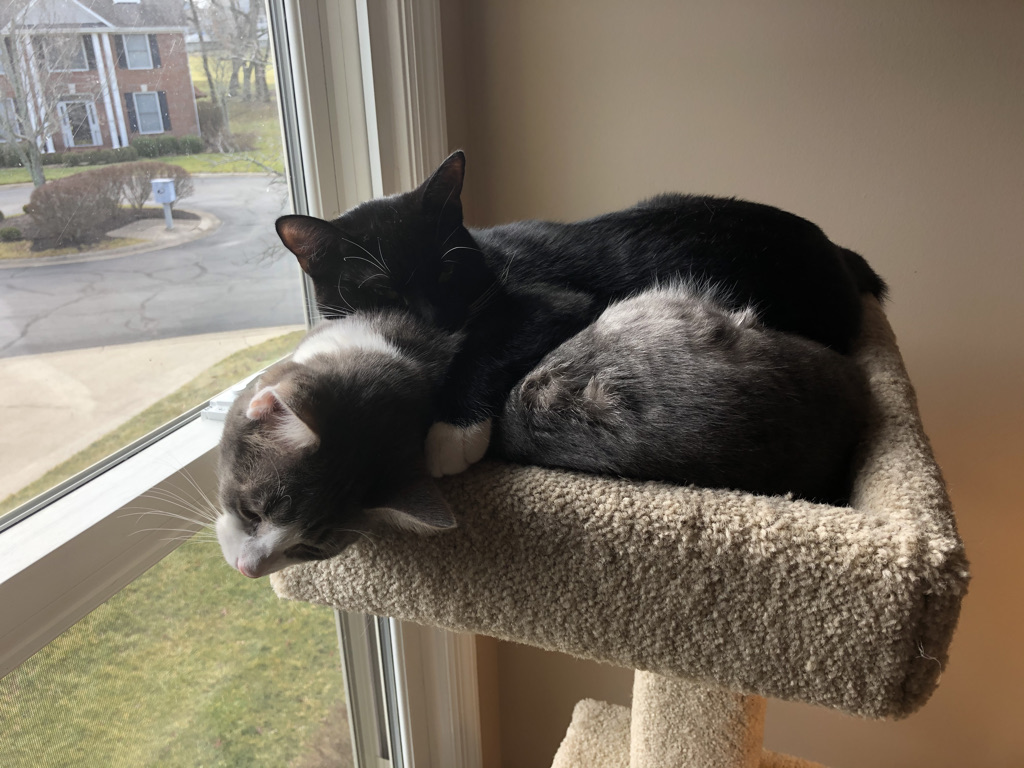 Plan the flow of your dinner. Where will you start? For me, we usually start in the living room, but on a very cold day, may start in the family room in front of the fireplace. Regardless plan ahead where you will be sitting. All should be well cleaned, dusted, picked up and a final cleaning the day of the dinner.
Additionally, what will the weather be on the evening of the dinner. If very hot, your dishes should reflect something cooler and fresher. If very cold with snow on the ground more hearty and warm meals would be in order. All of this goes onto a flow sheet, for when to do the various steps in making the dinner, see below.
I usually start planning such a meal about a week prior to the actual dinner. Further I plan dishes that I can make ahead of time. Certain things can be made at certain times. For example, for a souffle you can make it in the morning of the dinner, set it in the refrigerator and bake it later that day. For a salad, you can make the salad, wiothout dressing, a few hours prior to the dinner. Cover each plate with plastic wrap and set in the refrigerator. Just before serving toss or pour the dressing over the salad.
I also spend quite a bit of time determining when things should be completed during the week prior to the dinner and this includes things like cleaning, flowers and the like. In the flow sheet I will check off what has been done. This is a "living" document, so it can and does change, but all the steps that need to be done are in that flow sheet. If there is a dipping sauce, I can make this a few days prior to the dinner and refrigerate. If I am going to provide bread sticks, these can be made 2-3 days prior.
The following are two pages from my flow sheet. The dinner was planned for August 27. The first sheet is other than food, and the second gives you an idea of how I plan preparing the various dishes I will be serving. I even include the plates I have considered. I set these out on a small table near my kitchen, each set of plates and glasses marked for the dish. I do this on the morning of the dinner.
Done
Item
Tuesday 8/24
Wednesday 8/25
Thursday 8/26
Friday 8/27
Notes/Plating
Flowers
XX
Buy Flowers
XX
Set out in vases: Living Room
XX
Set out in vases: Bathroom
XX
Dining Table in vases
XX
Single Rose for Paula in vase
XX
Flowers for Breadstick holder
XX
Candles
XX
Candles for Dining Room Table
XX
Candles floating in living room
XX
XX
Candle on table with terrarium
XX
Candle in bowl on table
XX
Place candle holders on steps
XX
Light all candles
XX
Do around 5:45
Other
XX
Set out the warming plate.
XX
Containers for warming plate.
XX
Set up the music for the evening
XX
Done
Item
Tuesday 8/24
Wednesday 8/25
Thursday 8/26
Friday 8/27
Notes/Plating
Spritz
Make Spritzer in pitcher, refrigerate
XX
AM
Pour and serve
XX
Collins Glasses
Breadsticks
XX
Make dough, refrigerate overnight
XX
Clear glass vases
XX
Bake Breadsticks
XX
Serve
XX
Place in new vases afternoon
Crawfish Egg Rolls
XX
Make Filling
XX
Blue plates
Make rolls
XX
Afternoon and refrigerate
Fry Rolls
XX
About 5 PM
Spicy Peanut Sauce for Rolls
XX
Make sauce, label, and refrigerate
XX
Small metal cups on blue plate
Dolma-Greek
XX
Make Dolma rolls and refrigerate
XX
Square white plate
Bring to room temperature
XX
5:30 PM
Serve wedge of lemon & Sauce
XX
Cheddar cheese crackers
XX
Make crackers & bake
XX
XX
Place crackers in bowl, cover with plastic
XX
It may seem obsessive, however I have forgotten to have the music going, forgotten to light the candles and forgotten other things. There are so many details that I want to make sure I don't forget, that I have them all listed, and check them off when they are done. I certainly do not do this with every dinner I share with friends. However, for a formal dinner the above is an example of 2 pages from my work sheet of 8 pages.
The entire process begins by developing the menu. I usually give my guests an appetizer when they arrive, then a salad, perhaps a soup, a side dish, a main course, and a desert. The menu should be one of the things you spend the most amount of time on. Consider dishes where you can prepare as much of them as possible prior to the dinner. Also, consider the flow of the dinner, and how you can tie dishes together. For example, you might use slices of grilled asparagus for a salad, an asparagus soup, and asparagus with the main course of fish. Just an example of how asparagus would be the connection between the courses. You might consider an Asian motif, with each dish reflecting this cuisine. Use your creativity!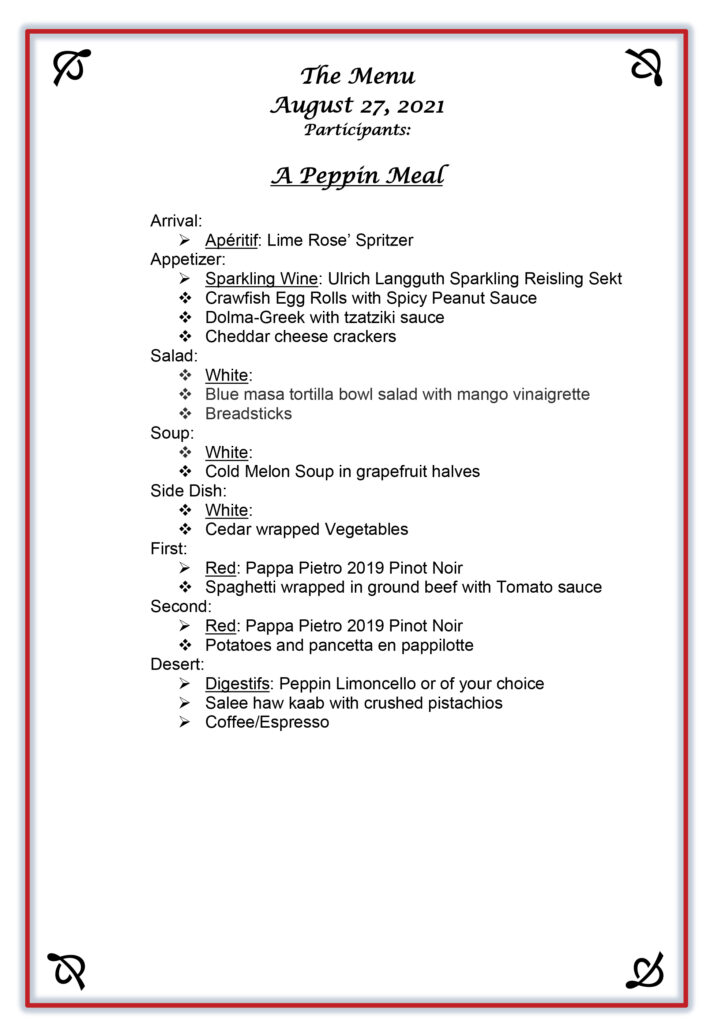 Make a shopping list, and go through the recipes multiple times to make sure you have everything you need written down. It is so easy to forget things, so check your pantry to make sure that everything you need will be available when you cook. The last thing you want to do is have to run to the store 1 hour prior to your guests arriving.
The first thing I learned was that giving full servings for each of these will be more than most folks can eat. Further they will be too full by the third or fourth course. So, you need to make sure you are serving small helpings. This seems counterintuitive, at least it did for me, but after stuffing my guests too often, I realized that amount and taste are two different things. You want your guests hunger satisfied, but you don't want them stuffed and uncomfortable.
Consider the goal of the individual dish. Appetizers are there to stimulate your taste and prepare you for the meal to follow. One at most two pieces are plenty (of course make them a wrapped appetizer from a recipes on my site or from the pending book). Something savory, small and delicious. In the menu above, I did half of a Crawfish roll and 2 small dolma. I place 4 cheddar crackers on each appetizer plate. This way I was controlling the intake, but gave my guests some unique tastes prior to the meal.
The salad should be small with few ingredients. Just something fresh on your palate, as a springboard for the coming courses. If you are planning a soup, you can almost do "shooters", but a very small serving – no more than 4 ounces works well. I once served a consume Royal, about 4 ounces of soup and 2 ounces of the custard, which was well received. Hearty and thick soups are more filling than thin broth soups obviously. With a hearty soup, consider even smaller servings and perhaps avoiding a salad. All, this needs to be taken into consideration.
For a side dish consider what is filling and what is not. Rice, pasta and potatoes are filling. Not that you can't serve these, and I do serve them, but keep the serving size small. Further, many dishes are great, but require you to be in the kitchen more time on the day of the dinner. So you want dishes you can make mostly ahead of time. I have had dinners where all the meal was basically prepared prior to my guests arriving. All I needed to do was assemble and heat.
Consider palate cleansers between courses. If you are going to add these, make sure you take into consideration amount. But a small 2 ounce scoop of a palate cleanser, such as Champagne sorbet just before the main course can be a nice addition. The palate cleanser should be "neutral" in taste as they are designed to "reset" your taste buds and set you up for the next course. I use these on occasion, but only if I have a strong courses prior to a less strong main course. You can serve a palate cleanser more than once during a dinner, it ups to you. But it does add more steps, work and dishes, something to consider.
Setting the table is a very important step in the dinner. As I said, a clean dinning room, clean table, and setting the table in a formal setting with the wine glasses and utensils. When I serve en papillote I have a pair of scissors at each guest's setting. These can be purchased for a minimal amount, but add greatly to the experience. Setting the table is done the day of the dinner, (then I have to watch my kitties and keep them off the table before the meal).
The images below gives you a foundation for setting your table. You certainly do not have to follow this, and I don't. However, it gives you places for the things you may be need to add to the setting. For example, I rarely do a "bread plate" as bread sticks work very well, are less filling, and can be placed on the table in a glass for all to share. When I do a bread plate, I will form the butter into interesting shapes, but this is more work, and bread is very filling.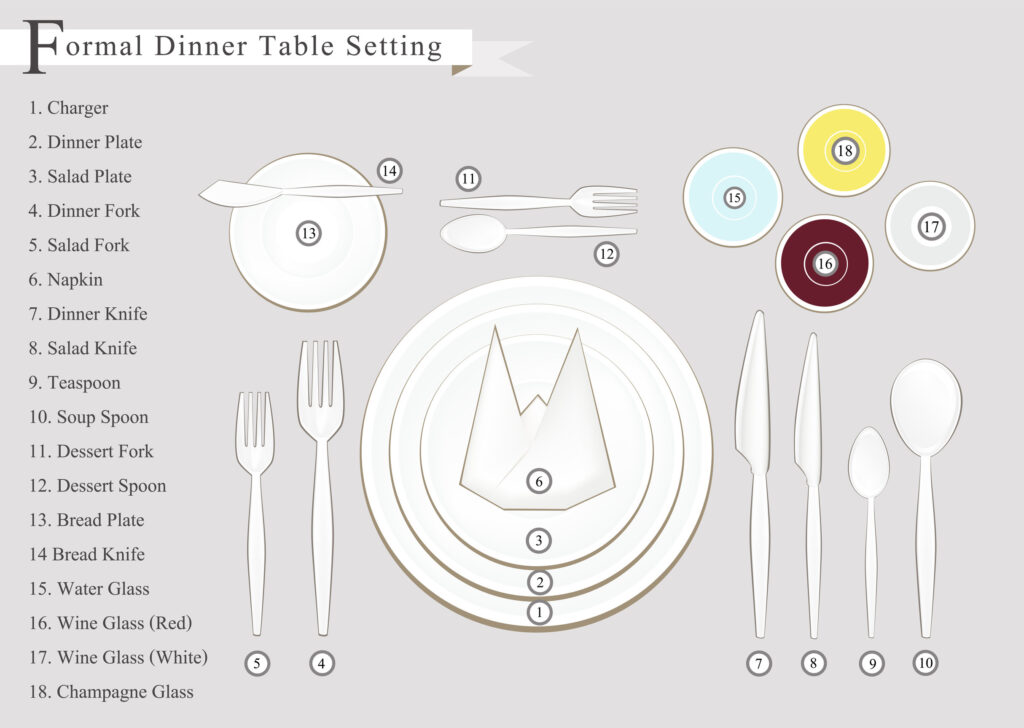 I try to keep the clutter on the table down to the necessary utensils and glasses. Frequently tables. are cluttered with decorations and other paraphernalia. I feel this greatly reduces the space on thee table, which is critical to the dinner experience therefore, I do not add lots of decorations. However, I usually have a vase of flowers and one or two candles on the table. Obviously this is up to you, however, I find that too much on the table hinders the experience.
I do not include the plates when I set a formal table. I do have a placemat, but I do not use chargers. I don't see the point of these other than looks; they are more trouble than benefit, in my opinion.
I have seen, on board the Riveria Cruise ship, the use of a porcelain charger. I thought this looked very elegant and I will ponder this for future dinners. You certainly are welcome to use a charger if you wish – these dinners should be an expression of your creativity. Note the settings below from the Jacques Restaurant on board the Riveria cruise ship. A very different setting than the drawing above.
Placing the napkin can become a creative experience. I have folded these uniquely, and used naplin rings. Also I have set them on the side, or in the middle. In the photo below the napkin is on the lefthand side of the place setting. I always have a place card for each guest, including myself. I have holders for these, which you can find online or in stores such as Bed Bath and Beyond. I have spent some time how I want my settings, and continue to think about new things I can add or change. But rather than belabor the point, this is your setting and your dinner, so do what you think will work best for you and your guests.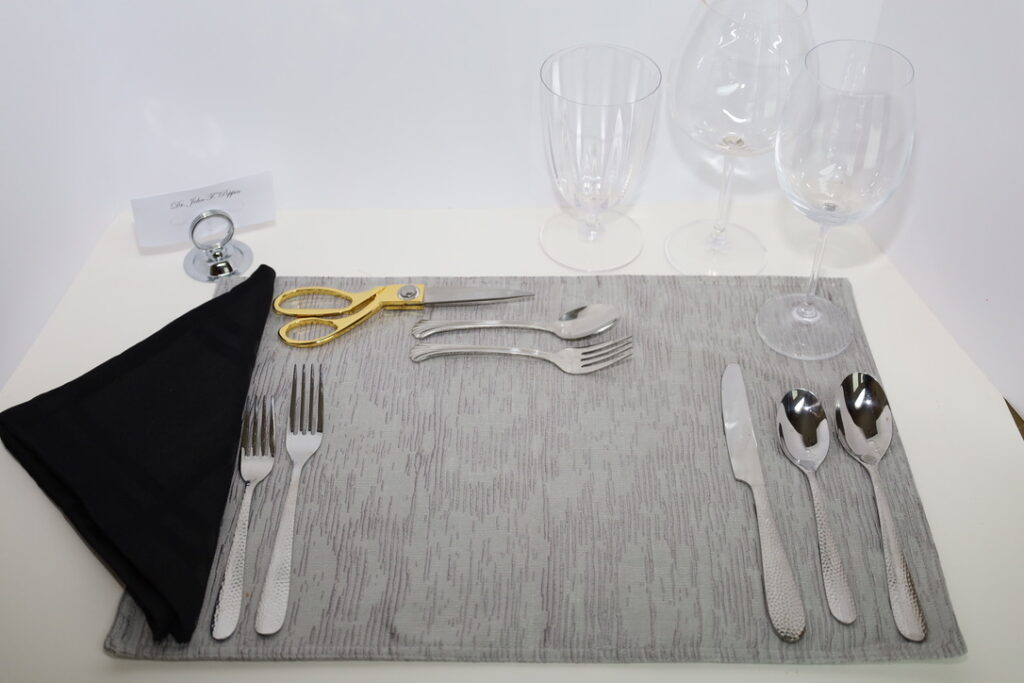 Years ago, I would "pare" a different wine with each course (I am not a wine expert by a long shot). This is obviously more expensive, and if your guests haven't finished their glass of the previous wine … what then? So, I usually only plan an aperitif when the guests arrive, say an Aperol spritz. Consider the outside temperature. If very cold, you might consider a warm winter drink as a starter, such as a hot toddy. Then a sparkling white wine with the salad and soup. Then a red or white for the remainder of the dinner. If your guest chooses to continue with the sparkling white wine, this is fine. Don't try to force the guest into your mold of how things should flow. You can offer after dinner drinks as your guests choose. But take into consideration the amount of alcohol your guests might consume. You certainly don't want tipsy guests leaving your home. Another point, make sure you don't drink too much. In the past, in having a good time with guests, a little bit too much wine and I have forgetten steps in preparation, plating, and serving. So never forget, that you are serving your friends. Be part of the fellowship, but you are the host, the cook, sommelier and server. So you want a clear head. Below is the aperitif, sparkling Reisling, a Barbara d'asti, and homemade limoncello, that I used for a recent dinner.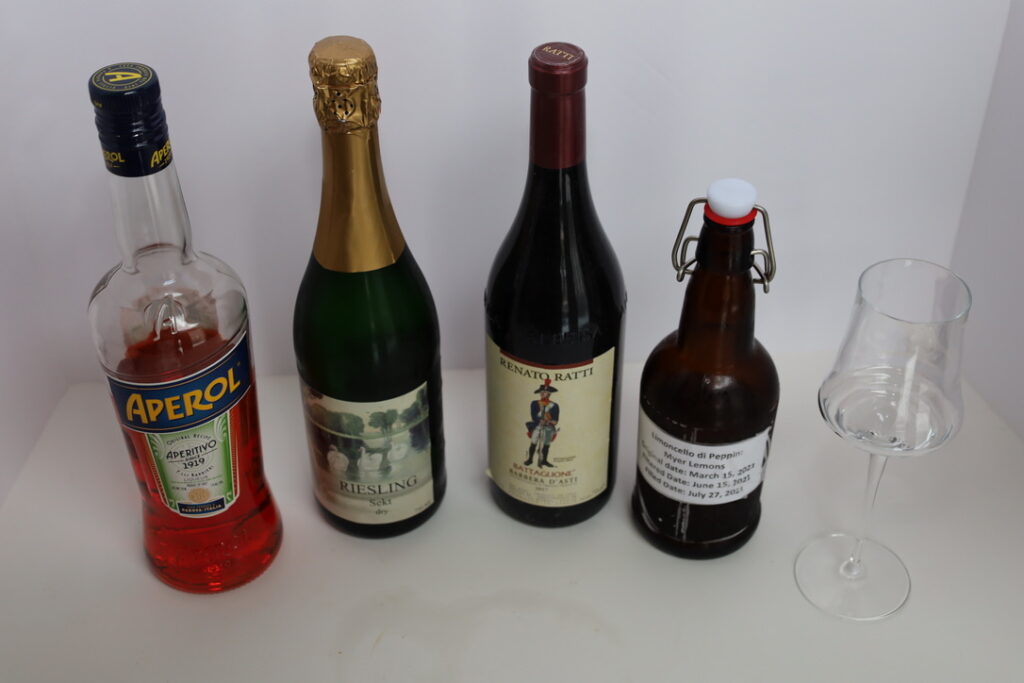 In my opinion desserts are a challenge in a formal dinner. The goal is something sweet, usually with a digestif, to end the meal on a high note. Most restaurants offer very heavy and calorie laden desserts, which I feel is a tremendous mistake. A good 4 course meal topped off with a large piece of cheesecake, is over the top. So a dessert that is lighter is my goal. I frequently serve fruit for the dessert course. These desserts can be baked, fresh or whatever you decide. A small bowl of homemade mango gelato, say 4 ounces or less, with some fresh fruit added can work very well. Further, it can be made days ahead of time. So plan your desserts, but just remember to keep them small and fresh.
Remember coffee or espresso will stimulate the appetite, so having small cookies available with the espresso, such as Cantucci, should be considered. These are small Italian cookies that were originally designed to be dipped in vin santo. But they go so well with other things. Again, these can be made 2 or 3 days prior to your meal, so all you need do is place them on the plate.
Enjoying these meals takes hours, so if your guests arrive at 6 PM, let them know that they will be leaving after 10 PM. You want a leisurely dinner, where discussion and enjoyment of the entire experience is the result.
Admittedly this is a tremendous amount of work, but for me great fun. I plan these for my good friends and do at most 4 a year. So, we are not talking about frequent happenings. But I find the process, and final dinner very rewarding. I keep all my flow sheets and menus in binders. Further, I debrief each dinner in my mind and on paper, what was done right, what was enjoyed, what needs to be changed for the next time. This is typed out and placed into that dinners small binder, to help plan subsequent dinners.
These dinners are more costly, however, they don't need to be outrageously expensive. You can buy good wines for less than $20 a bottle. The ingredients for the dinners can be from your larder, pantry or garden. As you plan the meal, consider recipes that contain common ingredients or less expensive ingredients. These dinners do not need to break the bank. You can do a lot with simple ingredients.
11 Points to remember for your next formal dinner
| | |
| --- | --- |
| 1 | Invite your guests: ask about allergies, likes, dislikes. Ask about allergies to animals. |
| 2 | Give a good 2 weeks for the invitation. |
| 3 | Write out the menu, putting thought into how much time each dish will take, when you could prepare sauces and things ahead of time. |
| 4 | Go through your cupboards and larder making sure you have all needed ingredients. |
| 5 | Make a shopping list of ingredients you need. You may need to shop more than once in the week prior to the dinner, depending on fresh ingredient needs. Keep them as fresh as possible. |
| 6 | Clean the entire house, especially those areas you will be needing for the dinner. |
| 7 | Plan flowers and candles. I usually pick up flowers the morning of the dinner, or the evening before. |
| 8 | Fill out your flow sheet. When to cook what, when to clean, when to light candles etc .. every detail. I do this since in my experience it is so easy to forget little things that can make a big difference in the overall experience. |
| 9 | Plane your refrigerator space. Do you have enough room for salad dishes, sauces, etc .. ? |
| 10 | Select the dishes that each course will be plated on. On the day of the dinner, place them on a side table near the kitchen and label them. |
| 11 | Remember you are serving your friends, you are server, sommelier, cook and friend. |
I hope what I have described above helps you with your future formal dinner plans with friends. Let me know if this works for you.