I love a good garlic dip, frankly I love all things garlic!  This dip works well with potato chips, pretzels, baguettes and just about any other type of chip or crackers.  You can use sliced vegetables as well.  It is unfortunate that so many grocery stores sell poor garlic, small heads with small cloves that have begun to sprout or have started to shrivel up.  If you can find larger heads of garlic so much the better.  Make sure to cut the top of each clove, this way the olive oil touches all the cloves when roasting.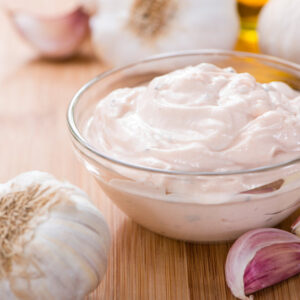 Roasted Garlic Dip
Equipment
Food Processor

Spice Grinder
Ingredients
4

heads

fresh garlic

Cut off the top portion of the head, and then each additional head.

3

tbsp

extra virgin olive oil

1 ½

cup

sour cream

(or homemade yogurt)

½

cup

mayonnaise

½

tsp

dried rosemary

½

tsp

dried thyme

1

tbsp

fresh parsley, chopped

1

tbsp

fresh basil, chopped

1

tbsp

fresh chives, chopped

½

tsp

kosher salt

(or to taste)

½

tsp

freshly ground pepper

(or to taste)

½ – 1

tsp

cayenne pepper

(to taste, this isoptional, but adds a bit of zest)

2

tbsp

fresh lemon juice

(or to taste)

Optional ingredients: your favorite herbs, bacon bits etc.

Get creative. However, I find this recipe to be great as written above.
Instructions
Cutoff the top part of the garlic head. Using a small paring knife, make sure the top of the smaller cloves are also cut off.

Place the cut head on a piece of tinfoil.  Pour a little EVOO over each garlic head, wrap up and place on a small cookie sheet.  Roast until the garlic is soft and slightly browned.

As the garlic is roasting, mix the EVOO, sour cream, mayonnaise, herbs, salt, pepper, lemon juice and any potential additions, well using a whisk.

Taste and add spices as needed.

Use a spice grinder to make sure the Rosemary and Thyme are well ground so hard pieces of the dried herb are not present.

When the garlic is well roasted, remove from the oven, and squeeze out the roasted garlic cloves.  It will be hot, but will cool quickly.  Use the back of a paring knife blade, start at the root side and just fold over the blade until the cloves squeeze out.  Make sure you have removed all the garlic skins.

Place the roasted garlic in a small food processor. Add some of the sour cream mixture and blend.  Add more sour cream mixture until the garlic is well blended.  Mix all the sour cream mixture with the garlic mixture, again using a whisk.

Place in the Refrigerator for at least 1 hour, and even better over-night.

Serve with potato chips, vegetables, breadsticks, or whatever works for you.