Buckwheat is delicious and especially when used for these crepes. There are a couple of ways to prepare and use these types of crepes. They depend on whether the crepe is to be used "open faced", as in the classic galette bretton ("pancake from Brittany") type crepe dish, or rolled. Since 100% buckwheat flour creates a very friable and delicate crepe, trying to flip these results in torn pieces of crepe. When I was doing the research for these blogs on crepes, I ended up with a bowl full of torn messed up buckwheat crepes before I found the answer. I had wondered why some recipes used 25% buckwheat flour and 75% all-purpose, and others 100% buckwheat, with everything in between. Then I noticed that those recipes that rolled the buckwheat crepes used al-purpose flour and buckwheat flour and it dawned on me that this added the gluten necessary to hold the crepe together so it can be flipped and rolled.
This first recipe uses 100% buckwheat flour and is the classic galette bretonne crepe. The crepe is cooked on only one side, the fillings added and the galette is folded over onto the fillings forming a square. This is the type of crepe I had in St. Barts. Although I give one filling following this recipe, you can use almost anything. Any type of cheese, eggs, ham, bacon, sausage, spinach and other ingredients will all work. Things like sausage and bacon need to be cooked before adding to the crepe.
The following recipe is simple and has few ingredients. I love onions, and this one includes browned sweet onions. As I said the filling is only limited by your imagination.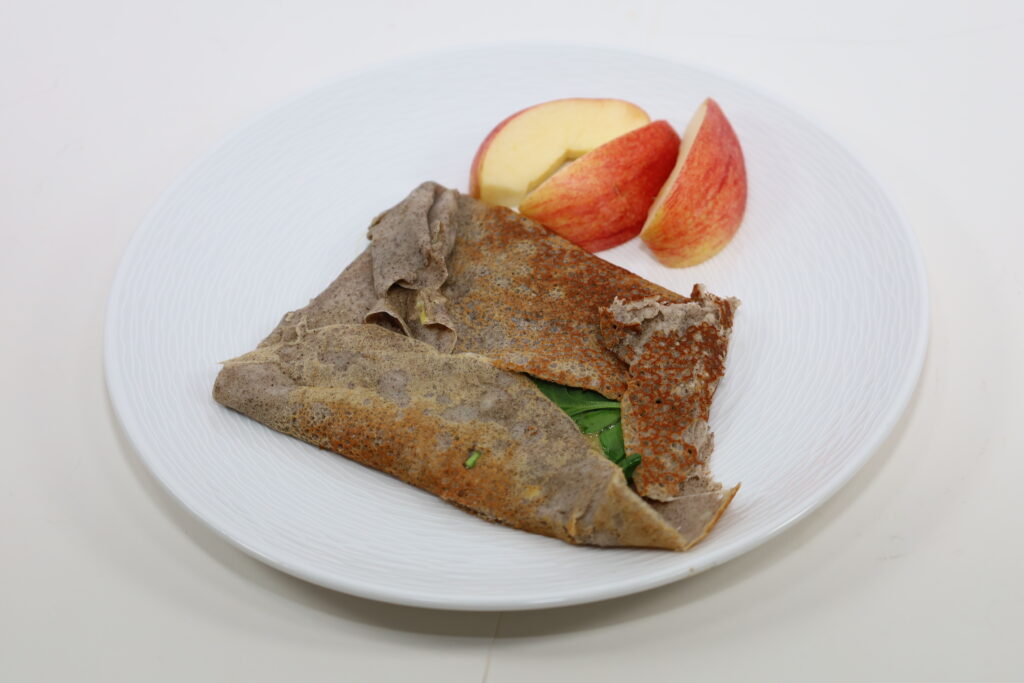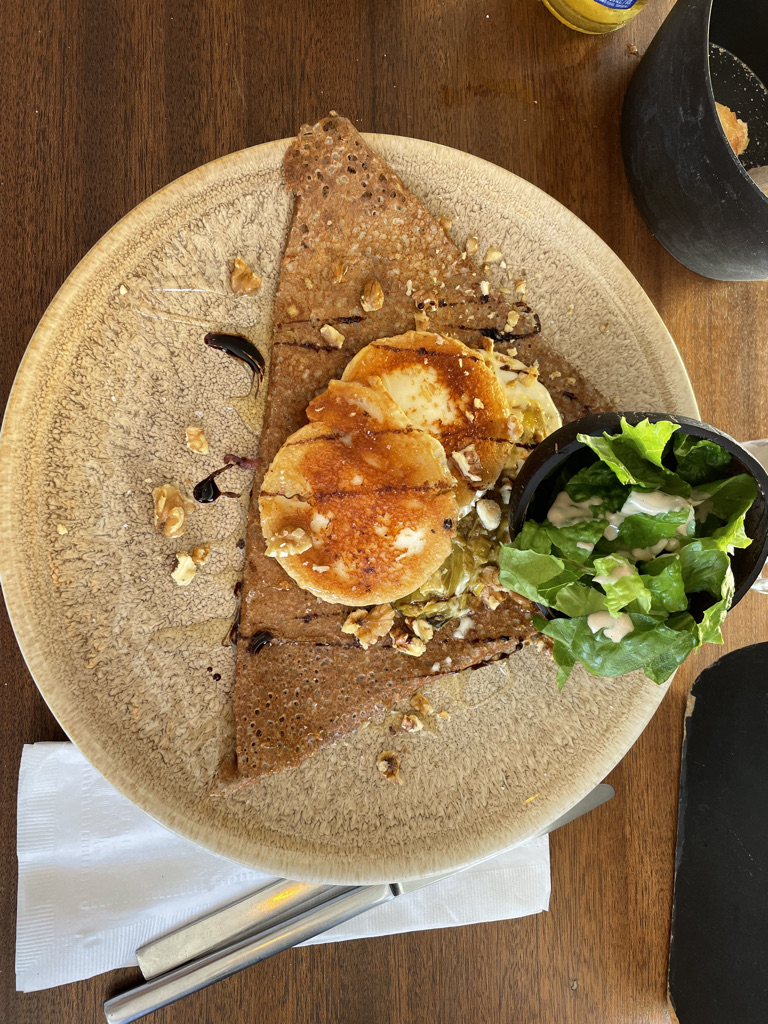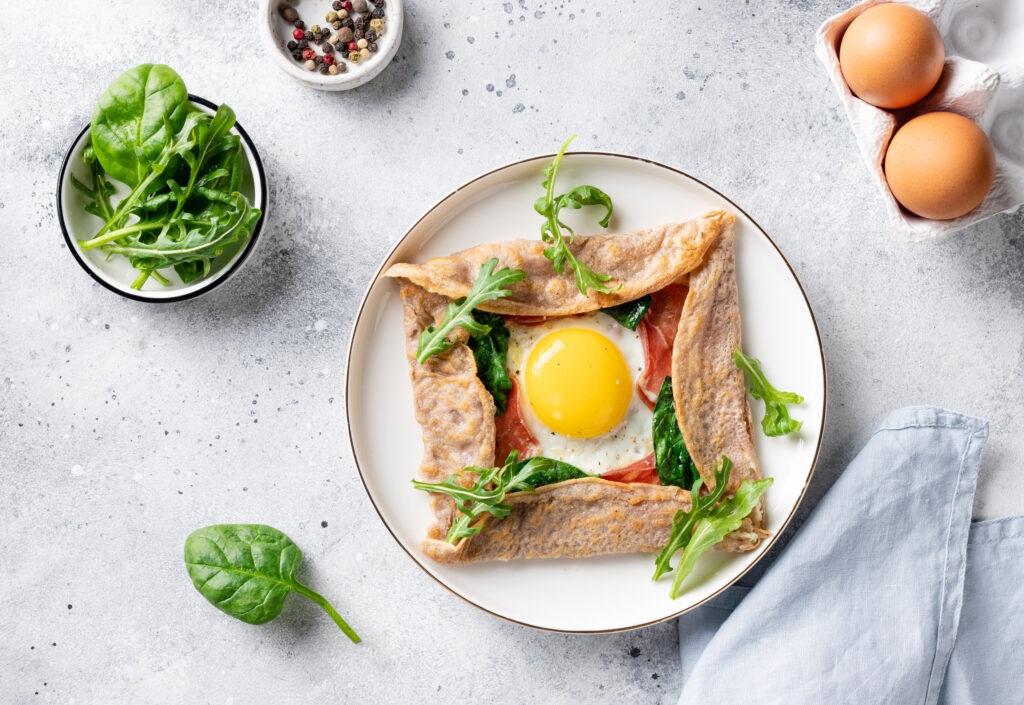 French Buckwheat Crepes with All Purpose Flour for Rolling
The buckwheat crepe that can be used for rolling up a filling follows. There is a need, as I said, for gluten to keep the crepe together. This recipe works very well. Again the filling in only limited by your imagination.
I love onions so the following filling is just onions. Fry them slow until they are well carmelized. They will shrink down significantly, so 2 large sweet or Vidalia onions will shrink down to a little over 1 cup of fried and carmelized onions. Spread a little sour cream on the crepe, top with the onions, roll up and heat in the oven. Then enjoy.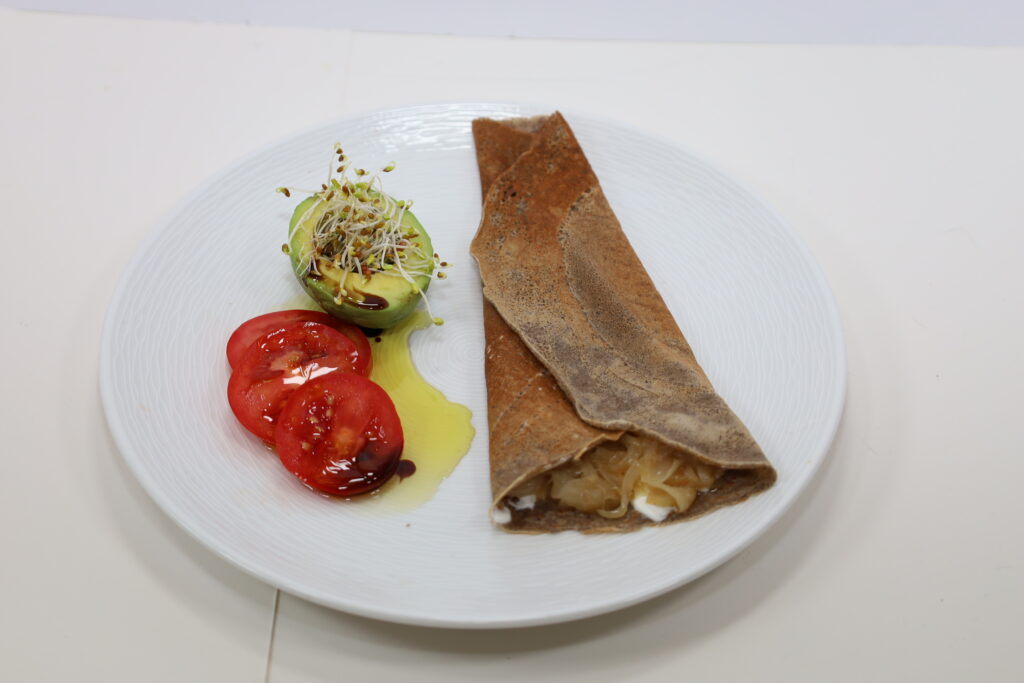 The type of filling that can be added to a rolled crepe is, as I have said throughout these blogs, only limited by your imagination. However, I feel there are a few things that result in better dishes. Do not add too much to the crepe. This is true for pizza as well. 3 or 4 ingredients should be a limit for almost all crepes you might make. Adding too much to the filling can overcome the soft taste of the buckwheat, and also hide other tastes of the dish. Further, if you use intense spices, keep these at a minimum as well. Spices such as curry, chilis and others should be used judiciously. These, of course, are my suggestions and you are free to make the spiciest most complex crepes you wish.