These neither contain Armadillo, nor are they eggs further, Armadillos do not lay eggs. The origin of the term is a bit obscure, but it seems clear that this dish originated in Texas. Apparently two versions of the history exist in Texas and both are passionately adhered. The first mention of this dish was form a Texas newspaper in 1972. A second version has them made at Texas Technical in the 1980s. They are called "Armadillo" eggs since they apparently look like the back of an Armadillo when wrapped in bacon and cooked. It is unclear where the term "egg" comes from.
Regardless they are a version of the "Scotch Egg", without the egg and with a very Texas twist. The versions found on the web and in cookbooks abound, some are wrapped in bacon, some are smoked, and some are rolled in breadcrumbs. Some use just ground pork, others breakfast sausage, and other sausages such as Bratwurst. In addition, the cheese is varied, cheddar, jalapeno Jack, Colby, etc … Regardless, the following version is my iteration of this iconic dish.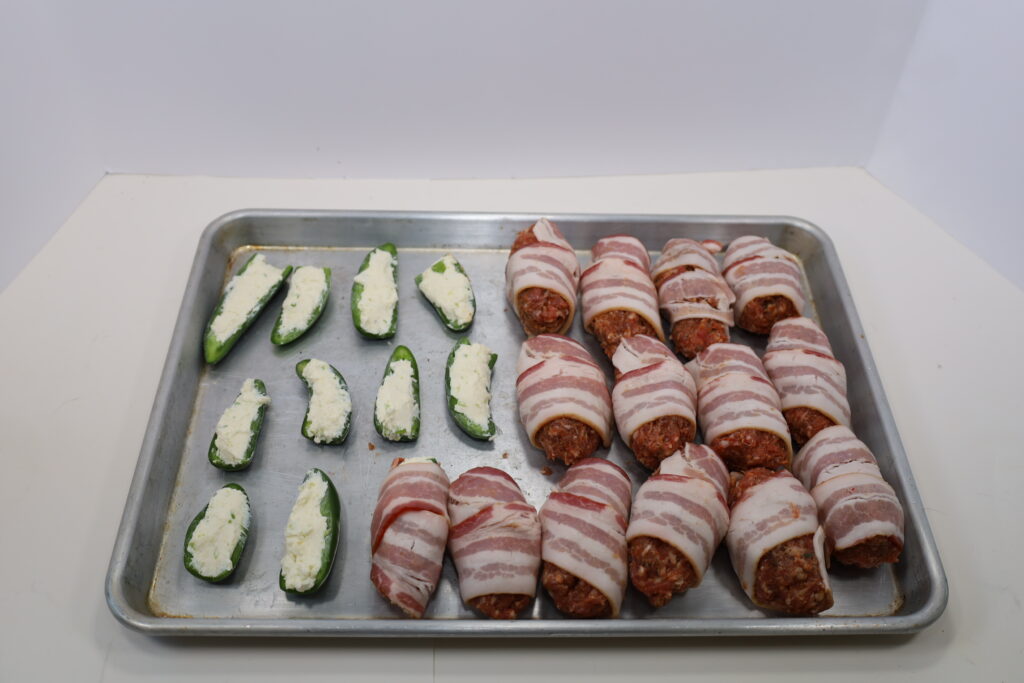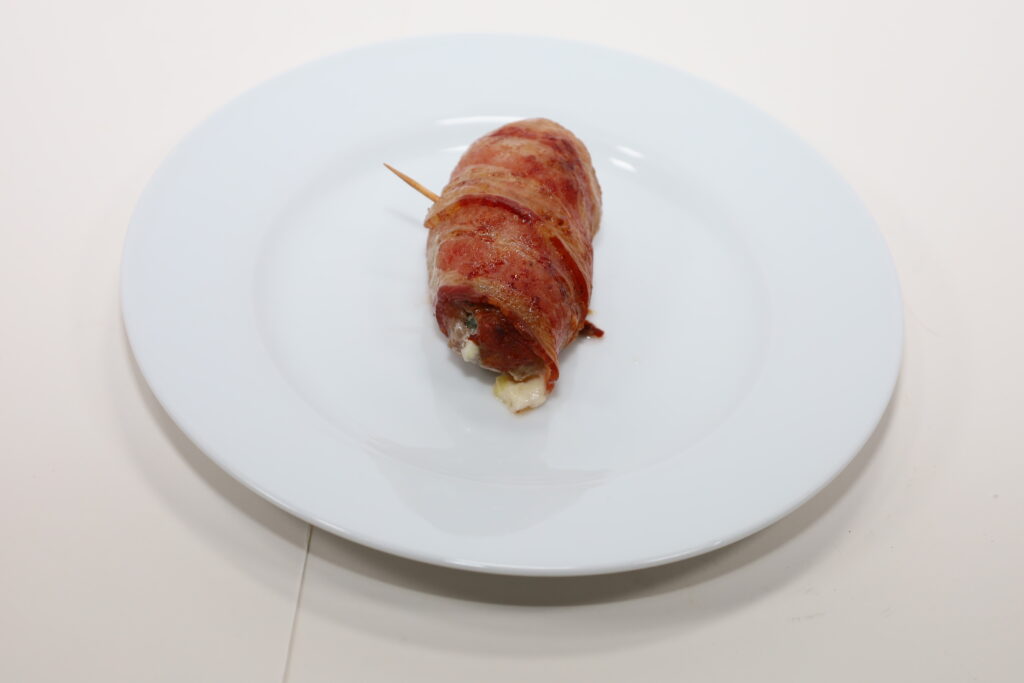 Your guests will enjoy these, but be warry. I cut the jalapeno's in half to reduce the "filling" aspect. You can use a full jalapeno, which makes these just about a main course.
Armadillo Eggs
Stuffed jalapeno wrapped in sausage and then wrapped in bacon.
Ingredients
Sausage Mix
2

lbs

Italian Sweet Sausage

⅛

tsp

Cumin

2

Garlic Cloves minced

1

tsp

Sage Fresh or Dried Chopped and minced

1

tsp

Sweet Paprika

½

tsp

Freshly Ground Black Pepper

½

tsp

Sea Salt

2

tbsp

Fermented Jalapeno's Chopped finely

Optional
Cream Cheese Filling
8

oz

Cream Cheese

½

cup

Extra Sharp Cheddar Cheese grated

1

TBSP

Scallions Finelt Chopped
Assembly: Rolled in Bacon
8-10

Jalapeno Chilis

16-20

Pieces of Bacon
Assembly: Rolled in Bread Crumbs
2

Large Eggs, well beaten

½

Cup

Panko Crumbs
Instructions
Sausage Mix
Unskin the sausages and march chop (or regrind).

In a bowl place the unskinned sausage and add the cumin, garlic, sage, paprika, salt and black pepper.

Add the fermented Jalapeno's if you feel there is a need for more spice and heat.

Mix thoroughly with clean hands.
Cream Chees Filling
Bring the cream cheese up to room temperature.

Place the cream cheese, grated cheddar cheese and scallions in the bowl and mix well. Set Aside.
Assembly Wrapped in Bacon
Wash and rinse the chilis well.

Cut the chilis in half longitudinally and scrape out the membranes and seeds.

Fill each Jalapeno half with cream cheese filling.

Divide the sausage mixture up into about 16 equal portions.

Place the sausage portion in your hand and flatten. Place one half filled jalapeno on top and wrap the sausage mixture around the jalapeno. Seal the mixture around the filled jalapeno. These can be wrapped thickly or thinly. I prefer a more thin wrapping. Seal the mixture well around the filled jalapeno.

Wrap each sausage-jalapeno packet with one (or two depending on size) pieces of bacon. Wrap tightly. Secure with toothpicks.

Place the wrapped packets on a parchment lined cookie sheet.

In a 375 degree F oven, bake until the bacon is crisp and brown and the interior temperature of the roll is 160-165 degrees F. About 20-25 minutes. Check a couple with a over thermometer.

Remove the toothpicks and serve.
Assembly rolled in Panko
Take the Sausage packets, not wrapped in bacon, and roll them in the beaten egg, then roll them into the Panko crumbs covering the entire roll. Place them on the parchment covered cookie sheet.

In a 375 degree F oven, bake until the Panko is crisp and brown and the interior temperature of the roll is 160-165 degrees F. About 20-25 minutes.

Serve them warm or right out of the oven. These make great appetizers, or the large sizes a main course.
Notes
*Taste each of the chilis. If they are very mild, similar to a green bell pepper, consider adding fermented jalapeno's to the cream cheese mixture, see the recipe in my blog Wrapitup.com. I like things spicy, so I would add this if necessary.
** These can be made in two different ways, either wrapped in bacon, or rolled in egg and Panko crumbs. I prefer to do half each way, giving my guests the choice. But you certainly can wrap them all in bacon if you wish or roll them all in Panko.
***This all depends on the size of the jalapeno's. If most are smaller, you may have enough sausage for 20 final "eggs". If they are bigger you will have less.