My sister recently moved from California to Georgetown Kentucky. In her exploration of Georgetown, she heard about a resraurant called Rodney's on Broadway. Since then we have been there on numerous occasions. The restaurant is in an old home built in the 1800s, that has been remodeled for the restaurant. However, it still keeps it's 1800s charm. There is a bar, that always seems to be crowded. And numerous rooms for dining.
Service is always extremely friendly, efficient and always as accomodating as they can be. One night we came with friends – so there were 4 of us. The main dining room was a little crowded and a bit noisy, since there were some large parties. I mentioned this, and the staff went out of there way to put the 4 of us upstairs, in a room of our own. It was a great evening. Few restaurants would take the time and effort to do this for guests when they were so busy.
The meals start off with a fresh baked bread and a dipping oil. The reduced balsamic vinegar, olive oil, herbs and parmesan regianno, dipping oil was very good. Sweet from the balsamic vinegar, a bit spicy from the garlic, and savory due to the spices and herbs. Garlic was a major part of the spice mix, but not overpowering. The bagettes was small, having a great crumb and crunchy crust. Frankly, I greatly appreciated the smaller size. Too frequently the bread served in other restaurants are larger and more filling. Although I enjoyed the bread I wouldn't want to be filled up with this appetizer supplement. However, at Rodney's the bread is fresh, warm and upon dipping a great beginning to the meal, without filling you up.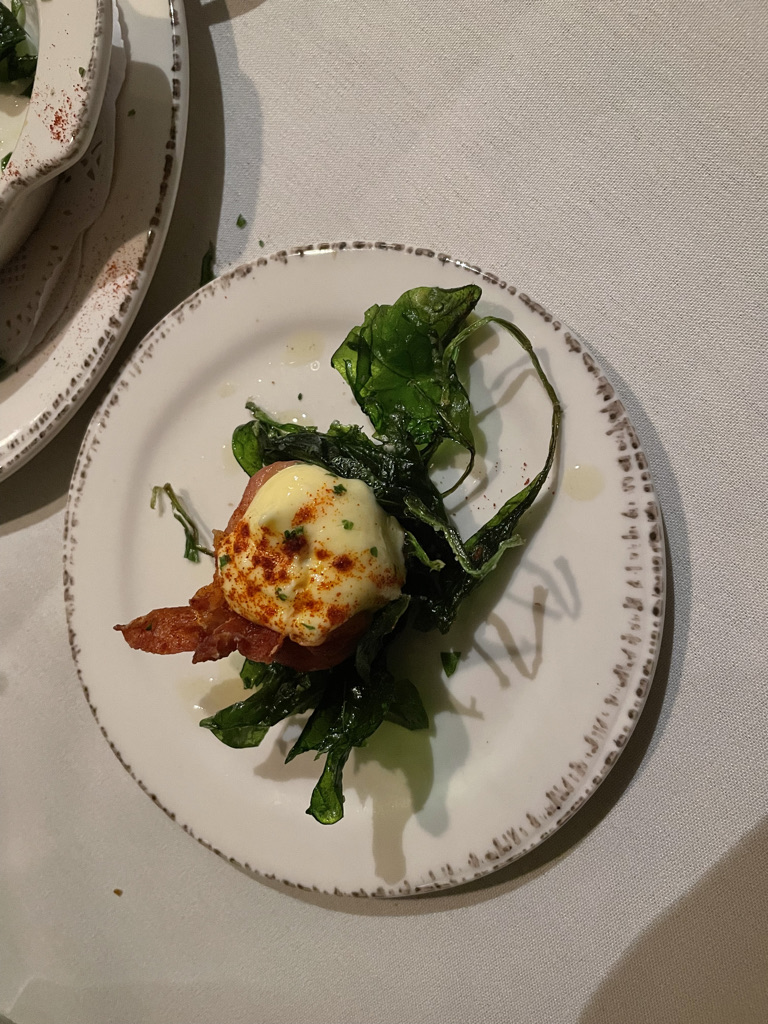 The "Seahorses" are scallops wrapped in Prosciutto on a bed of flash fried spinach. These were topped with a drizzle of fresh holidase sauce. There are 3 with each order, but certainly this dish can be shared between two. The scallops were fresh, soft, sweet and buttery. Wrapped in the prosciutto it added a salty addition to the scallops. The spinach bed was also a good addition to the taste, but a bit salty. It made a very impressive presentation.
Although, I would have loved to have every main dish on the menu, I only have so much capacity. Rodney specializes in seafood. On a recent visit swordfish was the nights special and is one of my absolute favorite fish. So guess what I ordered? It was blackened with a red pepper sauce and topped with a hollandaise drizzle. Rodney taught us how to make his version of hollandaise at the Bleubird Salon monthly dinners, see the post. The swordfish was tender and frankly one of the best I have had in years. Sweet, tender, just melted in your mouth. Rodney is carefully about where he gets his ingredients, especially his seafood. The swordfish came with a side of fresh asparagus. It could have benefited by peeling the more fibrous lower parts of the asparagus. However, the vegetable was fresh and not overcooked.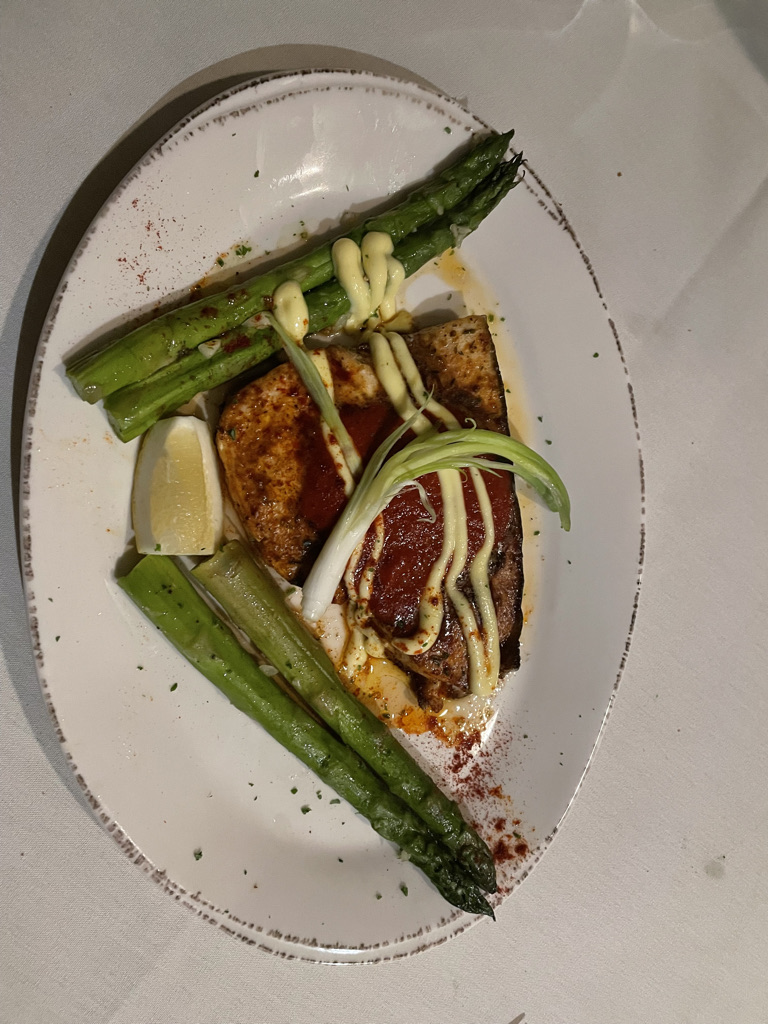 The dinner was finished with a desert of mango cheesecake. My only concern was the huge serving! We shared it and it was still way too much for me, although every bite and morsel were finished. I think that was my sister's doing. The deserts at Rodney's are all made in-house. The Mango cheesecake was soft and airy, with a great mango flavor, one of my favorite fruits. The addition of fresh strawberries and blueberries added to the dish.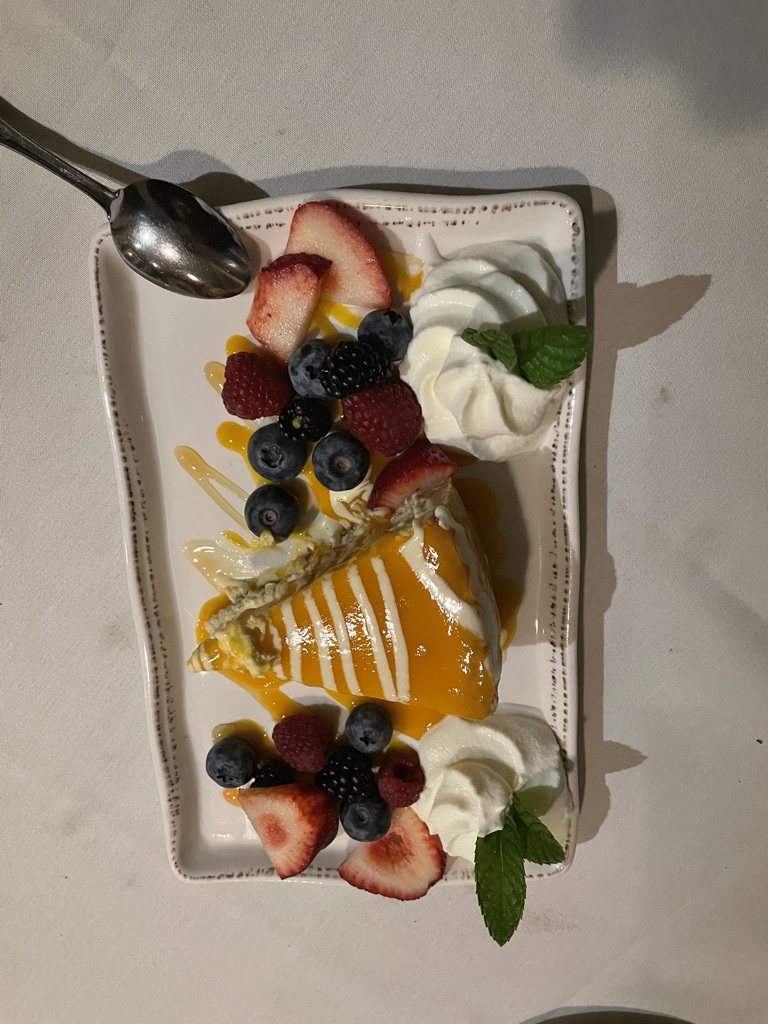 The wine list is fine, and offers a number of options of white and red with a number being by the glass. For the dinner mentioned above I had a glass of the Domaine Roman Pinot Noir, a French old world pinot. It was light, and went well with the scallops and swordfish.
If there was a criticism, I would have loved to have some cognacs, armanacs or an amari after dinner. Perhaps in the future Rodney's will increase their Apéritifs/digestifs list. However, there was an excellent 20 year Tawny port that fit the bill. They also have an excellent rum, Kirk and Sweeny, which easily takes the place of a good cognac.
I highly recommend Rodney's, and it is worth the trip from Lexington, just a 15-20 minutes drive.