China Poblano: A fascinating Mix of Mexican and Asian Wrapped Cuisines.
Every year I attend a medical meeting in Las Vegas, a City I would not ordinarily travel to, but the meeting has been important from a medical perspective. However, for all the negatives I may see in Las Vegas, the food is stellar. There is a small restaurant in the Cosmos hotel that has been there for over 11 years, China Poblano. China Pobano is a great blend of Chinese and Mexican cuisines, especially wrapped dishes.
The Chef, Carlos Cruz Santos, has been with the ThinkFoodGroup, which was formed by José Andrés, for over 11 years – China Poblano is part of that group. This restaurant probably has more wrapped dishes than any other in Las Vegas. Chef Carlos learned to cook at a young age from his mother and Grandparents, and has always, "loved to cook". He originally went to Art school, but realized he was called to be a chef and went into that profession. He agrees that just as art and Medicine combine, the same is true with being a Chef. His artistic background allows him to express his "creative" side. At China Poblano, Chef Carlos has the ability to try new and expressive dishes. Dishes wrapped in banana leaves will be coming to the menu such as Braised Pork in Banana Leaves, as well as savory and sweet Tamales also wrapped in banana leaves. Additionally, they have the famous Soupy Dumplings now and then on the menu, a difficult dish to make, but one that comes easy to the skilled and excellent China Poblano staff.
Carlos is a gracious and generous chef who freely gave of his time and expertise to enlighten me on his life and China Poblano. He allowed me to take pictures of the women who make the tortillas and the wrapped dim sum dumplings. Some have been with this restaurant for over 10 years. Other chefs feel that wrapped foods is fascinating and delicious, however, they are concerned with the prep time. Chef Carlos feels that "practice makes perfect", and his staff is expert at turning out the buns, dumplings, tacos, tamales and other wraps quickly.
I have gone to this restaurant every time I come to Las Vegas and have always enjoyed their food. It is a mixture more specifically of Mexican and Chinese cuisines, which may sound strange, until more history is revealed. This is one of Chef Carlos's interests, the history of food. Apparently, the Spanish Galleons in the 1500s brought back Asian spices and other ingredients to Mexico. And reciprocated with taking the chili back to China. The intersection of these wonderful cuisines is fascinating and this restaurant provides a taste of that merging.
While there for lunch I had the Carnitas, traditional Sui Mai with little gold flakes, and the "When Pigs Fly" dumplings. All delicious. The "When Pigs Fly" dumpling had a dough that was fluffy and chewy and the fillings melted in your mouth. The dough to filling was just right. Many times these dumplings have much more dough and much less filling, which I don't prefer. These dumplings were just heaven. Since I saw them made I knew they were fresh, another very positive feature of China Poblano.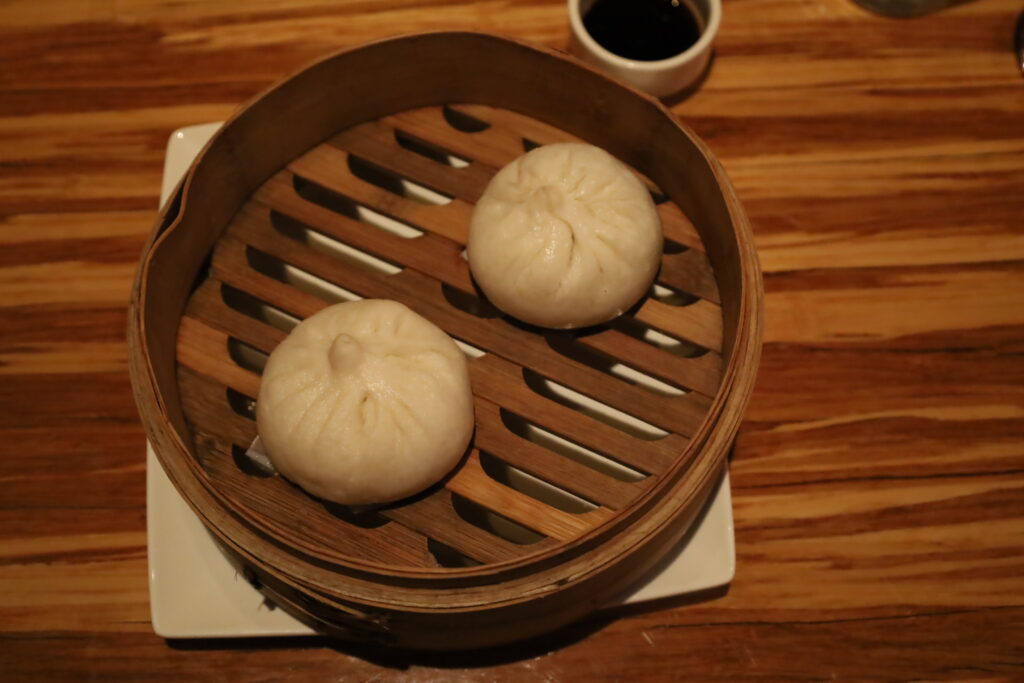 I have had Sui Mai around the world and in Hong Kong. I have to say these come close to the "real thing" from that city. The gold flakes were a great addition to the presentation, and the filling savory, light and easily devored. Some Sui Mai I have had in the past were fatty or even chewy. These were not at all, a cut above much of what I have had in the US.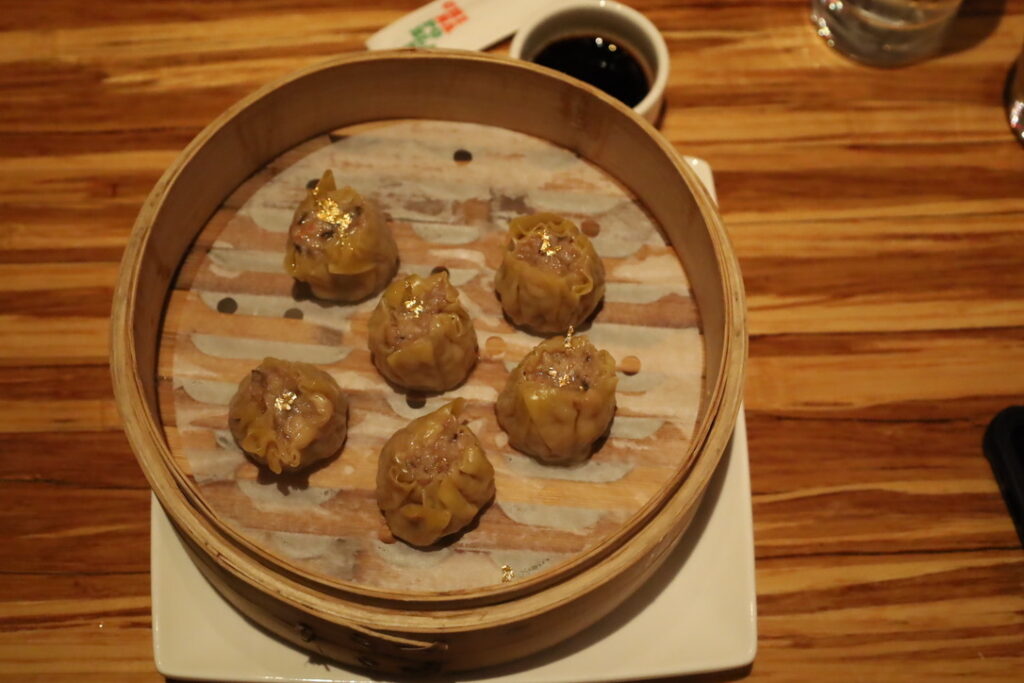 The Carnitos were served folded up in fresh tortillas. The braised pork was tender, with a hint of spice. These are not large servings, which was fine with me, since I was then able to try different things. However, I would say I came away from China Poblano my hunger fulfilled.
While sitting at the "bar" you can watch the staff prepare the tortillas and dumplings; a great entertainment. So not only do you have great food, but entertainment as well. As these folks make the tortillas and dumplings, they are quick, expert and it is a joy to watch.
All in all, if you have to travel to Las Vegas, I highly recommend China Poblano. It is well worth the visit, their food presentation was straight forward and eye appealing, the service was very friendly, timely and courteous. Chef Carlos has done a wonderful job with this restaurant.