Recently I had the pleasure of interviewing Chef Rodney Jones at his restaurant in Georgetown Kentucky, Rodney's on Broadway. He was very gracious with his time and I enjoyed the interview immensely. So much so that I ended up going back that evening for dinner.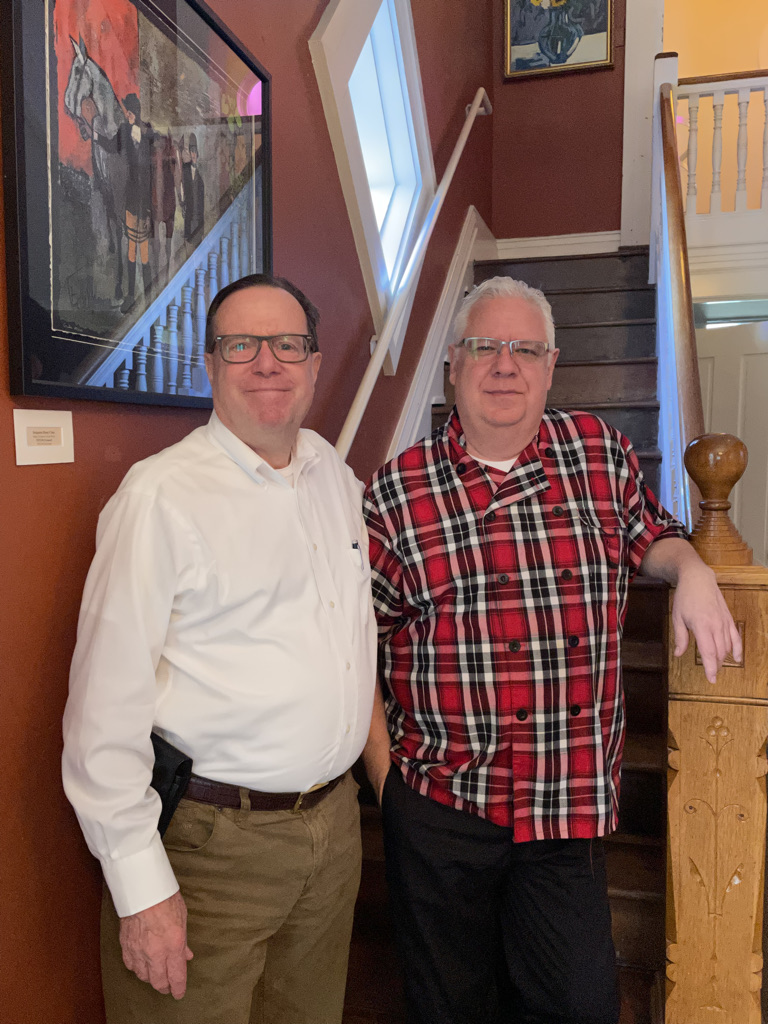 Rodney started out as a musician and guitar player. He and his groups played blues and "anything you wanted". He had never thought about becoming a chef, much less own a restaurant. However, he realized that he had to make some money so he "fell" into a job at a 3 Star Michelin restaurant in lexington. He did the "salads and restaurant cart" and learned the restaurant business over the years he was there working under Chef Stanley Demás. He than did a short stent at Keeneland, and on to the Lexington Club. He was taught the "5 sauces", how to do full dinners, appetizer and drink gatherings, small tables, and do them all at once. The head Chef quit and Rodney was offered the position, which he took. At the Lexington club the menu had to be changed to a different motif regularly. He had to match the appetizers, main corses, salads all around that motif. His reputation, experience and abilities grew.
Rodney has opened Italian restaruants in Lexington, and an Irish restaurant, the Irish Spring House. At the Irish restaurant he perfected his signature lamb dish, that is still on the menu at Rodney's on Broadway. His "most favorite" Chef's position was with the Hiliary Boone Center at the university of Kentucky. After this position he worked at a number of restaurants as a "line chef" to expand his experience, abilities and techniques. He worked at a restaurant called Rossi's for about 5 years where he met his wife, Elizebeth Johnson. After this he was hired by the owners of the current building. He went through a couple of owners who were unable to be successful with the restaurant, and then he and his wife purchased the building and built Rodney's on Broadway in 2011.
At Rodney's he has customers from Lexington, Toyota, The Horse Park and Georgetown. His biggest surprise was with the dining "apps", such as OpenTable. Rodney's on Broadway has always been #1, or in the top 3, for OpenTable and similar apps when a search is made for good restaurants within a 50 mile radius of Georgetown. Folks driving down US 75 will find the restaurant on these apps, and frequently will return when traveling US 75.
He feels that the "Chefs" who come from cooking schools are not true Chefs. This certainly makes sense to me as I too was a musician in my early life and also a goldsmith and then physician. There is a similar period of apprenticeship in all four of these professions. As far as the Chefs who just got out of school, what they have is a certificate and a cooking foundation but still need years of experience to become a true chef.
Owning a restaurant is not about the glitter of the Cooking Channel. Rather there are layers upon layers of issues, hard work, and mundane responsibilities before you come to the kitchen and apply your creative cooking skills. It is a very difficult business and I commiserate. I had a private practice for years in Iowa. If the group you hired to scrape the ice and snow off the sidewalks didn't show up – guess who has to do that work. And the same for a restaurant, you, the owner and Chef are the end of the responsibility trail.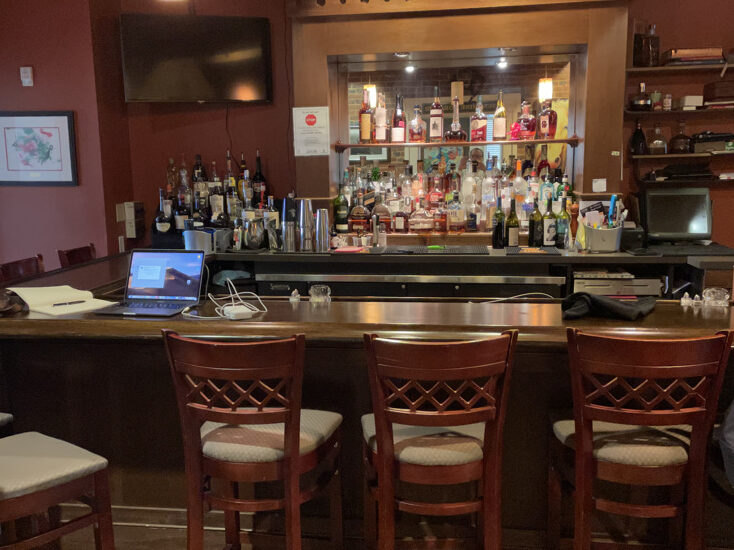 Rodney feels he has to "stick by my guns" and do what he does well and what he likes. Obviously he has been successful. He said he doesn't want to be a "great chef", just a "real good chef". That to me was profound and I think he has achieved his goal. He feels his speciality and enjoyment is sea food and he is right (see the blog on a dinner there).
To Rodney a meal at a restaurant (of for that matter any meal) is all about the experience. This is why a bolognese sauce in Italy tastes "better" than here in the US. It is the experience, the ambiance, the presentation and the service. He has tried to build that type of experience at Rodney's on Broadway and I think he has largely succedded.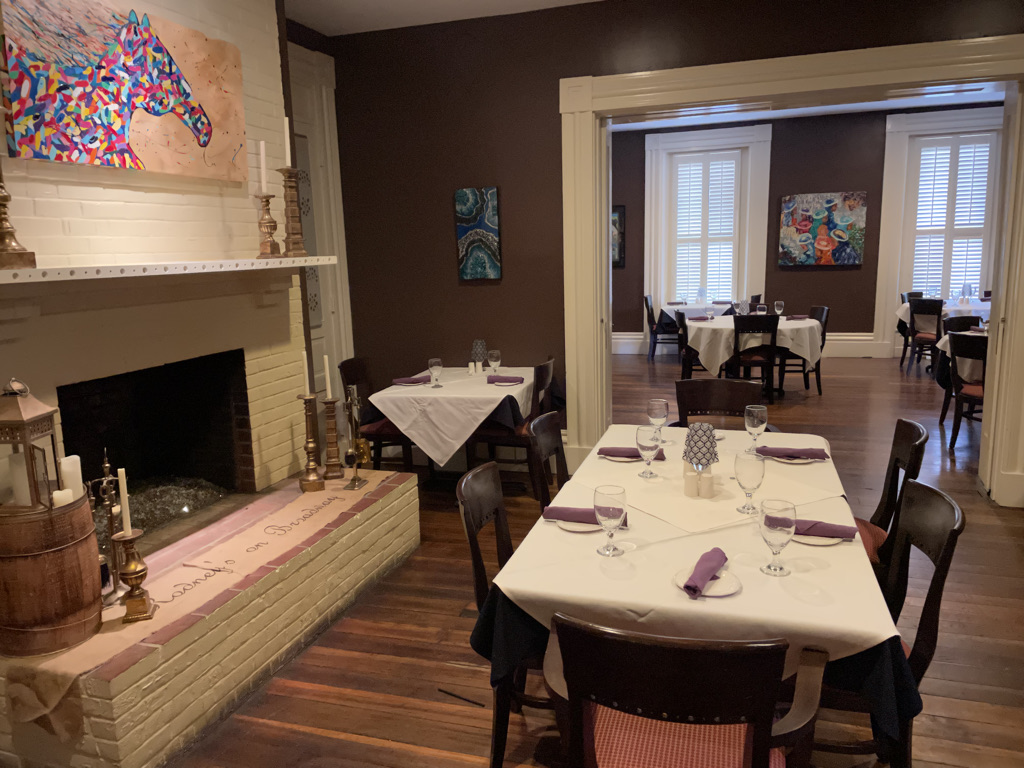 We did discuss the wrapping of food. Chef Rodney does not usually do wrapped dishes, "it's not my thing". The amount of prep time and extra work that is required to serve wrapped food is not something in which he has an interest. This is a concern with other Chefs I have interviewed, except China Poblano in Las Vegas (see the blog). He did mention that he will do sous vide on occasion with both pork and salmon.
All the artwork in Rodney's on Broadway is exhibited, and for sale, by Steve Hocksmith. Further, many of the paintings at Rodney's are done by Rodney's wife Elizabeth Johnson-Jones. For example in the above photo the horse painting over the fireplace and the painting on the far wall.
Chef Rodney does monthly instructional dinners at the Bleu Bird Salon (see our blog on one these events).
I highly recommend Rodney's on Broadway. It is a short drive from Lexington and if you live on the northern edge of Lexington, 15-20 minutes at most. You will spend the same amount of time getting to restaurants in downtown Lexington. The atmosphere is relaxing and sophisticated, the staff are some of the most friendly I have seen and the food – very good. The experience has always been wonderful. Make a reservation tonight!