This fascinating and unusual dish is very American and the following is my iteration.  It seems counterintuitive that uncooked spaghetti would cook appropriately, but this dish makes an interesting and unique preparation that is delicious and will impress your guests.  With the tomato sauce and the time in the oven the pasta cooks well.  An impressive recipe when platted. However, one full serving is very filling, so if you decide to make this dish, consider 1/2 of a serving, in which case the following recipe would serve 8.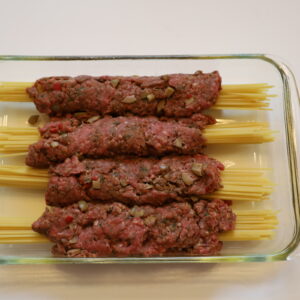 Spaghetti wrapped in Ground Beef
Ingredients
10

ounces

Spaghetti

1

lb

90% Ground Beef

1

tsp

Fresh Thyme

1

tsp

Rosemary

1

tsp

Chili Powder

1.5

tsp

Oregano

1.5

tsp

Smoked Paprika

½

tsp

Kosher Salt

½

tsp

Fresh Ground Black Pepper

½

cup

Sliced Green Olives

(optional)
Sauce & Final Preparation
2

tsp

Extra Virgin Olive Oil

½

White Onion Chopped

2

Garlic cloves chopped fine

½

Green Bell pepper, chopped

½

Red Bell pepper, chopped

1

Carrot (medium or 2 smaller) sliced on the bias

1

Fennel bulb, sliced into eighths

2

cups

Full Red Wine

32

ounces

Crushed Manzano tomatoes

½

cup

Parmesano Reggiano

(at least 24 months old)

1

cup

Fresh Mozzarella, grated

Salt & Pepper

(to taste)
Instructions
Add the spices to theground beef

If desired, add the optional sliced olives and mix thoroughly by hand.

Take ¼ pound of the meat mixture, take 2.5 ounces of non-cooked spaghetti, place in the middle of the meat, then wrap the meat around the spaghetti.  About ~1/3 of the length of the Spaghetti will be sticking out of the meat at both ends.

Fry the 4meat/spaghetti combinations in the EVOO. Fry until the meat is browned on all sides.  Place the 4 meat skewers into a roaster pan or glass baking dish.

Add the onion and garlic and fry until fragrant.

Add bell peppers and fry.  Then add the carrots and fry.

Pour in the red wine over all the vegetables and meet/pasta combination

Pour the manzano tomatoes into a bowl and crush any large parts of the tomatoes with your hands.

Add the Fennel,nestled into the other ingredients.  Pourthe sauce over the dish, covering all the meat/spaghetti and vegetables.

Add salt and pepper to taste if needed

Sprinkle the Parmesan Reggiano and Mozzarella over the top of the meat, vegetables and tomato sauce.

Bake at 350 degrees F for 30 minutes.

Serve onemeat/spaghetti combination, with the sauce per person.