Tamales are ubiquitous throughout Central and South America and found in other Latin countries such as Spain. They almost always contain corn, either fresh, or dried and ground corn. They were probably first made back in Mesoamerica earlier than 8000 BC and it is generally believed that the Aztecs were the first to make tamales. Hunters and warriors could carry them into the field. They were originally nestled in hot coals, but later steamed and even boiled. Almost every country in Central and South America has their own version of the Tamale. Over the centuries tamales have evolved into dishes distinct for a given country.
The following recipe is from Peru. This tamale is made from fresh corn kernels as are the Tamalitos Verdes. These tamales tend to be very delicate, much more so than those tamales made with masa. So I have increased the egg yolks, which firms up the tamale but keeps it very delicate and delicious (I tend to like tamales a bit firmer). They have a texture similar to a souffle but firmer. They are delicious, especially with the addition of the Salsa Criolla.
I do not boil my dishes as they make a mess in my hands. Perhaps I don't know the correct process, however, I steam all the time. When a dish is traditionally boiled, I have found that steaming will require more time. This seems to hold true for these tamales as well.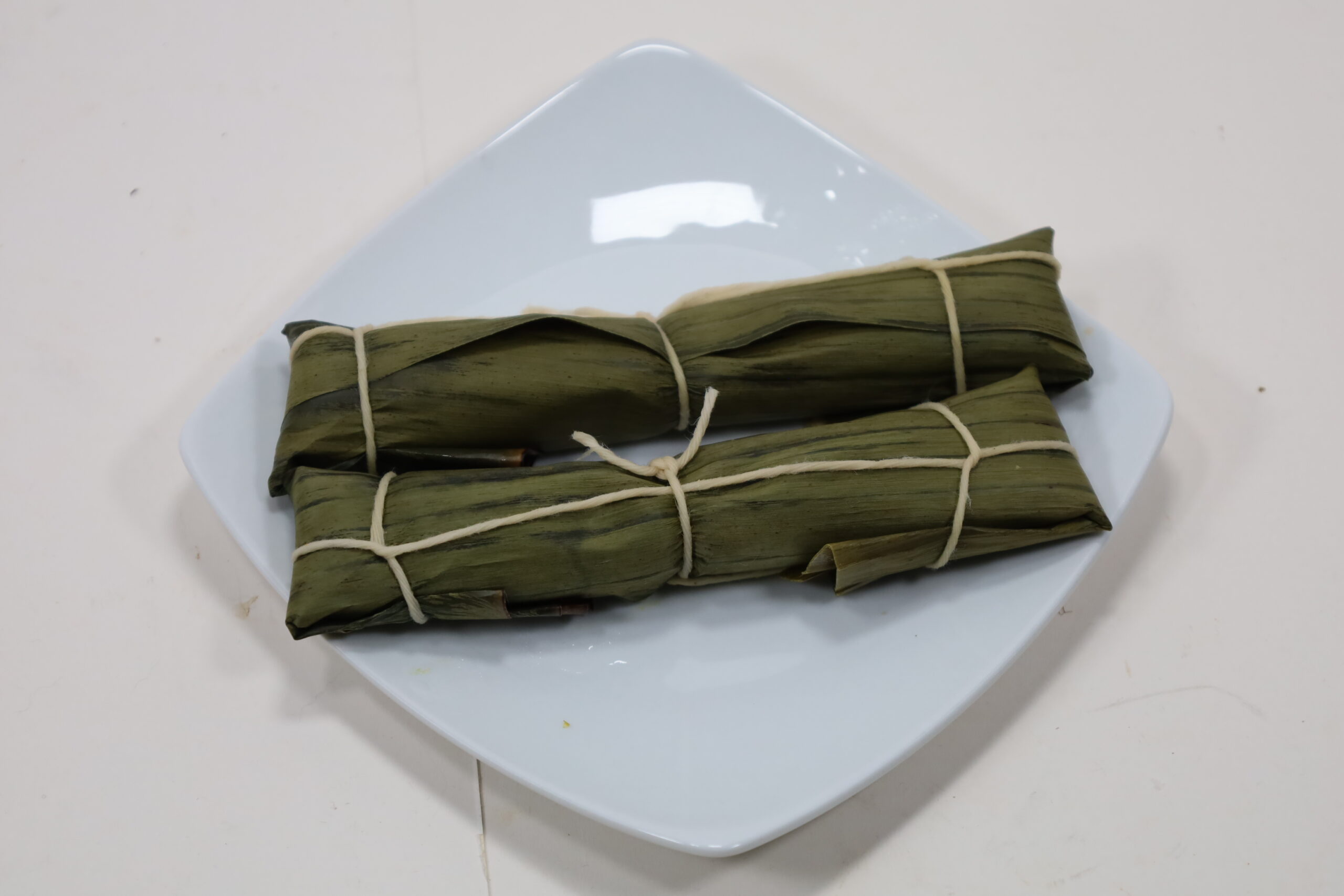 Tamales de Queso – Peru
Tamales made with fresh corn kernels and filled with cheese from Peru.
Ingredients
Tamale Dough
2

Ears of ripe corn. 1 cup of fresh corn kernels

1 ear of corn yeilds approximately ½ cup of corn kernels.

¼

cup

unsalted butter

1

TBPS

aji Amarillo paste

3

Garlic cloves minced

¼

tsp

Sea salt

¼

tsp

honey

3

egg yolks
Tamale Filling
4

TBPS

cream cheese at room temperature.

1-2

tsp

aji Amarillo chili paste

1

TBPS

finely chopped cilantro (optional)
Instructions
Tamale Dough
Slice the kernels from the ear of corn. Place them into a food processor bowl.

Add 1 TBPS of water and process until the mixture is smooth. You may need to add more water, so do so 1 TBPS at a time. Once smooth, set aside.

Add the butter to a saute pan. When melted add the garlic and the aji Amarillo chili sauce. Saute until fragrant.

Add the corn and miw well. Cook over low heat for about 20 minutes. The mixture should be much less moist and more firm. Cook until the corn is well cooked, then cook until the correct consistency.

Remove from the heat and set aside to cool.

Once cool add the egg yolks, stiring continuously and mix well.
Tamale Filling
In a small bowl mix the cream cheese, Amarillo chili paste and cilantro (if using). Mix it very well. Taste and add salt is needed.
Tamale Assembly
Prepare the banana leaves as discussed in my blog.

Cut the pieces about 8×10 inches.

Place about 3-4 TBPS of the dough in the center of the leaf. Add about 1-2 tsp of the cheese filling.

Roll the banana leaf into a tube. Fold over the two ends onto the tube, then tie both ends using cotton twine (see pictures).

Place the tamales into a steamer and steam 45-60 minutes.

To serve, use Salsa Criolla, either warm on at room temperature. They are better warm.