Dumplings are ubiquitous in the Balkans, Eastern Europe, Russia, Ukraine and other countries. These are delicious. I have taken the liberty of doing my own version of these Pelmeni, as I prefer food a little more savory than what is considered the original recipe for Pelmeni.
The picture above is of frozen Pelmeni. These are easily frozen and then used as needed. Just make them and vacuum pak and freeze them. They will keep for months. They cook quickly, so when a quick meal is needed, this hits the spot. They make a great breakfast!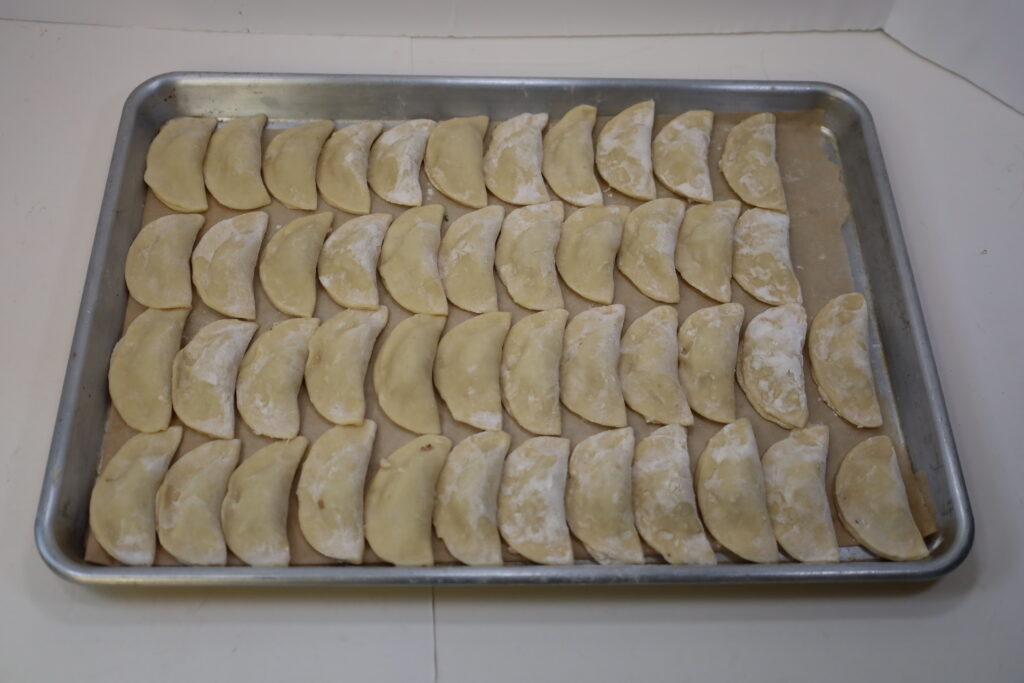 Pelmeni – Russian Dumplings
Served throughout Russia usually with dill and sour cream. These can be frozen, and just dropped into boiling water for 10-20 minutes. So the upfront time is worth the effort. Place them in bags of 10-20, then vacuume pack them and freeze. All you need to do is take the bag out, seperate the Pelmeni dumplings, and drop them into boiling water. An easy breakfast, lunch or dinner.
Ingredients
Dough
1

tsp

sea salt

2

large eggs, beaten

1¼

Cups

Whole milk

1

TBPS

Extra Virgin Olive Oil (EVOO)
Filling
1

pound

ground beef 90/10

1

pound

ground pork

2

sweet onions chopped fine

It is important to finely chop the onions so you don't have chunks of onion in your dumplings.

1

garlic clove minced

2

TBPS

EVOO

1 ½

tsp

sea salt

1

tsp

Freshly ground black pepper

1

TBPS

Fresh dill minced (can use 1 tsp dried dill)

½

cup

Beef Stock (homemade or store bought)
Assembly, Cooking and Serving
2

Bay leaves

Water for boiling

Salt depending on the amount of water
Instructions
Dough
In a stand mixer bowl, add the flour and salt and whisk well.

Add the beaten eggs, milk and EVOO to a 2 cup pyrex measuring cup and whisk together.

Using a dough hook, begin the stand mixer and slowly add the liquid ingredients. Mix until a dough ball forms, clearing the sides of the bowl. You may need to add extra milk or stock.

Take the dough ball and place on a clean dry floured surface. Knead until you have a shinny ball of dough. Cover and place in the refrigerator for at least 30 minutes (you can do this the day before as well).
Filling*
March chop the beef and pork. You want finely chopped meat so take a bit of time for this.

In a large bowl, place the meat, onion, garlic, EVOO, salt, pepper, dill and beef stock.

I find it is best to mix this with clean hands. Mix it well and set aside.
Assembly, Cooking and Serving
Cut the dough ball into 3 or 4 pieces. Keep the pieces covered so they don't dry out. On a clean slat floured surface roll out the dough using a rolling pin until it is thin enough to fit in a pasta machine. Roll the dough to about 1/8 inch thick, which is a 4 setting on my pasta machine.

Using a 3 inch cookie cutter, cut circles. Place 1 tsp on each circle. Wetting the edges fold over into a half moon shape and seal. Set aside.

As you make the dumplings make sure you flour them or they can become too moist. Place on a parchment covered cookie sheet. They can be frozen and then vacuumed packed, or cooked.

Fill a pot with water, add salt, enough so it tastes a little salty. Add 2 bay leaves. Bring to a boil.

Boil the dumplings anywhere from 10-20 minutes. As the dumplings become cooked they will float, which is an indication they are done. Remove using a spider spoon or slotted spoon and place in a collander to drain.

Serve with fresh dill sprigs and sour cream. You can sprinkle with a little salt if you wish.
Notes
*This recipe makes way more filling than you need. I use a 3 inch cookie cutter and 1 tsp of filling per Pelmeni. You can cut the filling in half, but I love these so I just freeze the excess in bags of enough for 1 recipe of the dough. That way, all I need to do is make the dough, fill them and boil!!
I have found that rolling out all the dough at once, cutting all the rounds at once and then filling them all in a single step is the most efficient use of time.
The filling is moist, so you want to keep the Pelmeni floured so they don't get too moist and sticky.
Boiling them depends of the amount of filling and the size of the Pelmeni. Even frozen ones cook quickly when boiled. Since I make a 3 inch dough round and stuff with 1 tsp of filling, they cook quickly. You certainly can make larger ones, and use more filling, just be aware of cooking times as you want the meat fully cooked.
You can make these vegetarian or fast friendly. Use potatoes, sauerkraut, even shrimp.