These are GREAT! My sister and I were shopping one day and I asked her to get onions. She brought a bag of red onions and I had wanted Vadalia's … So I was wondering what to do with them, and pickles came to my mind. I found a recipe and after playing with it, I came with the following iteration. So inspite of my frustration at my sister, she did a wonderful thing by getting me to pickle these onions and come up with a delicious condiment.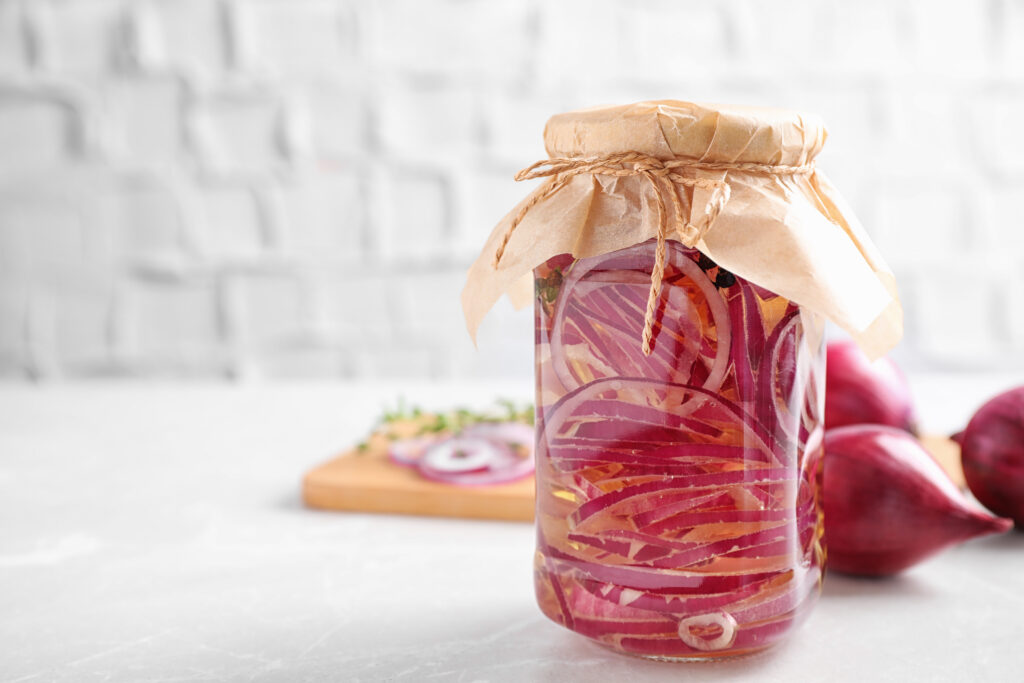 Pickled Red Onions
Red onions that can be used in salads, on sandwiches, or just as a snack.
Ingredients
3

cups

Apple Cider Vinegar

1 ½

cup

honey

1

cinnamon stick

8-10

whole cloves

8-10

Allspice Berries

1

red chili

2

bayleaves

8-10

Black Peppercorns

1

lb

Red Onions

¼

Kosher salt
Instructions
As with every recipe that are either pickled or fermented, observe critical cleanliness. I usually set the pink jars and tops in the dishwasher, wash them just prior to filling them. They can also be placed in a pot or water and then brought to a boil for about 5 minutes.

Combine vinegar, honey.  Whisk and place in a 4 quart saucepan.

Combine the cloves, allspice berries, chile, bay leaves, peppercorns and place in a small spice bag, then into the saucepan with the vinegar mix.

Break up the cinnamon stick into smaller pieces, but big enough to be able to remove later, and place in the saucepan.

Bring the ingredients to a boil, then reduce the heat to simmer and cook for 3 minutes.

Cover and infuse for at least 10 minutes.

Peel the onions, slice crosswise into roughly 3/8 inch thick slices and seperate into rings.

Bring the brine back to a boil, then use either option 1 or 2, see below.

Transfer onions and brine to pint jars. Make sure that the brine covers the onions. Refrigerate for at least a day before eating (although they are great right away). They get better with age.

I have found that this recipe fills one-pint jar.  I usually double the recipe, and these onions will last at least 3-4 weeks, or longer. They are great on salads, sandwiches, pasta and all kinds of things.
Option 1
Turn off the heat and submerge the onions, leave to steep covered until the mixture cools. These tend to be crisper and a little harsher, in my opinion, though still good.
Option 2
Add the onions, cook for approximately 3 minutes until the onions are soft and fragrant, then turn off the heat and allow to cool.  I much prefer this option, as the onions are not as crisp and less harsh in taste.