As mentioned in the blog on crepes generally, French crepes are what we think of when the word "crepes" is mentioned. They can be filled with savory or sweet fillings and the type of crepe depends on the filling. Classically savory crepes use buckwheat flour whereas sweet crepes use King Arthur All Purpose Flour. The following recipe is for a crepe that will be filled with a sweet filling.
French Crepes-Sweet Fillings
These crepes are classically used for sweet fillings. The sugar can be eliminated and they can be used for savory fillings however.
Equipment
1 crepe pan

I highly recommend a crepe pan. I have made these in regular fry pans, and although this works, it is so much simplier in a crepe pan. I also feel the results are much better.
Ingredients
Batter
3

Eggs large

1 ¼

cups

whole milk

2

tbsp

unsalted butter melted

2-3

tbsp

honey

½

tsp

Kosher salt
Instructions
Batter
In a bowl combine the wet ingredients, eggs, milk, honey and butter. If you are using these for a savory filling omit the honey. Mix well with a whisk.

In a separate bowl add the dry ingredients, King Arthur All-Purpose Flour and salt. Whisk well.

Pour the liquid mixture into the flour mixture, whisking as you do so. Whisk this mixture completely so you have a thin batter without lumps. This can be done in a blender but a whisk works well.

Let the batter rest for 2 hours in the refrigerator.

Test the thickness of the batter after the 2 hours. If too thick add milk or water. You want a thin batter, not too thick, not too thin either.

Place the pan over medium to medium high heat. I shoot for a bit lower temperature but this depends on your burners. Pour about 4-6 ounces of batter onto the crepe pan and spread this with the rateau to cover the pan. Cook the crepe until it begins to brown. Then flip the crepe over and cook the other side, again until it begins to brown. Then remove to a plate. You can stack the crepes on the plate as you make them.

These can be frozen and vacuum packed. Place a sheet of waxed paper between the crepes. Warm them up slowly, placing in the refrigerator the day prior to using them and then bringing them to room temperature.
Notes
Use a crepe pan, I love my la Creuset crepe pan, but there are other less expensive versions that work as well. In my opinion the crepe pan just makes things so much easier. Using the rateau is also very helpful (wooden T-shaped tool) in spreading the crepe out to cover the pan.

(https://www.amazon.com/Creuset-Enameled-Cast-Iron-3-Inch-Cerise/dp/B007EFC1QA/ref=sxin_15_ac_d_mf_br?ac_md=2-1-TGUgQ3JldXNldA%3D%3D-ac_d_mf_br_br&crid=CC43L2UOWZSF&cv_ct_cx=crepe+pan&keywords=crepe+pan&pd_rd_i=B007EFC1QA&pd_rd_r=66d0958c-c373-4702-8f75-9a7b52559f0f&pd_rd_w=ipijZ&pd_rd_wg=yyhCI&pf_rd_p=17756b3a-4504-468b-830d-8b5875afd168&pf_rd_r=SJ2NWV4XY3YEPCWR96FW&psc=1&qid=1641987269&sprefix=crepe+pan%2Caps%2C93&sr=1-1-ed8a42d3-65f1-4884-a3a2-0dd6e83b6876)
You can store crepes by freezing them and better yet, vacuum packing and freezing. They will keep for at least 4 months using this method. Take the excess crepes, place a piece of waxed paper between each one. Place in a vacuum pack bag and seal, then freeze. To thaw, place in the refrigerator until they are thawed.
Apparently you can also vacuum and freeze cheese filled crepes. I have never done this, as they are eaten too quickly and completely. However, if you have leftovers, I would freeze them first, then place in a vacuum bag and vacuum pack. They should keep for months.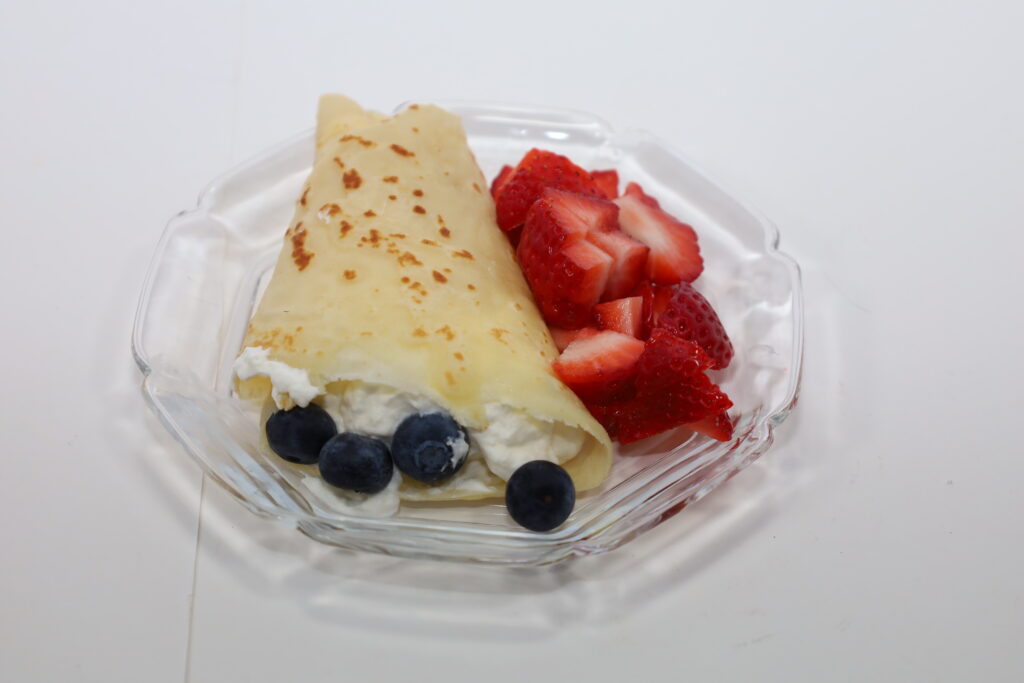 The filling for the classic French sweet crepe are legion. The one that follows is a classical filling, simple withonly 4 ingredients. Add fresh strawberries on top of the final crepe. Your guests will be impressed and their sweet "teeth" satisfied.
Mascarpone Cream Crepe Filling with Strawberries
This is a simple sweet crepe filling that will satisfy your guests.
Ingredients
2

Cups

Heavy Cream, organic

6

ounces

Mascarpone Cheese

2

tsp

Pure Vanilla Extract

½

Cup

Powdered Sugar
Instructions
Place the heavy cream, at room temperature, in a bowl and beat until peaks form.

Fold and mix in the Mascarpone, vanilla and powdered sugar

Fill the crepes and serve warmed.
You can fill these as in the picture, in a V shapped cup, or add filling and just roll them. I think the V shapped cup is a much nicer presentation. I cut the crepes in half since they are filling and a whole crepe filled with this delicious Mascarpone would be very very filling.