Empanadas have a long history dating back to Spain. In 1520 the Catalan cookbook Libre del Coch by the Chef author Ruperto de Nola, describes seafood empanadas. However, it has been suggested that their history goes back much further. The Moorish invasion of the Iberian peninsula came with the first "appearance" of something similar to the empanada. The term Empanada comes from the Spanish word empanar, which means "to bread".
The Empanada spread to Portugal, throughout Mexico, Central and South America, Puerto Rico, the Philippines and even Sicily (panzerotti). It is found in the USA, and there are differences in how they are made even within the US. The Empanada can be filled with tuna, sardines, chorizo, ground pork or beef, vegetables, and many other potential ingredients. They can be filled with sweet ingredients and served as a dessert. Each country throughout the world that makes Empanadas has their own national take on this delicious packet. They are usually baked but can be deep-fried. Empanadillas are small empanadas, less than 5 inches across and usually found in Puerto Rico.
April 8th is National Empanada Day in the USA. It is also National Zoo Lovers Day, and National Alcohol Screening Day. I don't think there is a correlation between these. I have not been able to find a site in those countries who are famous for this wonderful pastry filled packets, for a National Day say in Spain.
The following Empanada recipe comes from Chile and is my iteration on this wonderful hand held pie.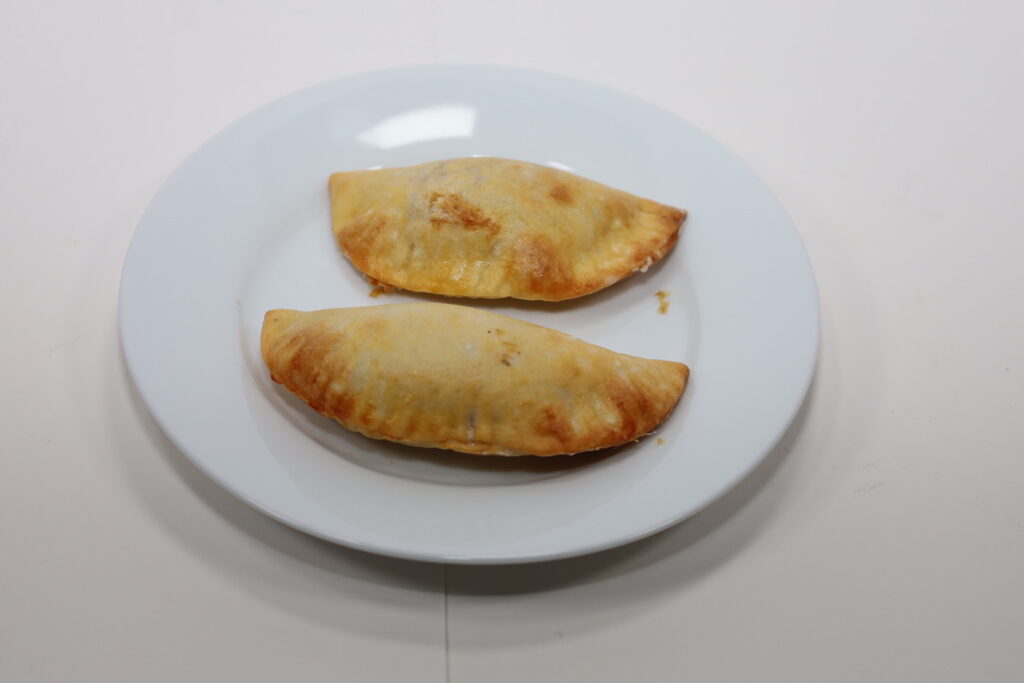 Empanada, Caramelized Onion filling (Pequenes)
This recipe is my iteration of the onion filled empanadas from Chile.
Ingredients
4

Large Vidalia or Sweet Onions

1

TBSP

EVOO

1

TBSP

Unsalted Butter

1

tsp

Sea Salt

1

tsp

Honey

1

tsp

Sweet Paprika

½

tsp

Fresh Ground Black Pepper

1

tsp

Ground Cumin

1

tsp

Mexica oregano dried and crushed fine
Ingredients: Assembly and Colking
2

Large Eggs

2

tsp

Water

Coarse salt, Kosher or Maldron for sprinkling
Instructions
Instructions: Filling
Using a Mandolin slice the onions into ⅛ inch slices

In a large high sided fry pan, over medium low heat, add the EVOO and butter.

Add the sea salt and mix well.

Cook the onions until they caramelize, at least 30 minutes. Stir every 5 minutes or so.

Once the onions are cooked, add the honey, paprika, black pepper, cumin, and oregano. Mix well and let cook just a few minutes more until the spices become fragrant.

Remove from the heat and set aside.
Instructions: Dough
Using a food processor, add the flour and salt and pulse a few times.

Add the honey and butter and pulse until roughly mixed.

With the food processor running, add the milk then the lemon juice.

Process until a firm dough ball forms. If the dough is too liquid, add flour, if too firm add milk.

Once the dough ball forms, and the is very little dough or flour on the sides of the food processor bowl, remove the dough ball from the bowl and place on a floured surface.
Instructions: Assembly and Cooking
Heat the oven to 350 degrees F.

Roll out the dough on a floured surface until you have a dough sheet about 1/8 inch thick. You can use a Pasta maker for this, it works great.

Cut out dough circles 5 inches in diameter. You can purchase 5 inch cookie cutters, these work very well.

Flour the dough circles and place them on a plate. Then cover with a lightly moist towel to keep them from drying out.

Place a dough circle on a floured surface. Using a brush, brush the egg wash around the dough circle.

Add about 2 TBSP of the onion filling and fold over the circle making a half moon shape. Seal well.

Using a fork, push down on the dough edge, both further sealing and making a design.

Place the folded Empanadas on a parchment covered cookie sheet.

Brush all the Empanadas with the egg wash and, if desired, lightly sprinkle with the salt.

Bake for 25-30 minutes until the Empanadas are just beginning to lightly brown.

Place on a rack to cool slightly before serving.