Both Modena and Bologna claim to have originated the tortellini. In Bologna there is an amazing legend concerning the origins of tortellini. Apparently, the goddess Venus' and the god Zeus were tired after a battle and decided to stay overnight in a small town lodge, sharing a bedroom. The inn keeper decided to peak through the keyhole, but all he could see was Venus's navel. He was so impressed that he immediately ran to the kitchen and created the Tortellini, a pasta inspired by Venus's navel. In Modena however, it wasn't Venus rather Lucrezia Borgia and her navel that inspired the dish.
The word "Tortillini" originates from the Italian word Torta or cake. Tortellinio is the smallest size, tortelli is medium size and tortelloni in the largest size. The basic dough is made with all-purpose flour, eggs and water. It is then rolled very thin, cut into squares and folded over a filling. The classic filling is ground pork, chicken breast, prosciutto, Parmigiana Reggiano and nutmeg. From my perspective without mortadella, the filling just doesn't make it. As far as the broth, this is classically made from a capon, but a standard chicken broth works very well.
This dish is served in Emilia-Romagna at the family table for Christmas dinner and often on New Year's Eve. In Italy, tortellini en brod is nicknamed re delle minestre, "king of soups." Italians feel that only in a good broth can the tortillini filling be fully appreciated.
In Italy this soup is used medicinally by the elderly. When the soup is served, a glass of red wine is poured into the soup. It is thought that the wine balances the fat helps with digestion and gives other health benefits. I prefer to drink my wine without broth, but certainly love them separately.
There are multiple different recipes for the broth, dough, and filling. The recipes that follow are my iterations, and I think make a delicious King of Soups. The first recipe is for the broth which makes this dish. Without a good chicken based broth the dish just doesn't provide the comfort food this soup should be. I must admit that this dish always tastes better in Italy, something about the water or the air. But you can easily make a great broth, add the tortillini and you have a wonderful feast!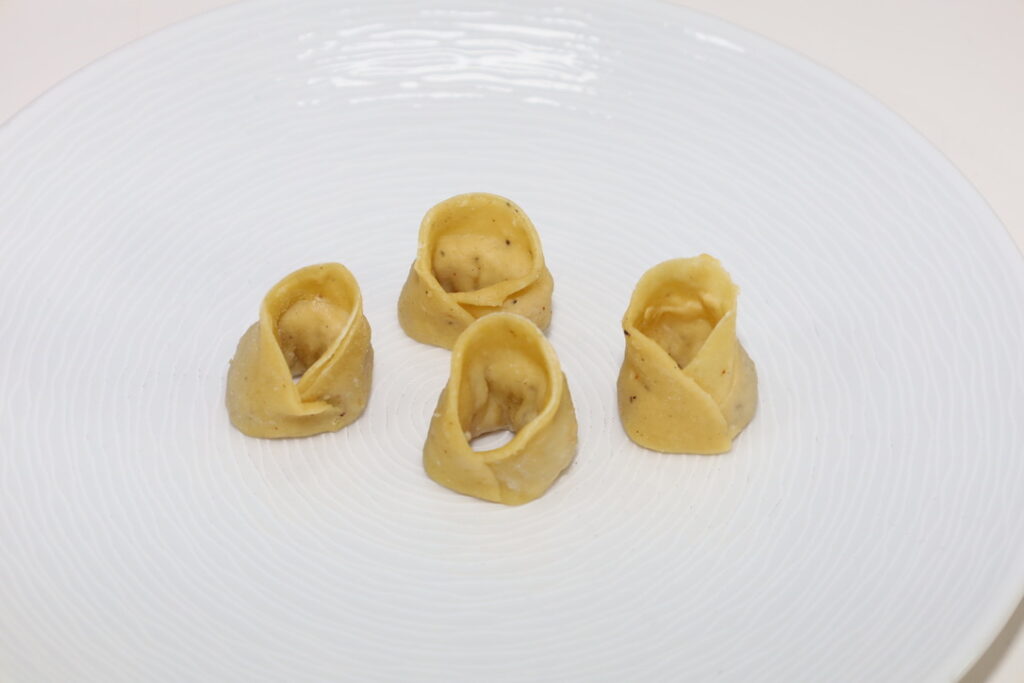 The following three recipes are my iterations for broth, dough and filling.
Tortillini Broth
This is a great broth and gives about 8 quarts of broth. You can use this broth for soups, stews and other uses. This broth is easily frozen and then vacuumed packed. They will store for months.
Ingredients
3

pounds

beef soup bones

4-5

pound

chicken

If you can find a Capon, use this for the 8-9 pounds of chicken and turkey. Capon is the classic base for this broth, but is difficult to find. If you can't find a Capon, use regular chicken.

3-4

pound

Turkey legs

8

ounces

beef sirlon cut into large pieces

3

Celery stalks, sliced into pieces about 2-3 inches long

3-4

Carrots, peeled and cut on the bias into 2-3 inch pieces

4

White onions peeled and cut into quarters.

2-3

Bay leaves

4-5

Parsley sprigs

4

garlic cloves peeled.

Water enough to fill two 10 quart pots

Or a 20 quart pot, or combination.

1

TBSP

Kosher Salt

2

tsp

Freshly ground black pepper
Instructions
Combine the beef bones, chicken, turkey and beef pieces and place into the large pots. Fill with water.

Bring the pots to a boil for about 30 minutes. Skim off the foam that developes.

Add the celery, carrots, onions, bay leaves, parsley, and garlic.

Bring the pots to a boil and boil for 12-14 hours. During this time add the salt and pepper.*

Add water to keep the level of water until almost at the top of the pots.

Once the 12 to 14 hours is done, strain the cooled stock through a fine mesh strainer, such as a chinois.

I usually take the meat, chicken, turkey and beef, and freeze it for soup later. Discard the bones and vegetables.

Bring the stock back to a boil and reduce as needed. Taste multiple times to determine the need for more salt or a thicker stock.**

Once you have finished the stock, you can place this into quart plastic containers freeze and if you wish vacuum pack.
Notes
* I usually make this broth in the morning, boiling it for the 12-14 hours until the evening. Then cover this and let it sit on the stove to cool. In the morning I strain the stock and proceed.
** I feel the most difficult of this stock is reducing this down to the appropriate thickness. Taste this multiple times to determine is the stock needs a little more salt or pepper. Tasting also helps determine the thickness of the stock.
Each step in making Tortillini en Brod, defines the dish. The broth is the first important step, but the pasta dough gives a tremendous amount of savory taste, especially with the recipe that follows. The following recipe has Parmiggiano-Reggiano cheese in the dough, one of my favorite cheeses, as well as nutmeg.
Pasta Villa Gaidello Dough recipe with Parmiggiano-Reggiano, Nutmeg and Egg
This is a delicious pasta for the tortillini in brod.
Ingredients
3

Cups

King Arthur All-Purpose Flour

Organic if you can find.

¼

tsp

sea salt

¼

tsp

Freshly ground black papper

¼

tsp

nutmeg ground

1 ¾

cups

grated Parmigiano-Reggiano cheese

4

eggs beaten

2

tsp

EVOO
Instructions
In a bowl whick the flour, salt, pepper, nutmeg, cheese until well mixed.

Pour out the flour mixture onto a flat clean surface. Make a circle and clear out the central area. Pour in the eggs and EVOO.

Slowly mix the wet and dry ingredients using a wooden spoon and your hands.

If the dough needs more flour, or more water, add as needed.

Place the dough in a bowl and into the refrigerator for at least 30 minutes of rest.

Take the dough and roll it out using a pasta machine.**

Roll out the dough thinly. In my machine I go to the #7 setting. You should be able to see your hand behind the dough and it should appear like a thin sheet. Do not roll too thin or they will tear.

Cur into 2-3 inche squares (or rolls). Fill and seal the tortillini's. These can be frozen and vacuum packed. First freeze them on a cookie sheet individually. Then place in a vacuum pack bags.
Notes
* The kneading step is very important in setting up the gluten strands appropriately. Knead the dough until you develop a shinny dough ball. About 10 minutes. The kneading step is wny Italian mama's have such amazing arm strength. 
** I don't have the skills to roll this dough thin enough without a pasta machine. In Italy the individuals who make these tortillini by just rolling then out by hand are just amazing! But for me, a pasta machine is what is necessary.
I love mortadella and this recipe requires a good Italian Mortadella, not domestic. Use a plain mortadella, not one with peppercorns or pistacios. Unfortunately, for me, this is hard to find here in Kentucky. However, a good quality imported mortadella just makes the filling. There are vegetarian filling recips available, but in my opinion, it would be impossible to make a good tortillini vegetarian broth. If you find such a recipe, please let me know.
Tortillini Filling
This is my iteration on a great tortillini filling.
Ingredients
1

TBSP

unsalted butter

3

ounces

pork loin roughly chopped

3

ounces

chicken breast chopped

4

ounces

Mortadella-Italian roughly chopped

4

ounces

Prosciutto chopped

2

cups

Parmigiano-Reggiano

1

Egg beaten

⅛

tsp

nutmeg, freshly ground
Instructions
Place the butter in a frying pan and fry the pork and chicken until golden and the inside temperature is at least 165 degrees F.

Using a meat grinder, grind the pork, chicken, mortadella and prosciutto. Grind fine. If a meat grinder is not available use a food procesor and finely process to a finely chopped mixture.

Add the Parmigiano-Reggiano, egg and nutmeg. Mix well.

The dough will be rolled into 2-3 inch squares (can be rounds).

Place a square on a clean flat surface. Wet the edges of the square.

Use 1+ tsp of the filling onto the square. Fold over the square and seal and fold into the tortillini shape.

The tortillini are not pre-coopked, but rather dropped into boiling broth. They will cook in abot 8-10 minutes.
Putting it all together. Once the broth and tortillini's are made, serving is simple. Place a pat of butter on the bottom of a warmed soup bowl (I like this but you can omit this step). Add the boiling broth and tortillini to the bowl and serve. You want it served hot. You can sprinkle more Parmigiano-Reggiano on top of the soup. I however, prefer the soup by itself. I may add a bit of salt and pepper, but it is great by itself.