Who doesn't like bacon. Well there are those who don't, but not this author.

So what is bacon? It is salt cured pork typically from the pork belly or back. You will frequently find bacon used in this blog, on this web site and in my books since it is used to wrap all kinds of things. "Streaky bacon" or "side bacon" comes from the belly, while "back bacon" comes from the back of the animal. There are other types but a vast majority of the bacon in the United States is back bacon. You can find bacon with "curing ingredients" mostly nitrates, or you can find "uncured" bacon. Bacon can come smoked. I prefer uncured back bacon, but will also use Oscar Myer center cut bacon if I can't find the uncured in my local grocery.
People love bacon to the point of having special days observing their dedication. All of these are "unofficial". International Bacon Day or just "Bacon day" was originally established in 2004 by, who else, a group of graduate students in Colorado. It is usually the first Saturday in September. There is also a US National Bacon Day also called "Bacon Day" observed on December 30th. As far as I am concerned, celebrate both!
In my opinion, bacon is rarely cooked correctly in the United States. If I was in England I would expect a very fatty, much less cooked bacon, this is how they serve and cook bacon. However, here in the US, most fry their bacon until crisp and browned. But frequently areas of almost uncooked fat are common. Sit back a second and think what a perfectly cooked piece of bacon should look like, feel like and taste like? It should be crisp, flat, not dripping in grease, well browned but not burnt, it should hold up and not droop, crunch in your mouth, and taste … well .. like bacon! There should be no uncooked sections. I tend to be old school and don't use the microwave method as I feel the bacon ends up too greasy, neither do I use the oven method. But obviously, use what you like and what works for you. My approach however has achieved lots of acclaim from friends and family. Further, they have gone out and purchased a bacon press and incorporated my approach in their bacon preparation. It is always satisfying when visiting friends to see them using the press and the "Peppin method". So obviously, some like this approach. Since I have made lots of bacon in my life and this approach has grown out of failures and successes in the past I have come to some realizations on how to cook good bacon.
Here are 10 points that I believe will give you much better bacon in the future.
The 10 Points of Perfect Bacon
1) One important point, use good quality bacon. I find the center cut works well, and make sure it is uncured.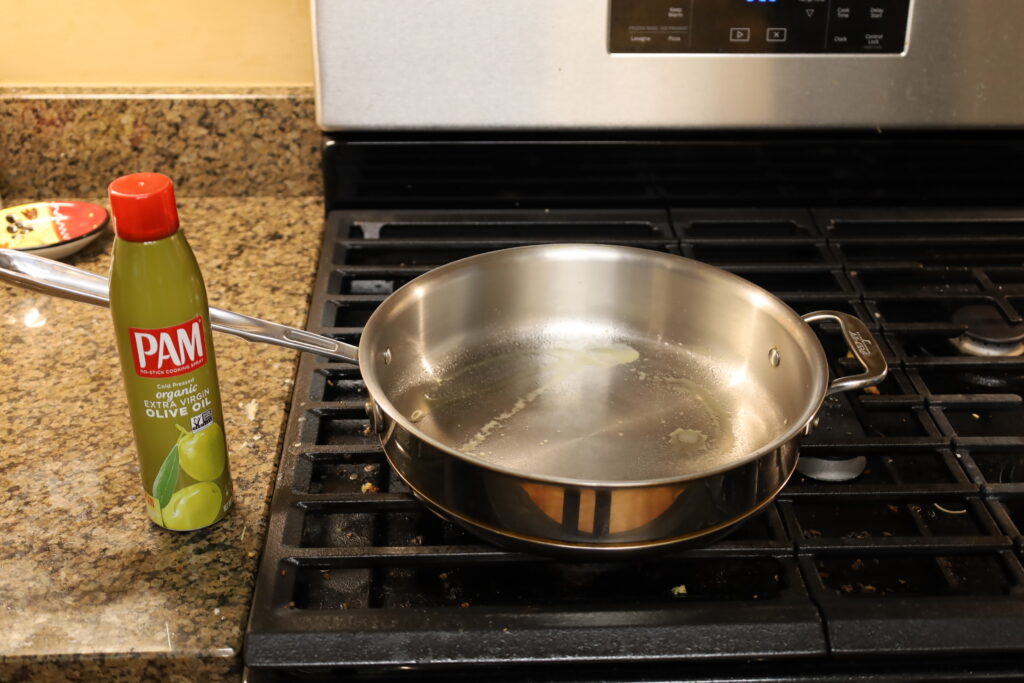 2) Use a high sided pan: I use an All-Clad 5 quart pan with higher sides. It works great and keeps down the splatter.
3) Spray the pan with PAM cooking spray or equivalent. This seems counterintuitive but it works, at least in my experience.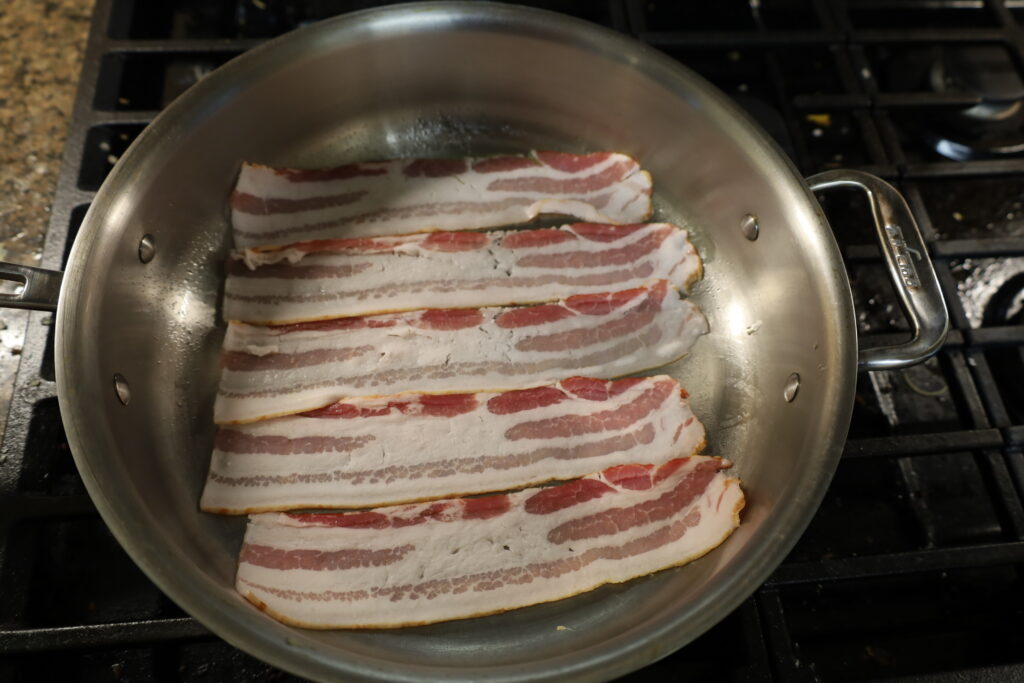 4) Buy a bacon press. Few tools and utensils in my kitchen get used as much. You can use this press for fried sandwiches (similar to an panini press without the grilled marks), for pressing tofu and a myriad of other uses. But it was designed for frying bacon. I like the round presses and almost as large as the pan I use. Lodge has great cast iron items, but the bacon press I use is a Norpro 8.5 inch press since it is rounded and will cover most of the pan I use.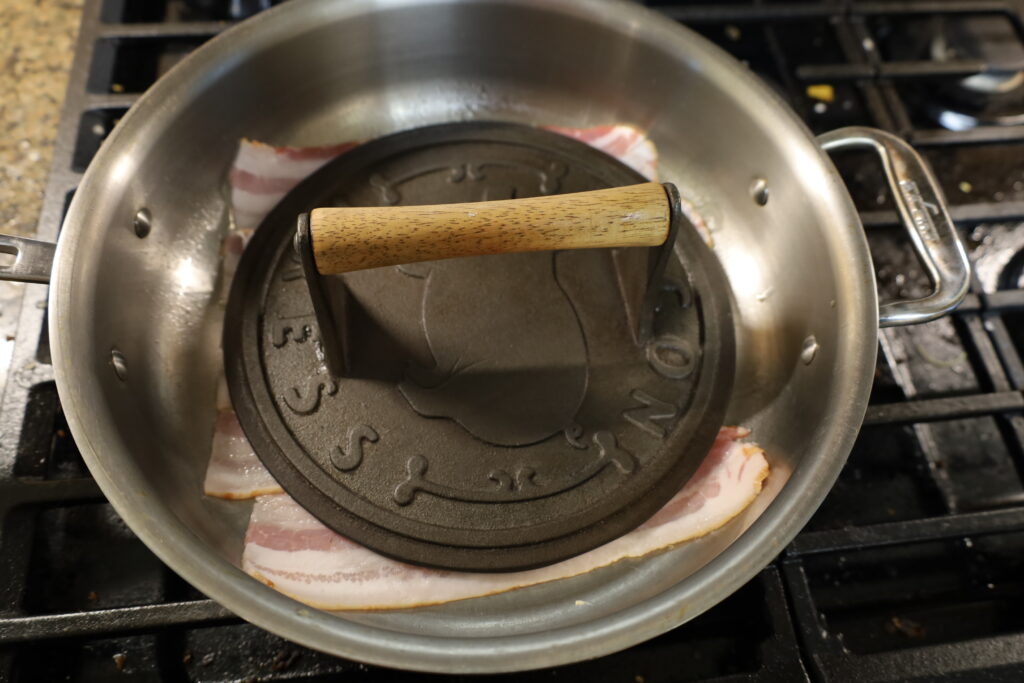 5) Lay out the bacon in the pan evenly without overlap. I can usually get 6 pieces in my pan, so if I have friends over, I may need to do two or three bacon cookings, but big deal you are only talking a little extra time and it gives you time to down another cup of coffee.
6) Put the press on the bacon as soon as you lay out the bacon in the pan and turn on the heat.
7) Always cook bacon at a low temperature. This is a critical point and takes longer, you have more control, and the end result is much better. I usually set my burners at moderate low to low heat. I adjust the heat as the bacon cooks, almost always going lower. If you hear the sizzling growing too aggressive then lower the flame. The only down-side is more time until you can eat your bacon and sit with friends. Do not just let the bacon cook as you do other things, but focus on the bacon.
8) Flip the bacon regularly. As it cooks, even if not browned, flip the pieces. Use a smaller spatula if the pieces stick and carefully loosen them, then flip using tongs.
9) Watch the pan carefully as with anything you are cooking. I have been able to develop a bit of a second sense, if you will, to hear when the bacon is cooking too fast, and can do other things in between, such as making scrambled eggs. But be careful, as even on a lower temperature it can burn quickly.
10) When the bacon is golden brown, remove it from the pan to paper towels laying on a flat surface. Take a folded paper towel and press down on the soft bacon to soak up excess bacon grease. The Bacon will firm up as it cools.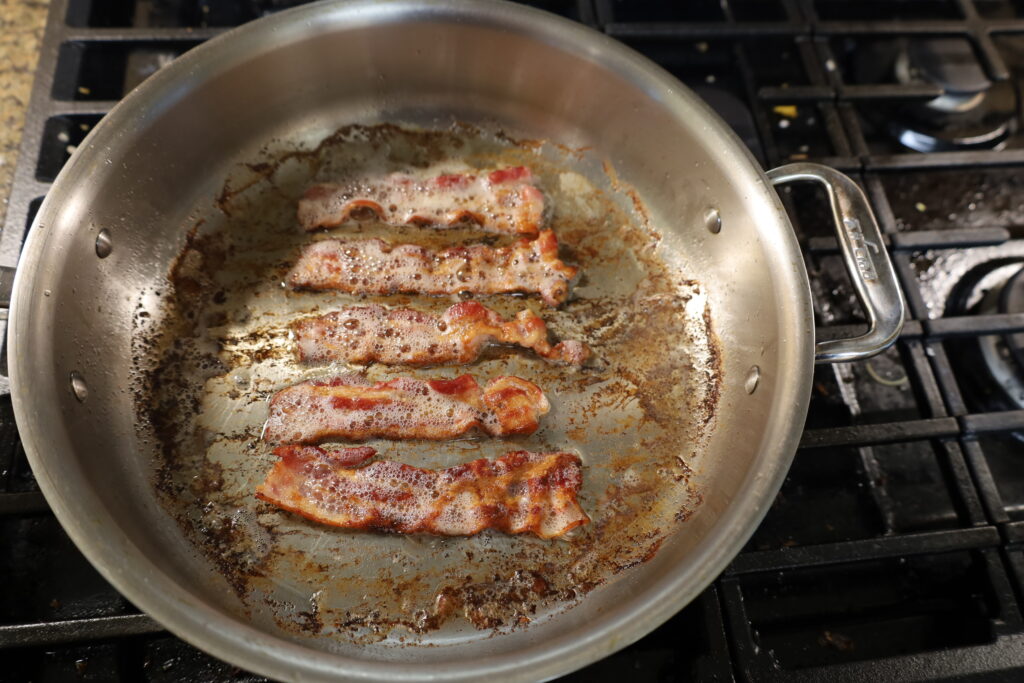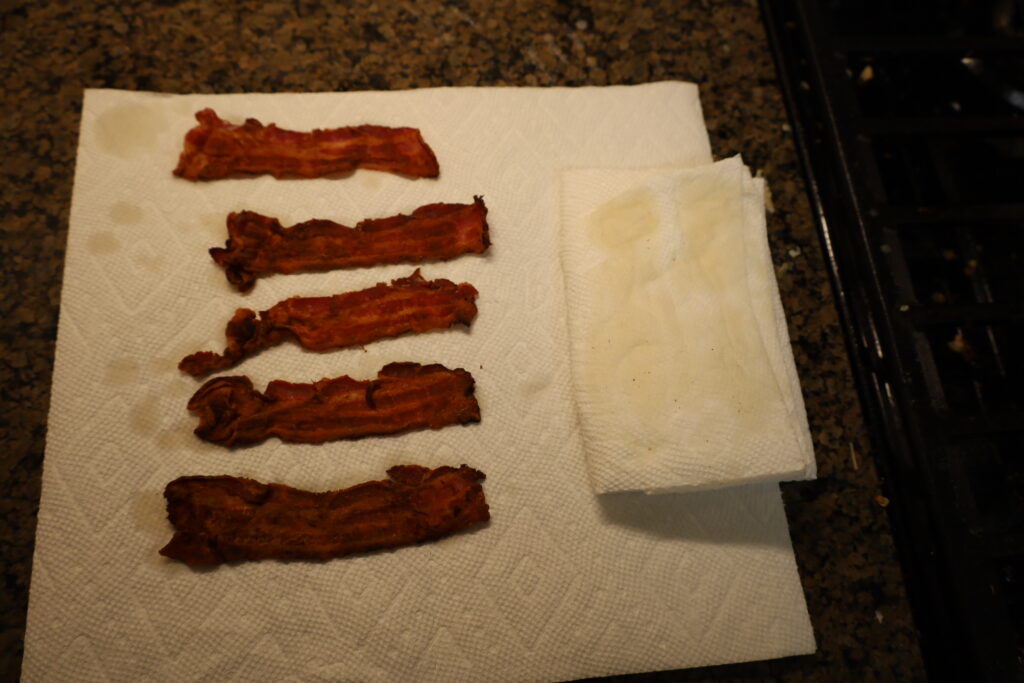 10) When cool set aside until you are ready to plate. I don't need my bacon hot, but is you prefer this, place it in the oven on a warm setting.
This should always give you wonderfully crisp and delicious bacon.