You are ready to cook, or are you?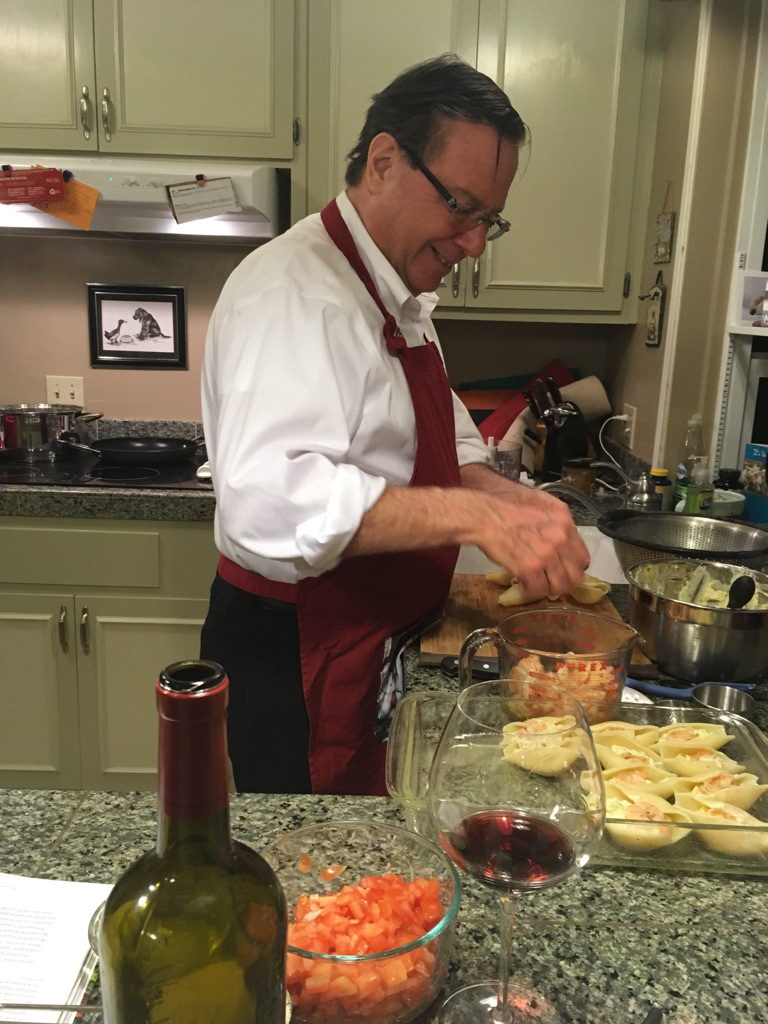 Many of the things I have learned in life have usually come through mistakes and errors.  Preparing to cook is no different, I have made tremendous errors but always learned from my mistakes.  They are hard lessons to learn at times but necessary for progress in one's skills and learning.  Preparing for cooking a dish requires knowledge of the recipe, setting up your cooking space and your ingredients and having the appropriate utensils.  I am sure there are those who may be able to cook without these steps, and so much the better for them.  However, I could not prepare a dinner without this process, which has become second nature over time.  Originally and for years, I had these steps typed on a sheet on the back of one of my cupboard doors. 
Trying to cut up a potato for example, when the recipe says add the potato to the pan and you are already cooking the dish, takes time and could mean disaster. But adhering to mise en place and the potatoes are ready to go into the pan without delay. These are the steps I try to do with each episode of cooking I engage in:
Determine what you are going to cook ahead of time. Read the recipe in detail and multiple times to make sure you understand what comes first and last. Too many times I have read the recipe quickly and missed a step that always seemed to be the most time consuming. When everything else is ready and you have to make up for a lack of attention, the dish could actually be compromised. As I said, I have learned from my mistakes.
Make sure you have all the ingredients, spices and other things you may need to purchase. This comes with researching the recipe and making sure that all is in the house and available. Starting to prepare a dinner and suddenly noticing you are out of salt, creates stress and may result in failure for that particular dish
Empty the dishwasher.
Wash all dirty dishes, pots and pans. Fill the dishwasher with those you normally wash by machine. You may need some of these for your dinner, so I just make sure to clean everything that is out. I have my pots hanging over the counter, see below. This saves space in cupboards but importantly lays out the pans you will be using.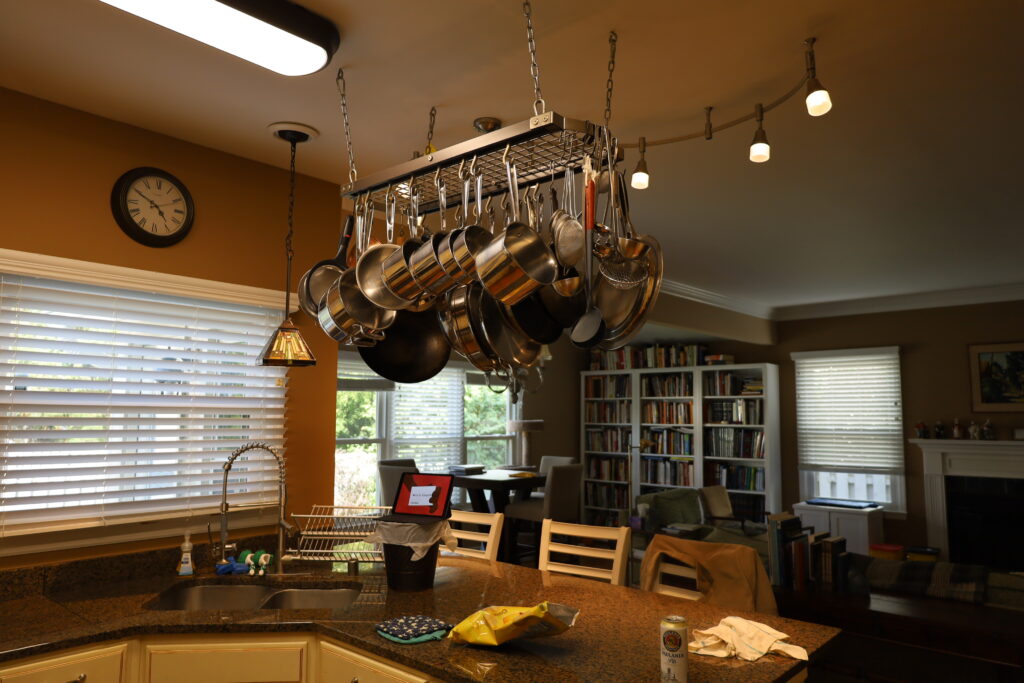 You should also clean as you go. There are always time spaces when you are waiting or watching something cook, and during these times items can be rinsed and placed in the dishwasher or cleaned. This helps to keep your counter space clean and free, and cleans items you may need to use a second time.
Clean all your counter tops. You will need the space.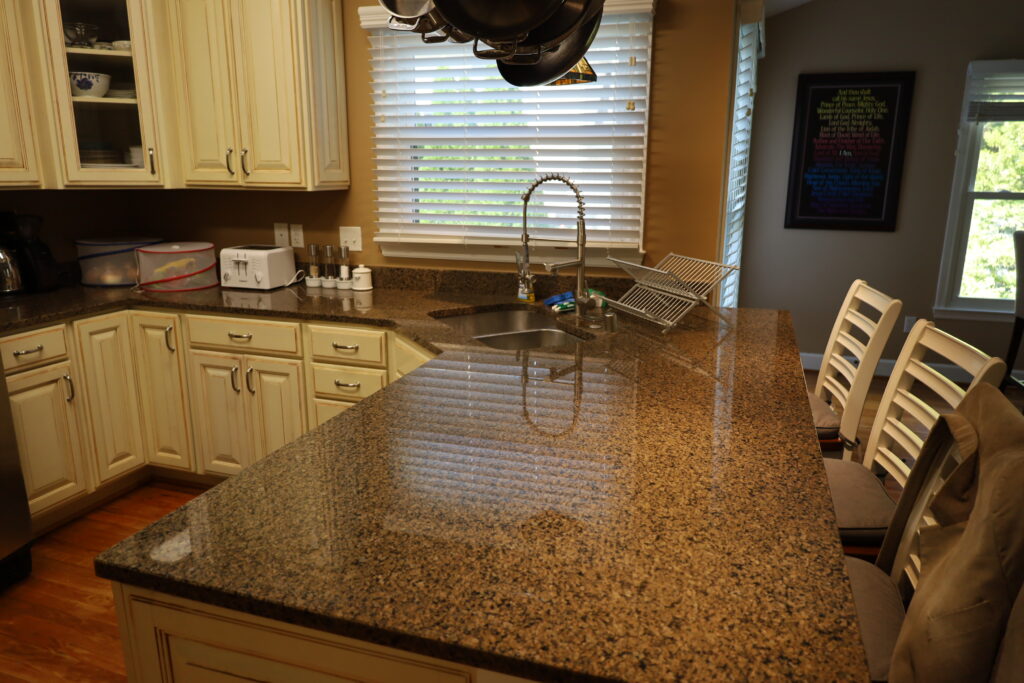 Have clean kitchen towels available. I use washable cotton towels and will go through 2 or more with each meal I cook. Do not hesitate to wash them using bleach and hot water to sterilize them as best as possible.
Make sure all your utensils are available and clean.
Set up all the ingredients mise en place.  This process was a major revelation for me and dramatically changed my cooking abilities.  Measure your spices and place them in small pyrex cups.  Chop, dice, and cut up all vegetables, meat and other ingredients.  Place them in bowls as they will be used.  For example, carrots, celery and potatoes take longer to cook than onions and garlic.  Whereas garlic can burn, so frequently I add the garlic later in the cooking process.  So such an example would require three separate bowls or cups. Pyrex measuging cups are great and will hold many different types of ingredients.
For things like potatoes that will discolor as they oxidize, you can keep these covered in water or adding a little lemon juice to so they will not brown as quickly
Place all of the ingredients and spices in cups and bowls by the area where you will be cooking or mixing.
Also set out your serving platters and make sure the table is set. Nothing worse than setting the table after everything is cooked and cooling.
Make sure to pour the water for the meal, this again can take time and reduce the time to table. You can place a pitcher filled with water and ice in the refrigerator, ready to be poured and placed on the table. Easily done during a quick break in the cooking, for example when you have put things into the oven.
Obviously hold on pouring the wine until all are seated, unless the cook needs a glass to help with the cooking.  But for good reds, open them about 20+ minutes to help them breath, and have it on the table. Don't forget that the Cook gets to try the wine before serving.
If you are able, put the plates in the oven to warm them, prior to plating. Have a pen and pad of paper available to write down thoughts, changes in the recipes, or ingredients you need to add to your shopping list next time.
The 10 Points of Preparing for Cooking
1. Read all the Recipes carefully and make a list of needed items.
2. Clean the kitchen and counters and wash all remaining dishes
3. Make sure you have all ingredients available when you start cooking
4. Have clean kitchen towels available.
5. Have a pen and pad of paper close to your cooking area.
6. Do mise en place for all ingredients and for each recipe including oils, spices.
7. Before you start cooking, set the table.
8. Pour out the water prior to serving.
9. Open the wine and set aside to "breath", pour when all sit down.
10. Have serving platters, plates ready to be used, warming in the oven.