I am John F. Peppin, DO, FACP, as a formal title. I am also a Kentucky Colonel, and a Conte of the Principality of Sealand, I am physician with over 30 years of clinical experience. Wrapping and the stuffing of foods has become an overwhelming focus for me and I have researched recipes from around the world. Although not a chef but I am a self-taught home cook.
On a clear day in the spring, many years ago, I was looking for some new ideas for dinner. I came across a recipe for fish and vegetables, "en papillote", a technique of which I had never heard, but my interest was piqued. I found "en papillote" fascinating, fairly easy, and delicious. The entire approach I found fascinating, and it not wrapped in parchment, why not other things such as dough, leaves and vegetables. Since that time, the notion of wrapping food for cooking; the history, techniques, recipes and presentation, has become of great personal interest. That wonderment has developed writing into the of this book and website.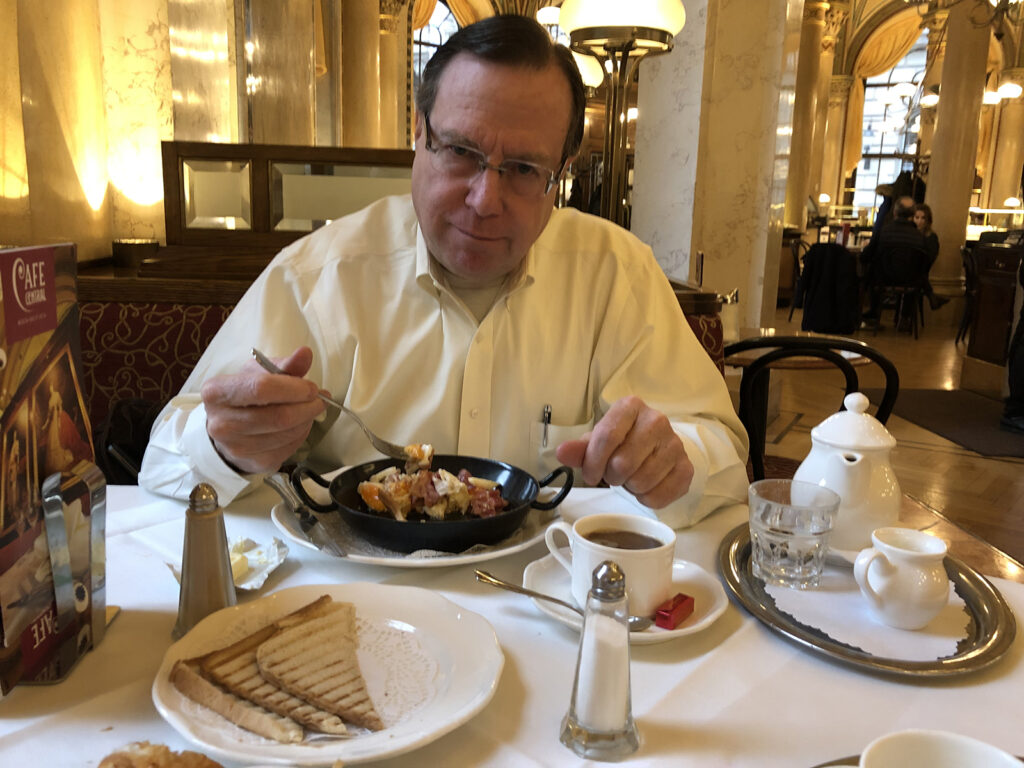 I am a physician with over 30 years of clinical, academic and industry experience. I became a physician for many reasons one chief reason was my thirst for knowledge and my wonderment at the great creation that surrounds humans and their lives.
Why wrap food? A question surely on the mind of any reader, but an important one. The wrapping of food gives food added flavor, kills off bacteria, is more visually pleasing, allows for different ingredients to be included, keeps food moist and holds in flavors. However, it has taken centuries for the wrapping of food to develop into a more sophisticated cooking approach around the world. This book (website) is about wrapping food in coverings of all kinds, a ubiquitous cooking technique used around the world. It will describe the history and development of the wrapping of food and will give bits of history throughout the book on the difference recipes that are included. I have tried to include recipes that are less well known that can be made by the home cook with items either readily available in the pantry, or that can be found easily near the home or on the Internet. In addition, this book will describe how to preserve some of the more esoteric, to US homes, ingredients so waste is reduced, e.g., how to prepare and store Banana leaves. The recipes have been chosen to represent the diversity of wrapping techniques and recipes from around the world, and give the reader the ability to experiment with different approaches in the home. I have tried to provide content that is interesting for anyone who cooks at home. Further, this book is for home cooks to prepare unusual, interesting and delicious recipes for themselves, family and loved ones.
This book is not an authoritative volume on the culinary history of wrapping of food. That project would take multiple volumes and require a food historian. Neither do I claim an expertise in the various cuisines that are represented in this volume. I have prepared all these recipes, and they reflect my tastes, interests and abilities. I have thought deeply about cooking and my role in that art. Patience, experience, knowledge, learned techniques, and a thirst for knowledge are all necessary for the home cook to achieve success and excellence as a home cook.
Here at Wrap it Up Food, we will explore some of the history of the various cultural approaches to the wrapping of food. We will discuss cooking methods and some tips and tricks that we have found useful in making the various recipes we are providing. Along the way we will interview chefs, review restaurants and the wrapped dishes in those restaurants, and provide new recipes from around the world.