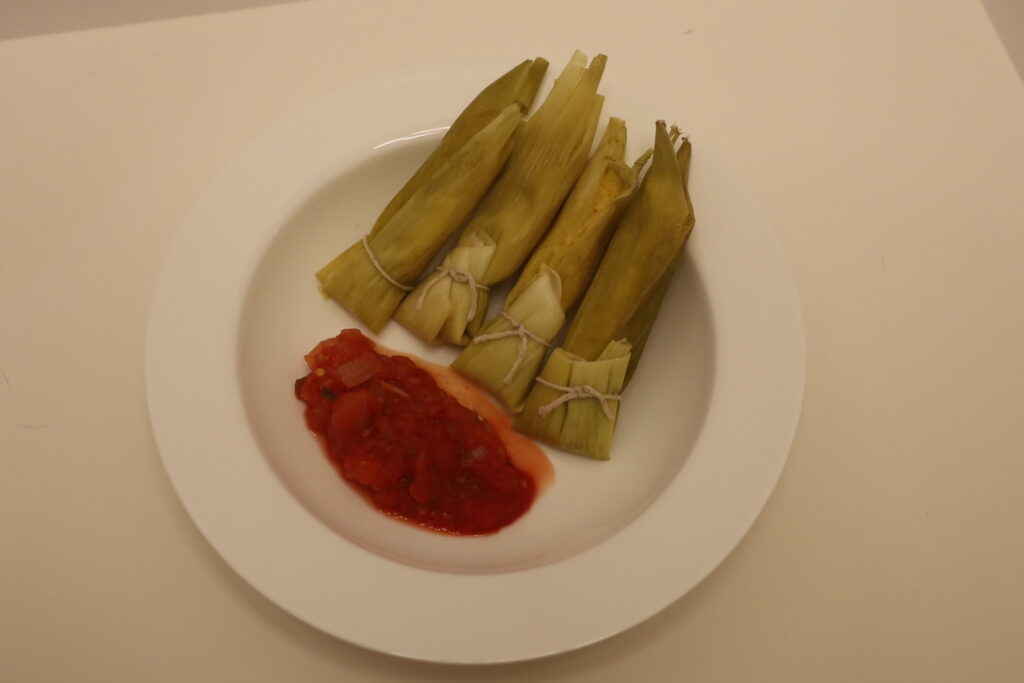 It has been claimed that determining the exact origin of any tamale is almost impossible, especially due to its extensive and quick spread throughout Central and South America and the Caribbean. However, in Michoacán, the Uchepos is held firmly to have originated in that area of Mexico. This isn't a "dessert", although it is sweet, and is not considered so in Mexico. Salsa's and other condiments are added once the tamales are cooked. Uchepos recipes are varied, but the one below is my take on this delicious corn treat. The main difference between Ucepos and other tamale recipes is the use of fresh corn as a base, although some recipes add masa to the ingredients. I add the masa, since I use honey instead of sugar. I love cheese so I add this to the recipe, which I think greatly improves the flavor. These tamales are a great addition to a meal. This recipe will be in the first volume of the book series.
Uchepos
These corn tamales make a great appetizer and they are not difficult to make.
Ingredients
Corn Husks, fresh or dried.

You will need enough for about 20 Uchepos.

6

cups

Corn Kernels

Approximately 5 ears of fresh corn

8

TBS

unsalted butter

⅓

cup

honey

1½

tsp

baking powder

¼

tsp

Kosher salt

½

lb

Monterey Jack cheese shredded

1

cup

Masa Harina

Amont depends on the amount of liquid. So add about ¾ of cup, then add more as needed to make a firm moldable masa.

2

Jalapeno chilis thinly sliced

These can be fermented or fresh. You can also substitute Serrano, but check the level of heat and the Serrano can be much hotter than some jalapeno's. You can leave out seeds and membranes of use fewer for those who like less heat.

Cotton Twine
Instructions
If using store-bought husks soak overnight in water.

If using fresh corn husks, remove them from the cob, remove the silk and place in warm water.

Cut the corn kernels from the cobs and place in a food procesor. Process until a medium coarse consistency.

Remove the corn mixture, and place in a stand mixer bowl.

In a seperate bowl, beat together the butter, honey, baking powder and salt until mixed well. Add the cheese to the butter mixture and mix well.

In the corn kernal puree, add in the masa harina on slow speed slowly, mixing until you have a good masa dough.

Add the butter mixture to the masa mixture, mix the two. Add more masa harina as needed to firm up the dough.

Taste the jalapeno or serrano chilis and adjust to your taste and hotness level. Slice the chilis and set aside.

Lay out 2 or 3 corn husks on a flat surface. Place 1-2 TBS of the corn mixture on the husks. Add 1-2 slices of the chilis. Carefully fold over the two long sides, one on top of the other. Fold the bottom up, keeping the top part open. Something like an ice cream cone.

Put one cotton twine tie around the middle of the packet.

Line the filled tamales into a stainless-steel steamer basket.

Steam for 1 ¼ hours. They should be firm. Remove one and open it to see if it has a proper tamale consistency. If so stop steaming, if still mushy, continue steaming.

Serve with salsa verde or roja or a chili sauce such as Cholula. Mexican creama (or sour cream) or queso fresco can be used as sides. Since there is cheese in the recipe I haven't found a need for these sides, but up to you!