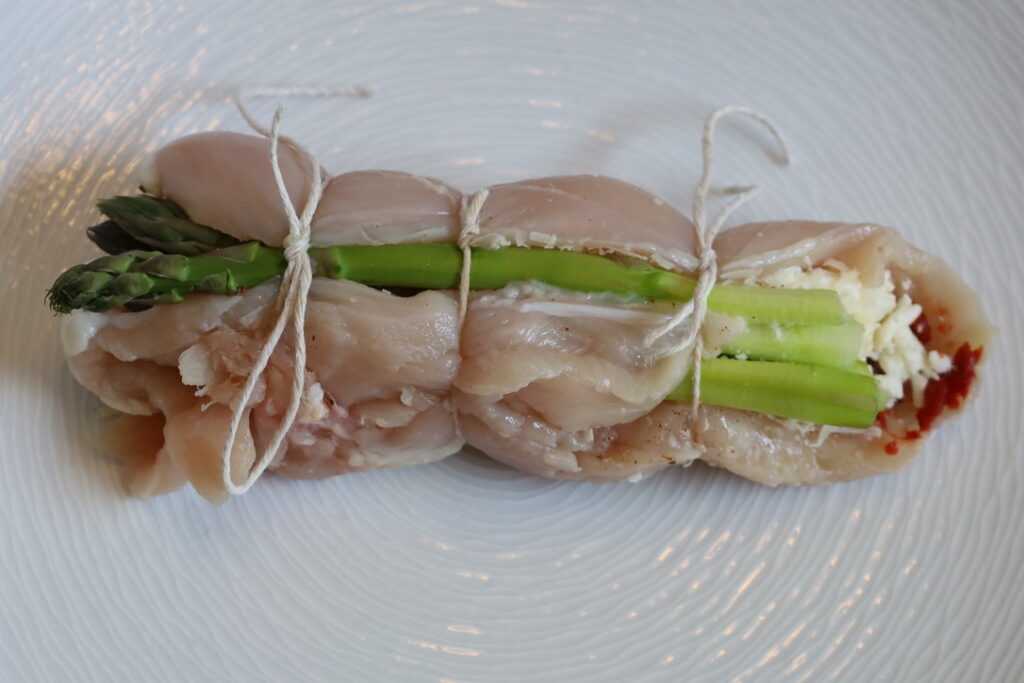 This is a delicious dish and easy to make. Tie these up with cotton cotton twine and use as much as you need to tie them well. This works much better than toothpicks in my opinion. The addition of both the sundried tomatoes and tomato paste give extra sweetness and taste. Butterflying these breasts needs patience. Cut them slowly so that there are no holes in the flesh. With patience the two sides will be equally thick. This is almost a full meal by itself but you could add a salad, rice pilaf or a potato dish. This dish is also in the first volume of our book series.
Chicken Breast Wrapped Asparagus
Chicken wrapped around asparagus spears creates a delicious main course that will intice your guests!
Ingredients
4

skinless boneless chicken breasts

1

tsp

Italian seasoning

½

tsp

sea salt

½

tsp

Smoked Paprika

½

tsp

freshly ground black pepper

8

garlic cloves minced

You can always decrease the amount of garlic. I love garlic, so I tend to use the most I can.

4

tsp

tomato paste

4

thin slices of fresh Mozzarella cheese

1

cup

Parmesan Reggiano cheese finely grated

12

Asparagus green or white stalks trimmed

Wash the spears, break off the tough ends. Then, using a vegetable peeler, peal away the tough sking from the bottom 1/3 of the spear.

4-6

sun dried tomatoes cut in half

Cotton Twine

1+

TBS

EVOO

1½

TBS

Basil chiffonade cut

8

ounces

Arugula

8

tomato slices grilled
Instructions
Preheat the oven to 400 degrees F.

Carefully cut the breast in half, butterflied, but leave the two sides connected.

Mix the Italian Seasoning, paprika, salt, pepper and garlic in a small bowl.

Place the chicken on a clean board and sprinkle with 1/4 of the seasoning.

Spread 1 tsp of the tomato paste over one side of the butterflied chicken breast.

Place a piece of Mozzarella cheese on each half of the chicken. Then add ¼ of a cup of the Parmesan cheese.

Add 3 sprigs of asparagus and a couple of pieces of sun-dried tomatoes on top of the mozzarella.

Roll the chicken over the asparagus, and tie the packet with 2 pieces of cotton twine. Twine works so much better than toothpicks in my opinion.

Heat the EVOO in a large cast-iron skillet over medium heat. Add the chicken and sear it until nicely golden brown on all sides, about 2-3 minutes per side.

Once the chicken is seared and browned, place the cast iron pan into the oven and bake the chicken for 15-20 minutes or until it is cooked through and no longer pick in the inside. You can also use a thermometer, and the chicken is done when it reaches 165 degrees F.

Plate this over a bed of arugula about 2 ounces per plate and sprinkle the basil over the top of the chicken. Add a few grilled tomato slices to each plate.