The poppy plant is thought to have originated in the Mediterranean and Middle east centuries ago. The Sumerians, Egyptians, Greeks and Roman's harvested this seed to make oil and cakes. The first archeological evidence of use of the poppy in India dates back about 5000 years ago and in China back to 3000 B.C. Native American cultures began using poppies about the time of Christ. In the 1700s Arabian traders brough the poppy seed to areas of today's Spain and Portugal, i.e., the Iberian Peninsula.
Today the poppy seed cake/roll is made throughout Eastern and central Europe. In Poland it is called "makowiec", in the Ukrain "pyrih", in Germany and Austria it is called "mohnstrudel" and in Serbia it is called "štrudla s makom". This cake is also made in Russia. Teologically one can envision the spread of the poppy, and the cake, from the Middle east, up through Spain and into Germany and Russia. Regardless, the poppy seed cake/roll is ubiquitous throughout Eastern and Central Europe.
This cake/roll is frequently made during Christmas and Easter. During the Orthodox Christian Pasca and Christmas fasting is often observed and this cake can be made "fast friendly". This cake is made to celebrate Christ's resurrection and birth.
A delicious cake that is eye pleasing and easy to make.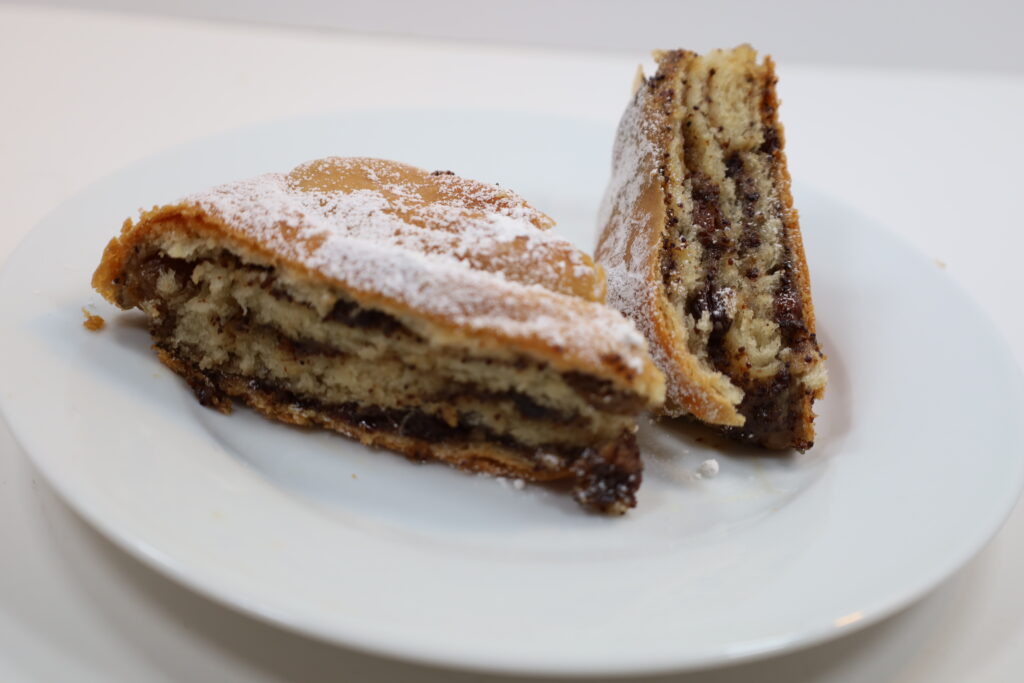 štrudla s makom (Serbian Poppy Seed Cake)
A delicious cake made during Easter and Christmas.
Ingredients
Dough
2

tbsp

water

1

tsp

Instant Yeast

2

tbsp

Honey

2¼

cups

King Arthur All Purpose Flour

¼

tsp

sea salt

1½

tsp

baking spwder

1

tsp

Cardomon, ground

½

tsp

Orange extract

4

ounces

EVOO (or neutral oil if fasting)

1

cup

(8-9 ounces) water
Filling
15

ounces

regular milk*

½

cup

Honey

8.5

Ounces

ground poppy seeds**

2

Ounces

Semolina flour finely ground.

2

tsp

Pure Vanilla extract

½

cup

Raisins***
Assemble and Baking
1

tbsp

Neutral oil, EVOO or melted butter.

2

tbsp

milk (or water)

Powdered Sugar
Instructions
Dough
Place the water, yeast and honey in a small bowl. Whisk well and let sit until it bubbles.

Add the flour, salt, baking powder and Cardamon to a bowl and whisk well.

Pour the orange extract, water and oil into a pyrex bowl and whisk well. Then pour the wet ingredients into the bowl with the dry ingredients. Mix will with a Danish whisk or spoon.

When a dough ball begins to form you can use your hands. When the dough ball is shinny and all the ingredients are incorporated, place in a lightly oiled bowl, cover with plastic wrap and place in a proofing oven (or on the counter if the kitchen is 70 degrees or more).

Let raise untill double in size.
Filling
In a sauce pan, place the milk and bring to a boil. Then reduce the temperature to simmer. Add the honey, vanilla and ground poppy seeds. Whisk and mix well.

Stir continuously and add the semolina flour and whisk well.

Taste and add more honey if necessary.

Once the semolina is mixed, turn the burner off and let the filling cool. It will thicken.
Assembly, baking and serving
On a clean flat floured surface.

Roll out the dough until it is about ⅛-¼ inch thick.****

Spread the filling with an offset spatula over the rolled out dough. Keep the edges clean from filling about 1-2 inches.

Roll the dough up and seal the edges. Place in an Angle Food removable bottom non stick pan.

Seal the two edges together as good as possible. Set the pan/cake into a proofing over, stove or let it sit on the counter. Let it raise for 30-45 minutes to about 25-50% increase.

Whisk the milk and oil well then brush the top of the cake with this mixture.

Place in the oven and bake for 30-40 minutes until golden brown.

Once baked, take the cake out of the oven, let it cool. Place a plate over the Angel food cake pan, and flip over the cake. It should easily fall out onto the plate. Then flip it again onto the serving plate.

Dust with powdered sugar***** just before serving. Slice, serve and enjoy.
Notes
*If making this during the fast you can use almond or cashew milk.
**Ground poppy seeds can be found at European groceries, or Middle Eastern groceries. You can purchase this off the web as well.
***You can mix black and yellow raisins and increase the amount to 1/2 cup if you wish.
****You can roll out two pieces, fill them and roll them up then place them together in a square pan, or do as I do here and bake the cake in a round nonstick angle food cake pan.
*****Place the powdered sugar in a fine mesh strainer. Just tap the side of the strainer with a spoon and dust the cake. This technique works well and results in a very nice presentation.