These Serbian cookies are fast friendly. They are fairly easy to make and don't take lots of time. Further they are delicious. There is very little on-line about these cookies; my inspiration, and take, comes from the very interesting book, Nistisima by Georgina Hayden, which I highly recommend. This is an unusual cookie as one of the ingredients is beer. Make sure you use a good lager, not a flavored beer, dark beer or "light" beer. For the apricot filling I use Bonnie Maman Apricot Fruit Spread. It has an intense apricot flavor and less sugar than other jams and jellies. However, this cookie, for the American palate, needs a bit more sweet. So I have added honey and powdered sugar, sprinkled over the rolled dough and then again over the final uncooked cookie. The type of nut used here can be changed (as can the fruit spread). Almonds or even pistacios will work great. However, the selection of apricots and walnuts I think is the way to go with these cookies. A great cookie that will WOW your guests. Serve with your favorite digestivo.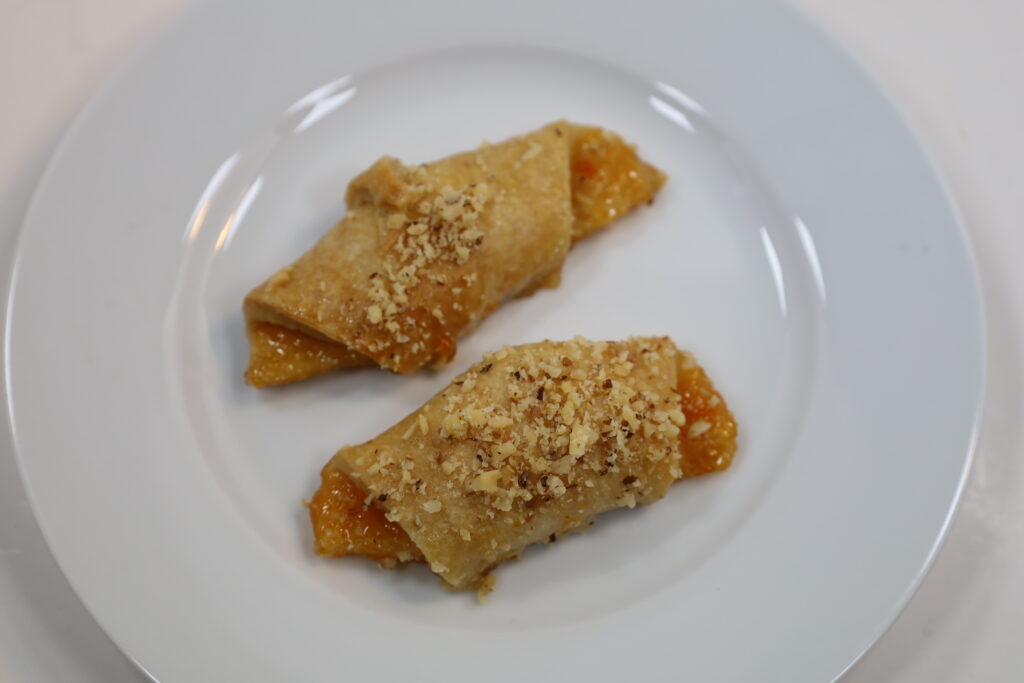 Pivčiće
Serbian apricot cookies, fast friendly.
Ingredients
Dough
2¾

cups

King Arthur All Purpose or sefl rising Flour*

(To the All Purpose flour, add 2 tsp baking powder, 1 tsp sea salt, 1/2 tsp baking soda to substitute for self-rising flour. Or just just 250 grams of King Arthur self-rising flour.)

1½

tsp

Baking powder

¼

tsp

sea salt

½

cup

light oil such as peanut, canola, etc …

½

cup

lager beer

(Not light beer, a good lager beer you are willing to drink).

¼

cup

Honey
Filling and Assembly
½

cup

Water

¾

cup

Honey**

Juice of 1 lemon

Powdered sugar

Bonnie Maman Apricot Fruit Spread***

⅔

cup

chopped walnuts
Instructions
Dough
In a large bowl if not using self-rising flour, add the baking powder, sea salt, baking soda and whisk well.

Then add the additional baking powder and sea salt. Whisk well.

Add the oil to the beer. Then add the honey to this mixture. Whisk this well. Pour this into the dry ingredients slowly using a spoon or Danish dough whisk. Mix until all is incorporated.

If the dough is too moist, just add more flour.

Turn the dough out onto a flat floured surface and knead until you have a dough ball.

Cut the dough ball into two to three pieces. Cover one piece until needed. Since this dough is very greasy, place one of the balls between two sheets of parchment paper.

Roll out the dough to a circle, about ⅛ inch in thickness. The round should be at least 9 inches in diameter.

Place a 9 inch plate upside down on top of the dough and cut off the excess dough.

Then cut the round like a pie into 8 pieces, like a pie or pizza.
Assembly, filling and cooking.
Dust the triangle pieces of dough with powdered sugar.****

Place ~ 1 tbps of the apricot fruit spread near the larger end of the triangle pieces of dough.

Sprinkle some of the chopped walnuts over the fruit spread.

Roll up each slice from the large end to the point. Place the rolled cookie onto a parchment lined cookie sheet.

Dust the cookies with powdered sugar again.

Bake at 350 degrees F until the cookies turn a light brown, about 20-30 minutes.

While the cookies are baking, place the water, honey and lemon juice into a small sauce pan to make the glaze. Bring to a boil, whisk well and keep warm on the stove.*****

Take the cookie tray from the oven. Using a pair of tongs take each cookie from the hot cookie sheet, dip completely into the glaze, then place back on the cookie sheet. Sprinkle with the chopped walnuts.

If needs be you can use a brush to brush the cookies with the glaze again to sprinkle more walnuts.

Let the finished cookies cool completely.

Dust again, just before serving, with powdered sugar.
Notes
*I rarely use self-rising flour. But when needed, I just add the ingredients as listed above. If you have self-rising flour in your pantry, just use that in equal measure.
**Adding the honey to the dough, obviously, increases the sweetness of this cookie. For the American Palate, this works. However, for Eastern European taste, less sugar is more to their liking. You can reduce the honey here or eliminate it. I find it adds to the final taste.
***Bonnie Maman Apricot Fruit Spread makes a wonderful addition to these cookies. Rich in apricot flavor. It can be found online – https://www.amazon.com/Bonne-Maman-Apricot-Fruit-Spread/dp/B09LKNSZK3/ref=sr_1_4_f3_0o_wf?crid=5PC7ZLSZVDCM&keywords=bonne+maman+apricot+fruit+spread&qid=1678530444&sprefix=bonnie+mamon+apricot%2Caps%2C85&sr=8-4
****Just pour some powdered sugar in a fine mesh strainer. Hold over the dough slices and tap with the side of a spoon or knife to dust the slices.
*****You can use white refined sugar instead of honey for the glaze, however I love the taste of honey and feels it adds to the glaze.