It is not known exactly where the pepper bun originated, however most state it originated in the province of Fujian in the city of Fuzhou. Fujian is the closest province to Taiwan. It is thought that Fujian immigrants brought the dish to Taiwan and many of the oldest pepper bun vendors have Fuzhounese ancestry. The original black pepper bun in Fuzhou did not have green onions. The "green onion flat bread" was combined with the original black pepper bun in Fuzhou to create the current bun so well known in Taiwan.
In Taiwan it has become a very popular street food and people wait in lines to buy these delicious morsels. It is said the average line wait is at least 30 minutes . The buns popularity has been boosted by television, such as Anthony Bourdain's "The Layover" and also Hong Kongs food channel "Neighborhood Gourmet". Since it has become so popular and well known in Taiwan it is commonly called the "Taiwanese Pepper Bun".
The following recipe is my version of this delicious bun. I recently took a full pan of these buns to our church's late night Pasca Dinner and they disappeared in a puff of enjoyment! You can put as many sesame seeds as you wish over the top of the buns, I choose to sprinkle them, but many recipes dip the egg washed bun in sesame seeds.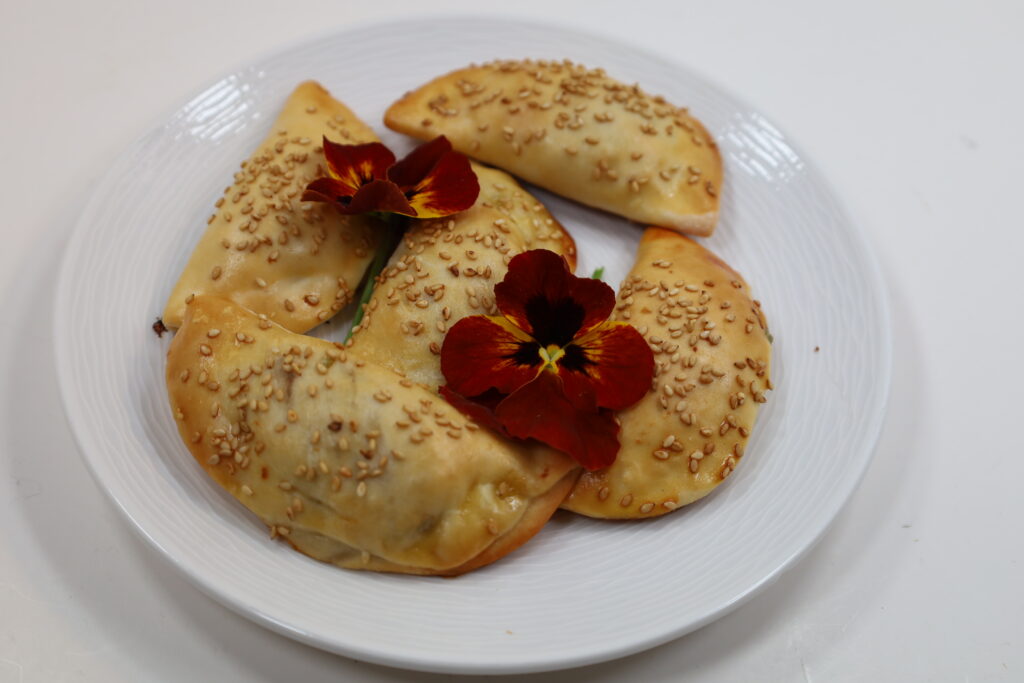 Taiwanese Beef Pepper Bun
Delicious baked buns filled with beef, spices and scallions.
Ingredients
Dough
2

tsp

Active dry yeast

1

Cup

Warm water (around 90 degrees)

2

tbsp

Leaf Lard*

1

tbsp

honey

½

tsp

sea salt
Filling
1

pound

85/15 ground beef

2

tbsp

Soy sauce

1

tsp

Chinese 5 spice

2

tsp

Oyster sauce

1

tbsp

Chinese cooking Rice Wine

1

tsp

grated fresh ginger

2

cloves garlic finely minced

1

tsp

Honey

3

tsp

Freshly ground White Pepper**

2

tsp

Freshly ground black pepper**

3

Cups

Thinly sliced then roughly chopped green onions***
Forming, finishing and baking
1

large egg

1

tbsp

water

½

cup

White Sesame Seeds****
Instructions
Dough
Place the yeast in warm water and set aside until it begins to bubble.

Place the flour and salt in the bowl of a stand mixer and whisk well.

Place the leaf lard in a corning wear measuring cup and warm until soft.

Add the honey to the leaf lard.

Using the stand mixer, add the yeast and water to the flour, then add the leaf lard and honey.

When the dough ball forms and all the ingredients are incorporated, remove the dough ball onto a clean flat surface and knead. You may need to add water to the flour if not moist enough.

Once you have a nice dough ball, place in an oiled bowl and thinly oil the ball as well. Let sit in a proofing box, or in a kitchen that is at least 70 degrees, until it doubles in size.

As the dough doubles make the filling.
Filling
Place the beef, soysauce, chinese 5 spice, oyster sauce, sesame oil, rice wine, ginger, garlic, honey, white pepper, black pepper in a bowl and mix well. Using your hands works the best.

Once the above ingredients are mixed, add the scallions and mix well.

Set this aside if ready to make the dumpling, otherwise place covered in the refrigerator.
Assembly and baking
Turn the oven on to 350 degrees F.

Take the dough and punch down, knead for 1-2 minutes. Then cut the dough into 3 or 4 pieces.

Take a piece and run this through a pasta machine***** to a setting of about 4. You want the dough to be thin but not too thin that it tears.

Alternatively, instead of using the pasta machine, you can take smaller balls of dough and roll them out using a small rolling pin into a circle of desired size. The pasta machine will be limited in the diameter of the rounds you can make, so if you want larger buns you will have to use this technique.

Using a large cookie cutter, about 3-4 inches, cut out rounds of dough.

Place 1+ tbsp of the filling onto the round. Moisten the edges and fold over into a half moon shape. You can place a second round ontop of the first to keep the round shape and make them more substantial.

Place the assembled buns on a parchment covered cookie sheet.

Whisk the egg and water well. Using a brush paint each of the buns with the egg wash.

Sprinkle, or dip, the buns into the sesame seeds.

Bake at 350 degrees F until golden brown. Remove from the over let cool enough to handle and enjoy!
Notes
*I use leaf lard as it is much healther than shortening. It is a bit pricey and can be hard to find, but will keep almost indefinitely. I always have this on hand in my refrigerator.
**I love pepper so I put more into the filling. You certainly can reduce the amount of pepper to 2 tbsp of the white and 1 tbsp of the black, all up to your taste.
***This takes about 2 to 2 1/2 bunches of green onions. Obviously wast them well.
****I didn't use as many sesame seeds as some suggest, see instructions below.
*****Using the pasta machine works very well for me for recipes like this. I. find this such a versatile piece of kitchen equipment and use it all the time for making recipes such as these buns.