Lumpia is one of my favorite rolls. In my past, I have had Philippino friends who, having heard of my love for lumpia, have made up plates of these delicious crunchy morsels and I have gorged myself. Of course, I was younger then and could eat more. These are not that difficult to make, are a great wrapped recipe, and can be eaten warm, room temperature or even cool. I recommend you make then the day before the event. Then warm them in the oven and place then into containers that will hold the warmth, the Mier insulated carriers work very well. Open them at Keeneland (or wherever your event is occuring) and dig in.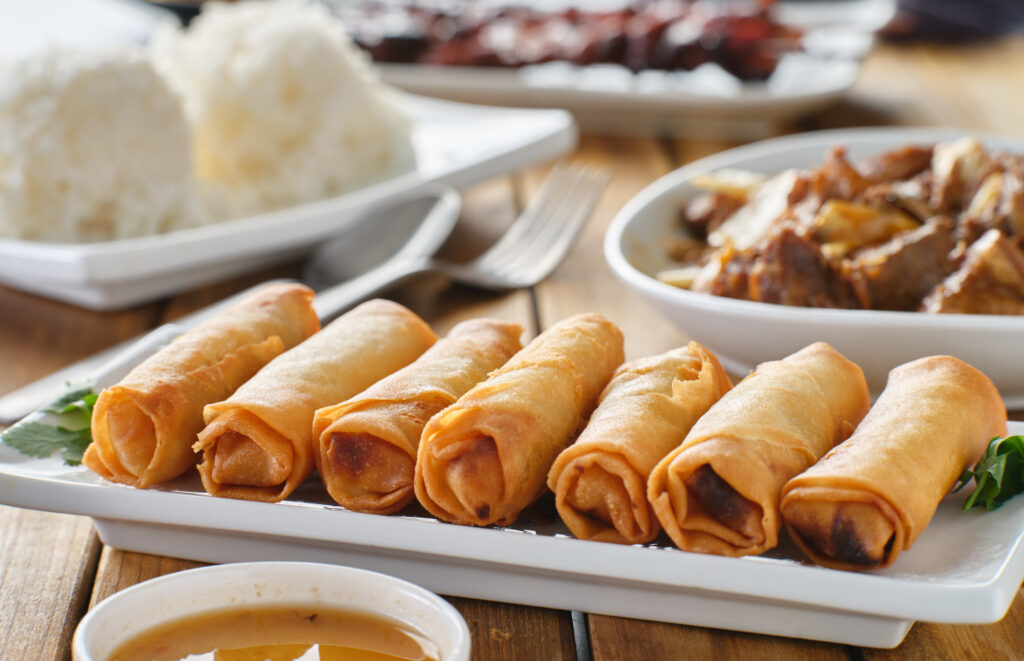 Race Day Lumpia
I love lumpia and can eat an entire plate full!. These are fairly classic, but my take on what would make a great addition to the Tailgate Party. You can eat these by themselves, or with a dipping sauce. I suggest these by themselves, which satisfies me. Bet you can't eat just one … 🙂
Ingredients
2

TBS

EVOO

1

celery stalk chopped fine

1

carrot chopped fine

½

LB

Napa cabbage finely shredded

½

tsp

fresh ground black pepper

¼

tsp

sea salt

6

oz

button mushrooms chopped fine

½

Vidalia or sweet onion finely chopped

2

garlic cloves minced
Chicken and Shrimp
2

TBS

EVOO

1-2

Chicken breast

You can use only chicken or only shrimp, but double the amount if you are going to do this.

1

cup

Chicken broth

(homemade or storebought)

1-2

LBS

shrimp 41/45
Assembly and Cooking
2

TBS

Fish sauce

1

TBS

Soy Sauce

Lumpia Wrappers

Canola Oil
Instructions
Vegetables
Place the EVOO in a sauté pan over medium heat.

Add the celery, carrot, and cabbage. Fry until soft.

Add the mushrooms and cook until the liquid has reduced.

Add the chicken broth and reduce until the vegetables are less liquid.

Add the onions and cook until fragrant, then add the garlic.

When the vegetables are cooked, sit aside.
Chicken and Shrimp
Place the EVOO in a sauté pan and heat over moderate high heat.

Sear the chicken until the sides are golden browned. Add the chicken broth and shrimp.

Cover and cook until the chicken and shrimp are cooked.

When the chicken and shrimp are cooked, finely chop and save 1 1/2 cups. Save the remainder for other recipes.
Assembly and Cooking
Pour the vegetables, chicken and shrimp into a bowl and mix well.

Add the fish sauce and soy sauce and mix well.

Taste and add spices as necessary.

Place a lumpia wrapper on a clean flat surface. Place it with one edge pointing towards you.

Place 2-3 TBS of the filling near the bottom of the wrapper, about 3/4 inch from the end.

Fold over the tip and roll to about halfway.

Moisten the two edges at the middle and fold over sealing onto the already rolled portion.

Continue rolling and seal with the final edge and set aside.

When all are rolled heat the oil in a large pot and heat to 350 degrees. Use a thermometer attached to the side of the pot.

When the oil is hot, deep fry the lumpia. When golden brown, remove and place on a rack to cool.

When all of the lumpia are cooked, place them in a container lined with paper towels.

Serve at room temperature. You can use a dipping sauce, or just serve by themselves.
Notes
Lumpia wrappers are different than wonton or spring roll wrappers. They are not made with egg and tend to be thinner and more rectangular in shape. Lumpia wrappers can sometimes be found in Asian groceries. You can also make them by hand. However, "Shanghai style" spring roll wrappers, made without egg, can be substituted.