I have only done 1 previous tortilla pinwheel. However, these pinwheels are a great appetizers. I use honey baked ham, which I love. Purchase a good quality ham and bake it using a glaze. I like my ham done until it becomes a dark brown on the surface. Sliced thinly this type of ham works great for sandwiches, with fried eggs and in this pinwheel.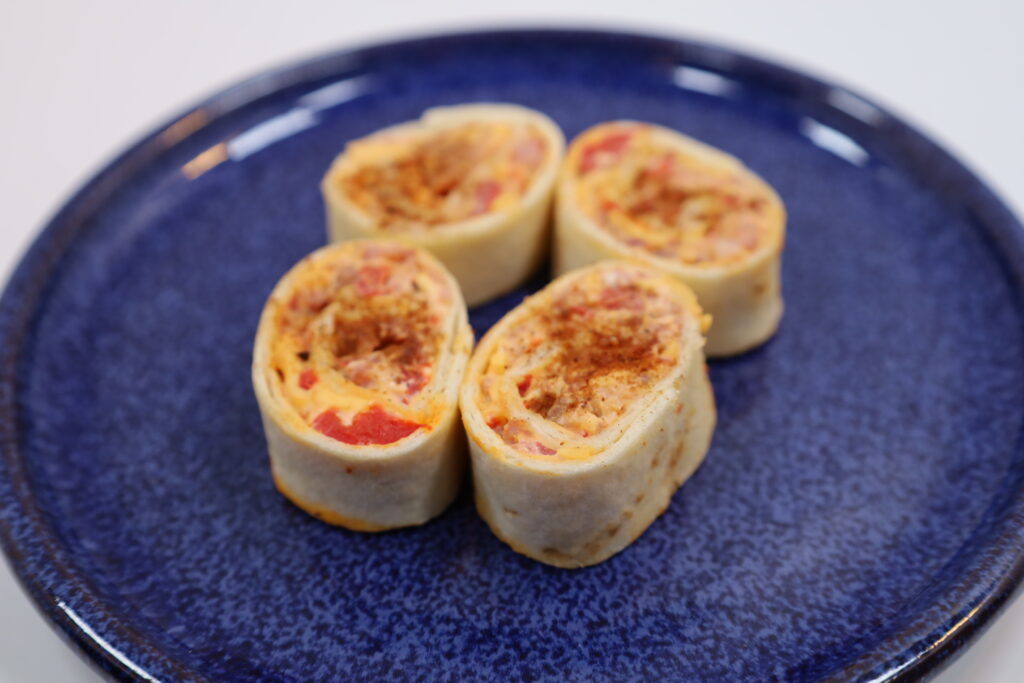 Honey baked ham and cheese in tortilla pinwheels
A great appetizer that will be eaten quickly.
Ingredients
Filling
4

Ounces

Cream cheese (Philadelphia brand)

1

cup

Sharp cheddar cheese grated

¼

cup

Parmesan reggiano Cheese finely grated

2

ounces

Roasted red peppers drained and diced

1

Garlic clove crushed through a garlic press

2

tbsp

Mayonnaise

¼

tsp

freshly ground black pepper

¼

lb

Honey Baked ham finely diced

2-4

Tortillas, home made or storebought
Instructions
Filling
Place the cream cheese in the microwave and heat until very spreadable. Watch this carefully, you do not want to "cook" the cream cheese.

Add the sharp cheddar cheese, parmesan reggiano cheese, roasted red peppers, garlic clove, mayonnaise, black pepper, honey baked ham. Mix this well.
Assembly
Lay the tortillas on a clean flat surface. Spread the cream cheese mixture over the tortilla. You can use an offset spatula. Divide the cream cheese mixture to fill 2-4 tortillas (it depends on tortilla size).

Spread the filling over about 2/3rds of the tortilla and almost to the edges.

Roll the tortilla up tightly, but not so tight you are squeezing out the filling.

Moisten the edge of the tortilla to seal the toll. Then cut into about ½ inch thickness.

Place these on a serving platter and into the refrigerator for at least 30 minutes.

When you serve sprinkle paprika over the top of each of the pinwheels.

You can also use sliced olives, capers or anchoives as a topping on the pinwheels.