Dumplings in Eastern Europe, and around the world, are ubiquitous and have very different fillings country by country. Dumplings are boiled, fried, steamed and put in soup. However, dumplings from Eastern Europe are very similar, and confusion enters when trying to determine who developed the first dumpling in a given country or region. Russian and Ukrainian dumplings, are called varenyky and vareniki, in Poland they are called Pierogi and in Belarus they are called Kalduny.
The origins of the Vareniki are thought to stem back from Western Ukrainian Galician roots. The dumpling had pagan roots and served as a talisman in the fields for a good harvest. They were used as sacrificial food to continue the purity of spring water, and used in other rites.
These dumplings can be a main course, breakfast or even dessert. These dumplings can be filled with just about anything, but traditionally the Vareniki is filled with, potato, sauerkraut, cottage cheese, sour cream, beans and peas, cherries, other berries, radishes, ferns, and meats.
Size wise, it is claimed that the classic Ukrainian Vareniki are twice as big as Russian Pelmeni and four times the size of an Italian ravioli. As with many Eastern European dumplings these are half-moon shaped. These dumplings are usually boiled but can be fried and steamed. Traditionally, as below, they are served with friend onions or thinly sliced scallions.
The classic Ukranian Vareniki is usually stuffed with sour cream and fried onions and served at breakfast or brunch, which is the recipe below.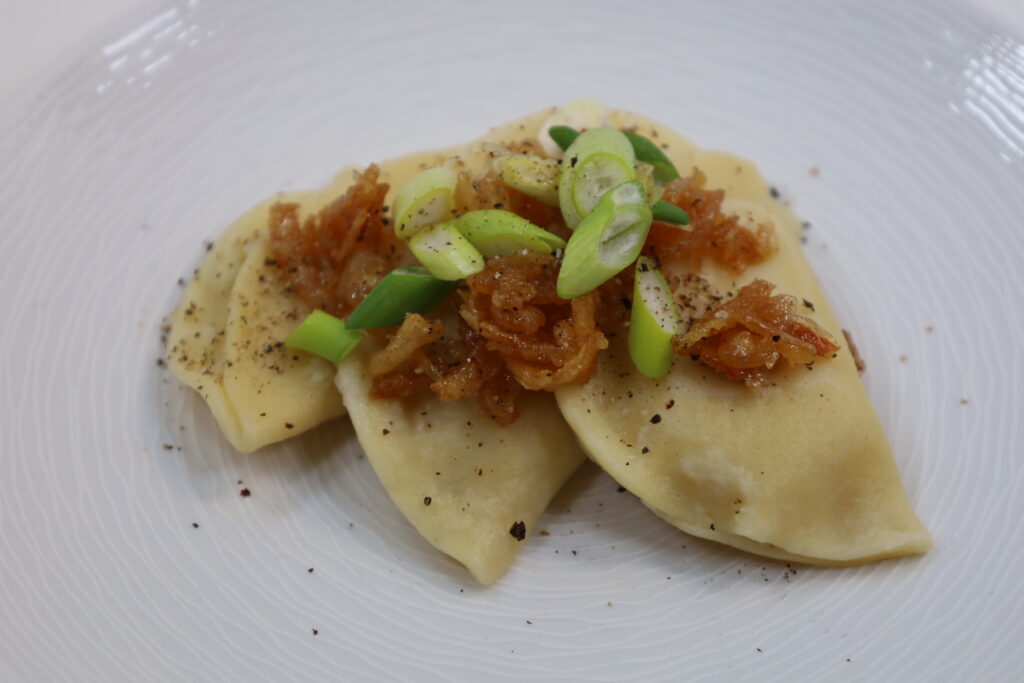 Vareniki Ukranian Dumplings
Dumplings are common is Eastern Europe, the Vareniki is from the Ukraine.
Ingredients
Filling
3

TBPS

EVOO

2

White onions diced

1

Pound

Russet or Yukon Gold cut into rough pieces

½

cup

Whole milk 95-100 degrees F

3

TBPS

unsalted butter

2

TBPS

heavy whole cream

¼

cup

Parmesan Reggiano cheese finely grated

¼

cup

While Sharp Cheddar grated

½

tsp

Sea Salt

¼

tsp

Fresh Ground Black Pepper

½

tsp

Garlic powder
Dumplings-Cooking
4-6

quarts

Water

Salt the water with Kosher salt so it tastes like the sea.

2

Bay leaves
Dumpling Serving
1

TBPS

Unsalted butter

½

White onion finely diced

½

cup

French's fried onions

2

TBSP

honey

¼

tsp

Sea Salt to taste

¼

tsp

Fresh Ground Black Pepper to taste

2-4

Scallions cut thinly on the bias
Instructions
Dough
In a stand mixer bowl add the flour, eggs, milk, sour cream, salt, and EVOO.

Using a dough hook, mix these ingredients until a dough ball forms.

You may need to add extra flour as this is a wet dough. You want a dough ball to form so add flour to achieve this goal.

Once the dough ball forms, place in a EVOO thinly coated bowl, cover with plastic wrap. Set aside for at least 30 minutes. You can place this into the refrigerator overnight if you wish.
Filling
Add the EVOO to a larger fry pan. Once the EVOO is shimmering, add the onions. Cook over low heat until the onions brown and carmelize. This will take some time, and need to be stirred regularly. Once carmelized set aside.

Fill a pan with water and salt (should taste like the sea). Place the potato pieces in the boiling water and cook until the potatoes are cooked and soft. Drain and set aside. Reserve the potato boiling water.

Place the onions, potatoes, milk, butter, Parmesan Reggiano cheese and cheddar cheese, salt, pepper and garlic powder in a food processor.

Once the filling if mixed well, set aside.

If it is too dry, add the potato boiling water that you reserved. I have never needed extra moisture for the fillings, but if needed you have the reserve on hand.
Dumplings-assembly
Take the dough, once rested, and cut into 4 sections. Place back in the bowl and cover.

Using a pasta maker, roll out the dough using a rolling pin until it will fit in the pasta maker. Roll out the dough to about a setting of 4 ~ ⅛ inch thick. Using a 3 inch cookie cutter, cut out rounds.*

As you cut the rounds, coat with flour. The dough is a little wet and can stick together. Cover a cookie sheet with parchment paper, dusted with flour. Take about 1-2 tsp of filling, place off center on a dough circle. Wet the edges and fold over the circle making a half moon shape. Place on the cookie sheet.
Dumpling Cooking
In a large 8 quart pot, add water, about ½-¾ fill. Add salt (should taste like the sea) and Bay leaves.

Bring the water to a low boil. Drop 8-10 dumplings into the boiling water. When they raise to the top they are cooked. Using a Spider laddle remove them to a collander to drain. When drained and cooler serve.
Dumpling assembly and serving
Place the butter in fry pan, add the onions and fry over low heat until carmelized and browned. Add the fried onions, honey, salt and pepper.

Mix the ingredients well in the fry pan. Cook until the honey and other ingredients are well heated and mixed.

To serve, place 4-5 (or more) dumplings on a plate, sprinkle with the fried onions and scatter a few green onions. Add salt and pepper to your desire. Eat and enjoy.
Notes
*I like these dumplings smaller so I choose 3 inchs but you can make these 5 or 6 inches in diameter. Whatever you like is certainly fine.