These wheels are a delicious creation that will wow your guests. Puff pastry is a wonderful creation that puffs up brown, flaky and delicious. Pepperidge Farm makes a great puff pastry that you can find frozen in your gorcery. Making puff pastry from scratch is lots of work and I usually like to make things from scratch. But this particular item tastes just as good in the frozen variety as made from scratch and takes to much less time. In this recipe the puff pastry puffs up and the bacon and cheese ooze from the pastry. A delicious and wonderful appetizer.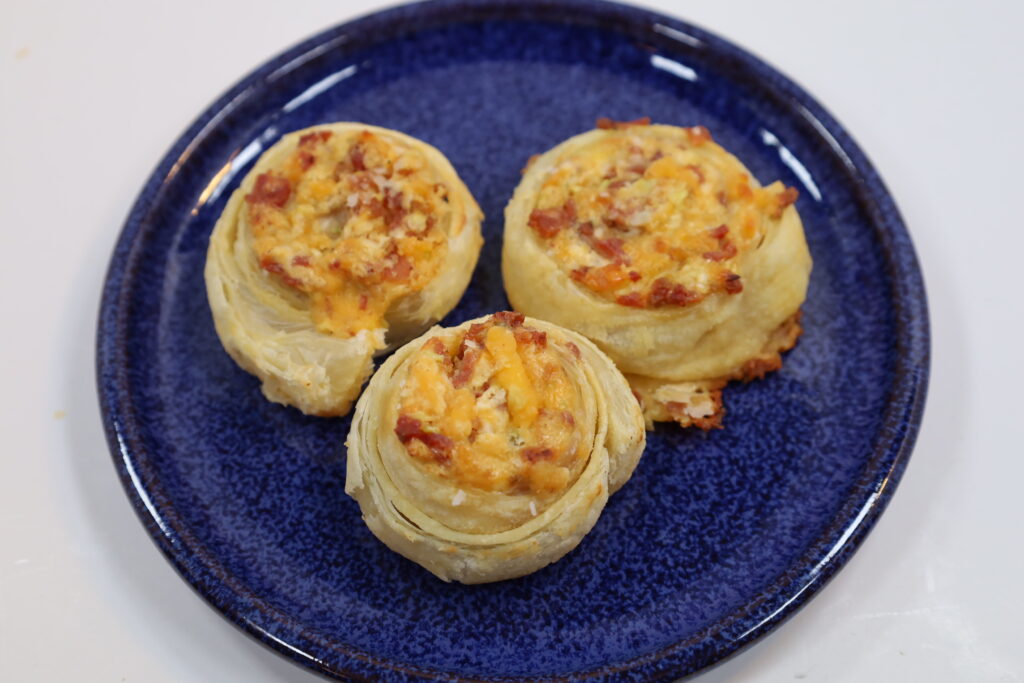 Bacon, Cheese and Puff Pastry Wheels
Appetizer made with puff pastry and containing bacon, cheese and other ingredients.
Ingredients
Filling
16

ounces

Center Cut bacon

10

ounces

Puff pastry

4

ounces

cream cheese

8

ounces

sharp cheddar cheese grated

¼

cup

parmesan reggiano cheese finely grated

4-6

scallions sliced thinly on the bias

½

tsp

sea salt to taste

1

garlic clove pressed through a garlic press

¼

tsp

Fresh Ground Black Pepper

⅛

tsp

ground All-Spice
Assembly, Baking and Serving
Instructions
Filling
In a large fry pan, fry the bacon until just beginning to brown and crisp. Remove from the fry pan, blot with paper towels and set aside. See the post on making bacon.

When the bacon cools crumble. I do this with a large chef's knife which works well. Whatever technique try to get even small pieces.

Unfold the puff pastry, place on a clean flat floured surface. Roll with a rolling pin until ¼ inch or less in thickness. You should have a large rectangle shape of puff pastry dough.

Place the cream cheese in the microwave and warm until very spreadable.

Add the sharp cheddar cheese, parmesan cheese, scallions, sea salt, garlic, black pepper and All-Spice to the cream cheese and mix well.

Add the crumbled bacon and mix well.

Spread the cream cheese mixture as evenly as you can over the rolled out puff pastry.

Roll up the puff pastry starting from one end of the long side of the rectangle.

Roll it tightly and seal the edge by moistening it at the end.

Using a sharp knife, cut ½ inch to ¾ inch wheels. Place them carefully on a parchment covered cookie sheet about 1 inch apart. These will expand as they cook and you want enough room between them to keep them from sticking together.
Assembly, Baking and Serving
Once on the cookie sheet brush the wheels with egg wash.

Bake at 375 degrees F, ~ 20 minutes, until the puff pastry puffs up and browns.

Serve them hot, warm or at room temperature. These can be rewarmed in the oven if you place them in the refrigerator after baking.