Chinese chives are used in a number of different dumplings and pies, as well as numerous other dishes. Pies are obviously larger. The Chinese Chive Dumplings are formed in a basic half-moon dumpling shape. These dumplings are also called Chinese Chive Pockets, Chinese Chive Pie (which can be a different shapoe), or Chinese Chive Boxes.
The Chinese Chive Dumpling is popular in Northern and Northwestern China, in areas such as Shandong. It is commonly served during the Chinese New Year and at other festivals. These dumplings can be filled with chines only (such as the recipe below) or chives and meat.
The dough used here is a soft very pliable dough. I have found that continued use of flour as you roll these our and fill them is necessary. They deform easiily. I use a Pasta Machine which will give you reproducible results. Good Chinese cooks and chefs use a small rolling pin, but I find this dough a little tough to use with a rolling pin. Use only about 1/8th to 1/4 of the dough as you roll it out. I roll them down to a setting of 4 as I prefer less thick dumplings. I roll enough dough to cut out about 4 rounds at a time. Once cut I fill them and set them on a parchment covered cookie sheet, then move on to the next piece of dough. Flour the parchment paper as well and cover with a tea towel. Also, I use a 4 inch cookie cutter. The classic size is typically a bit larger than this, but I prefer smaller dumplings. These can be served with either a dipping sauce (recipe follows) or just Chinkiang Vinegar as in this picture.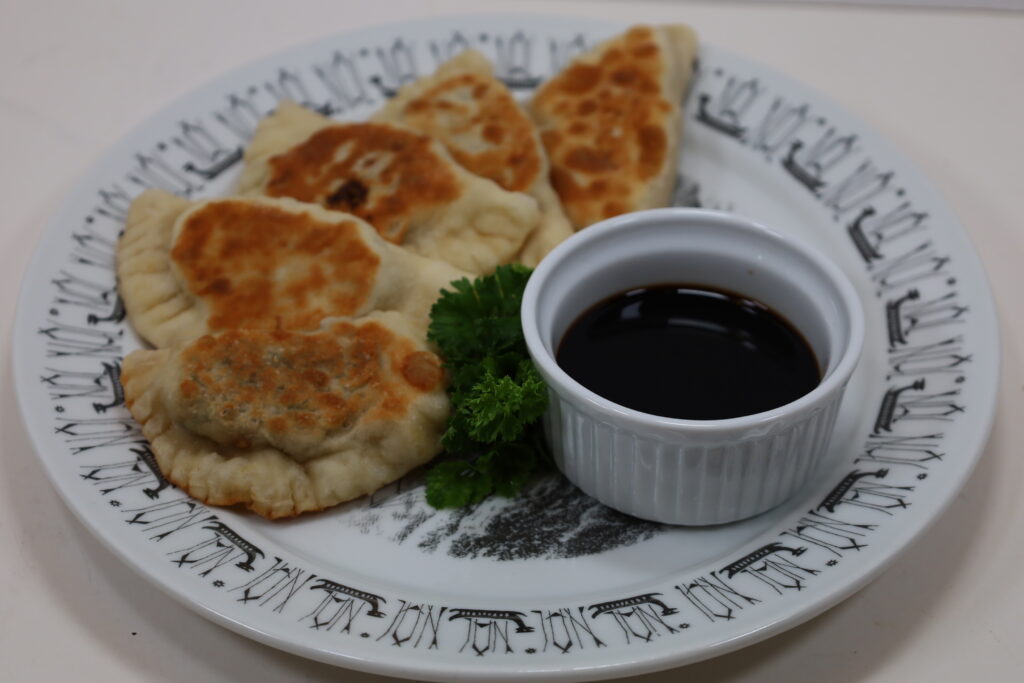 Chinese Chive Pockets
Ingredients
Dough
13

ounces

King Arthur All-Purpose Flour (~370 grams)

½

tsp

Sea Salt

8

opunces

Water heated to about 80 degrees F

⅛

tsp

Rapid Instant Yeast

1

tsp

Honey

1

TBSP

Peanut Oil
Filling
9

ounces

Chines Garlic Chives

1

TBSP

Toasted Sesame oil

2

ounces

Mung bean threads (or rice stick)

2

tsp

Dark soy sauce

3

Eggs

2

tso

Shaozing wine.

1

tsp

Salt

6

TBSP

Dried baby shrimp minced.

2

Garlic cloves minced

2

TBSP

Soy sauce

1

tsp

5 spice powder

2

TBSP

Oyster Sauce
Assembly
2

TBSP

Peanut oil (or equivalent)
Instructions
Dough
Combine flour and salt and whisk well in a stand mixer bowl.

Heat the water to 80 degrees F, add tthe honey and yeast. Let this sit until the yeast begins to bubble.

Add the water/honey/yeast and the oil to the flour and mix with the stand mixer.

Using a dough hook, mix the dough until it releases from the sides of the bowl and forms a dough ball.

If more water is needed to make a good dough ball.

Turn the dough ball out onto a clean flat floured surgace and knead until the dough is shinny and firm.

Place the dough in an oiled bowl, cover with plastic wrap and set in the refrigerator overnight, 8-12 hours, until about doubled in size.

Remove the dough from the bowl and press down. Divide the dough into pieces about 40 gram each.

Roll the pieces until thin, about 4 or 5 on a pasta machine. Continue on to assembly.
Filling
Wash and dry the chives and cut them into about 1/4 pieces.

Coat the chives well with the sesame oil, set aside.

Soak the mung bean threads (or rice stick) in warm water until soft.

Drain the mung bean threads (or rice stick) well and place them in a bowl. Coat the threads with the dark soy sauce until the threads are browned.

Cut the threads to about 1-2 cm in length, set aside.

Heat the peanut oil in a hot wok, then add the eggs and scramble well. Once cooked, remove from the wok and set aside.

Take the chives, bean threads, eggs, baby shrimp, garlic, soy sauce, 5 spice powder and oyster sauce. Mix them well and set aside.
Assembly
When the dough is rolled to the correct thickness, use a 3-6 inch cookie cutter (depending on how big you want the dumplings. I usually use a 4 or 6 inch size).

Flour the cut circles and place them under a moist towel.

Place a dough circle on a floured surface. Moisten the circle edge.

Add 2 tsp to ¼ cup filling depending on the size of the dough circles.

Fold the dought over into a half-moon shape and seal.

At this point you can vacuum pack and freeze them, if you want to fry them later.

Add peanut oil to a frying pan over medium to medium high heat.

When the oil shimmers and is hot, pan fry the dumplings until well browned.

You can freeze these as well, which all you need to do is heat them and eat them.

Serve them on a plate and add a dipping sauce.
As far as the final edge design, I find using a fork and just making indentations as shown in the picture above. Classic edges that appear to be a rope shape can be done, but I have yet developed the skill to do these. But the fork technique works quickly and well, and gives a fair look.
The following dipping sauce works well, but using just plain Chinkiang Vinegar also works well. These are great by themselves. Serve at room temperature, or fresh from the fry-pan.
Chinese Chive Dumpling Dipping Sauce
Dipping for the Chinese Chive Dumpling
Ingredients
1

TBSP

Soy Sauce

1

TBSP

Chili Oil

1

TBSP

Rice Vinegar
Instructions
Mix all the ingredients in a small bowl and whisk well.

Serve at room temperature.
Notes
This recipe can be increased double, triple or as large as you need.
Refigerate after making.