Shumai dumplings have become very familiar to hungry Americans. In China they can be found in numerous variations, although the Hong Kong variety is the most well known in the west.
Shumai originated, from all we know, in northwestern China in Zinjiang from the Uyghur culture. Historical documents suggest that this dumpling originated in the capital of Mongolia, Hohhot. There are two varieties in the Mongolia region and both include meat, the most common being mutton with scallions and ginger. As the shumai dumpling concept spread it is now found throughout Asia, China, Japan, Vietnam, and the Philippines. They can be filled with shrimp, beef, pork or vegetables. Frequently these are served with a dipping sauce, but I find them delicious by themselves or with a little soy sauce. I have had these with shrimp in numerous places around the world, and find these very much to my taste.
The term in Mongolian, Shumai, means either "without being cooled down" referring to eating the dumpling hot and warm, or to "sell" referring to their popularity.
The dumpling skins are usually made with lye water and can be yellow or white in color.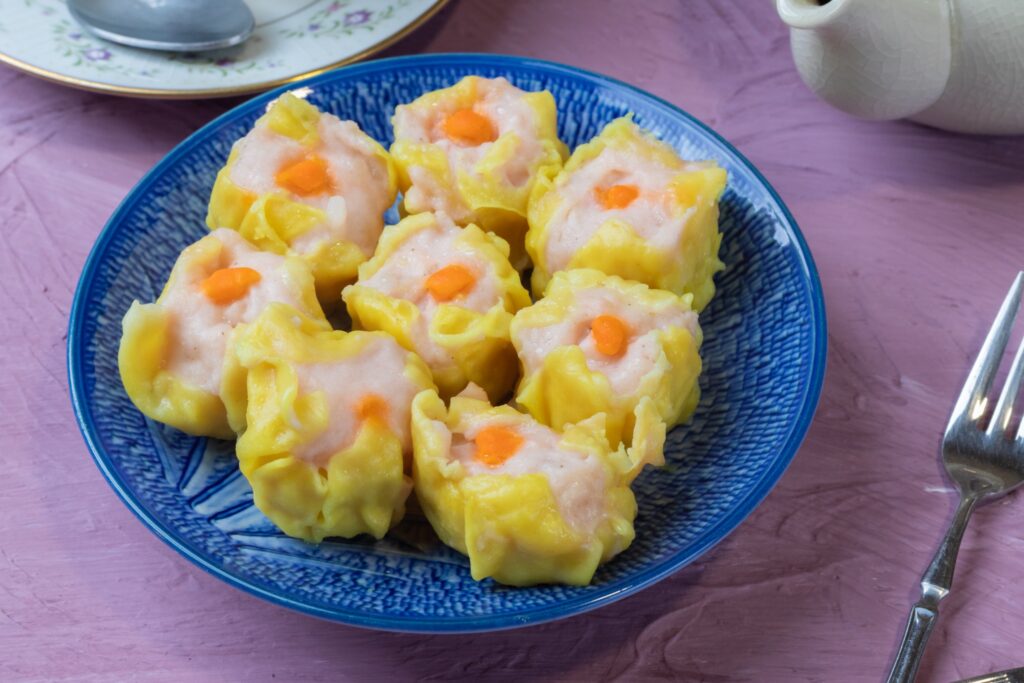 Fillings can be meat, seafood, vegetables or other fillings. Shrimp is a common filling for Shumai and is what the following recipe provides. Shumai can be deep fried as well as steamed. Steamed is the most commonly found in the US.
The joy of eating Shumai dumplings has generated a book, in Chinese, Siumaipedia and a "Hong Kong Sui Mai Concern Group (also in Chinese)" on Facebook. Hopefully, for those of us fascinated with wrapped dumplings, Siumaipedia will be published in English in the future.
These dumplings are usually made with square dumpling wrappers, which makes folding them into an open dumpling easier than using the round dumpling skins.
The following recipe makes a delicious dumpling, as mentioned better with square skins than round. These can be served hot out of the steamer and warm at room temperature.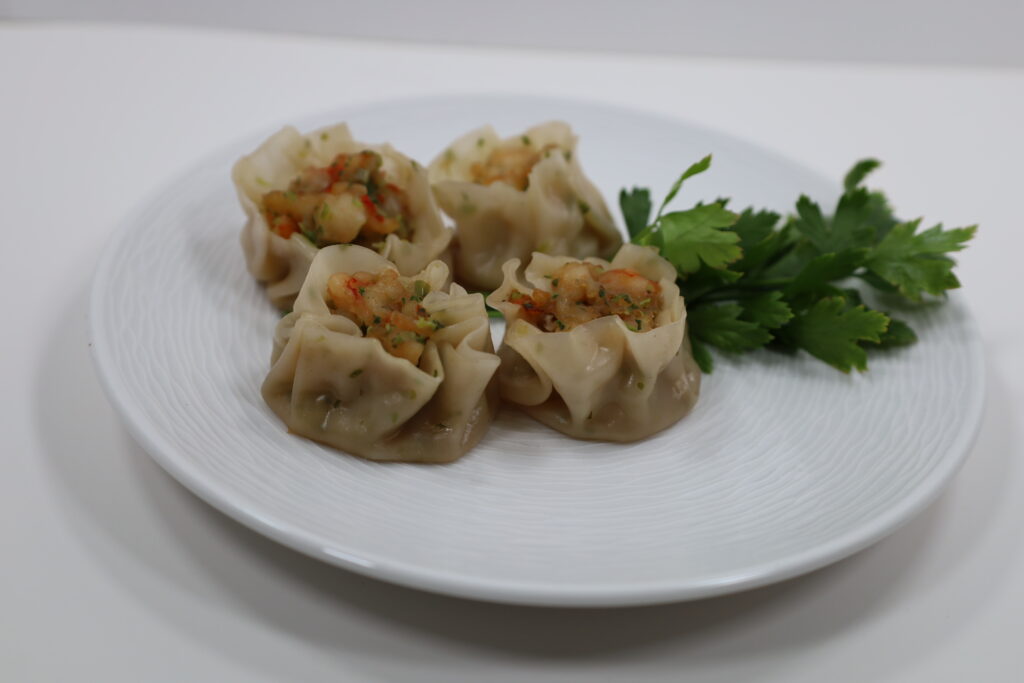 Shumai – Shrimp
Ingredients
Filling
1 ¾

pounds

Shrimp 15/20 count

1-2

Stalks Chinese Celery* finely chopped

3

Scallians finely chopped

3-4

Dried mushrooms rehydrated and finely chopped

2

TBPS

Shaozing High Grade Chinese cooking wine

1

TBPS

Soy Sauce

1

TBPS

Hoisin Sauce

1⅓

tsp

Ground ginger

1

tsp

Sea Salt
Assembly and Cooking
24

Shumai wrappers or Pot sticker wrappers
Instructions
Filling
Devein and deshell the shrimp. Remove the notocord if you so desire.

Cut the shrimp into pieces about 1/4 inch in thickness.

Finely chop the celery, mushrooms and the scallions. Place in a bowl and mix.

Add the wine, soy sauce, hoisin sauce, ginger, and sea salt to the bowl and mix this all well.

Add the shrimp and mix well. Using your hands works well.
Assembly and Cooking
Place a wrapper on a flat floured surface. Place 1 TBPS of the filling in the middle of the wrapper.

Bring the wrapper up, similar to a "Beggar's purse" shape, leaving the top open. Flatten the bottom of the dumpling and place in a perforated parchment covered steamer.

Steam the Shumai until they are partially translucent.

These can be served hot, warm, or even at room temperature. A great addition to a picnic!

You can add a dipping sauce however these are wonderful and delicious plain.
Notes
*Chinese celery is not as strong as the common celery found in the Uniter States. If you can't find this, use the regular celery found in groceries.