Rugelach is a European/American Jewish cookie that is fairly simple to make and delicious. This dough is made with cream cheese, sour cream and butter which gives it a flakiness and a delicious "tang". The filling can be just about anything sweet you can imagine. But a fruit jam with a nut filling is easy and wonderful. These cookies do take a bit of focus as far as keeping the dough at the correct temperature and not overfilling. The dough needs to be set in the refrigerator for at least 2 hours, and I usually do this overnight. As you use the dough keep the remainder in the refrigerator. Once the Rugelach are rolled out and filled, place them again in the refrigerator for 30-60 minutes just prior to baking. I added allspice, which is not a classic spice for this cookie, but I think it adds a great flavor. I personally love fruit deserts, but you can fill these with chocolate, other types of nuts, the options are legion. These can be made the way I outline below or made into a filled log and sliced into rounds. You can top these with the decorating sugar as I have described below or use powdered sugar. These can also be savory using sun dried tomatoes, spinach and cheese, and other savory fillings.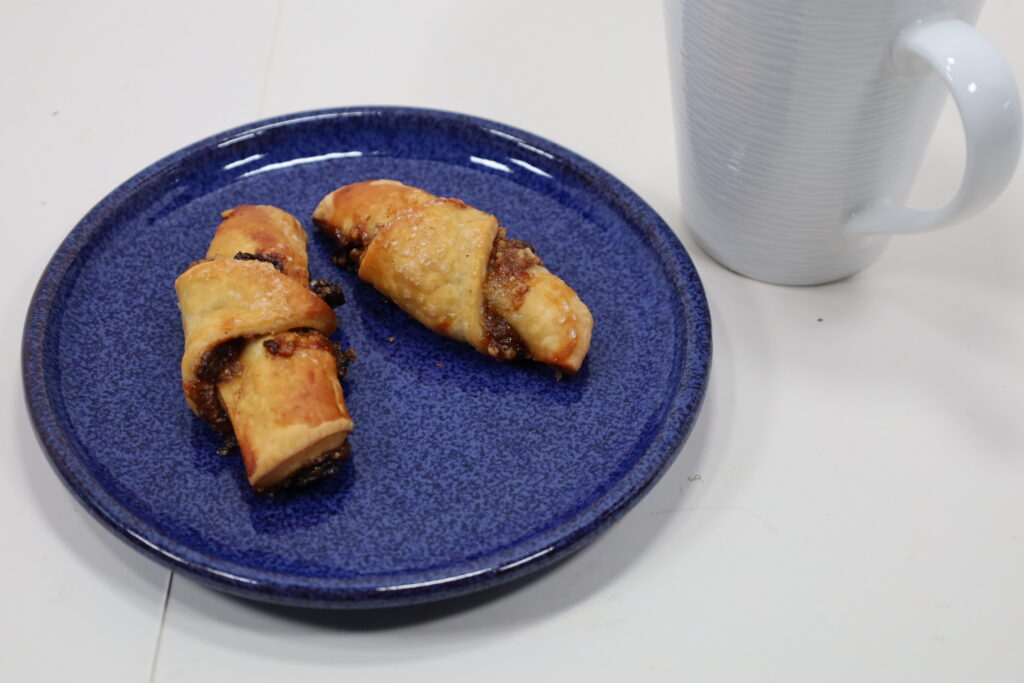 Rugelach
A delicious filled and rolled Jewish cookie.
Ingredients
Dough
2 ¼

cups

King Arthur All-Purpose Flour

¼

tsp

sea salt

2

TBPS

Honey

1

Cup

unsalted butter softened at room temperature

8

ounces

Cream Cheese softened at room temperature

⅓

cup

Sour Cream
Filling
½

cup

Brown Sugar

1

TBPS

Cinnamon ground

½

tsp

Allspice

1

cup

walnuts finely chopped

½

cup

Black Raisine
Assembly and baking
½

cup

Apricot jam or spread*

1

Large Egg

1

tsp

water

2

TBPS

Decorating Sugar
Instructions
Dough
Bring the butter and cream cheese to room temperature.

Place the flour and salt in a seperate bowl and mix well.

Place the honey, butter, cream cheese, and sour cream in the bowl of a stand mixer and cream the mixture.

Add the flour and salt and continue mixing until you have a dough.

Here is where you need a bit of experience. Take some of the dough between your thumb and fingers. If it comes together and can be rolled, you are done mixing. If too sticky or wet, add more flour. You want a dough you can roll out, but not too dry.

Once the dough has formed, place it in a bowl and into the refrigerator for at least 2 hours. I usually do this overnight.
Filling
Place the brown sugar (making sure there are no lumps), cinnamonm, allspice, walnuts and raisins (making sure they are individual and not stuck together) into a small bowl. Mix it well with your hands.
Assembly and baking
Take the dough from the refrigerator and divide into 4 equal parts. Take one piece and place the remainder in the refrigerator.

Mold the dough using your hands into a flat round. Then roll it out using a rolling pin into a large circle about 1/8 inch thick.

Using a large dinner plate, cut a circle removing the ragged edges and place those pieces in the bowl with the remainder in the refrigerator. Your dough circle is ready for the filling.

Place ~2 TBPS of the apricot spread on the dough circle and spread using an offset icing spreader. You want a thin layer, otherwise it is too difficult to roll up.

Sprinkle the filling over the apricot spread. Again a thinner rather than thicker layer of filling. Make the filling as even as you can.

Using a pizza knife cut the circle into 8 equal pieces, just like cutting a pizza.

Roll each piece up starting at the thicker end, and place on a parchment covered cookie sheet. I suggest placing the point of the triangle on the bottom with the rest of the cookie on top. This prevents the cookie from rolling open during baking.

Place the cookie sheet back into the refrigerator for 30 minutes.

Set the over at 350 degrees F.

Using the egg wash, brush each cookie with wash, then sprinkle with the decorating sugar, I use Lars' Own Swedish Pearl Sugar.

Place the cookie sheets in the over and bake for 30 minutes until golden brown.

Remove the cookies from the sheets and place on wire racks to cool.