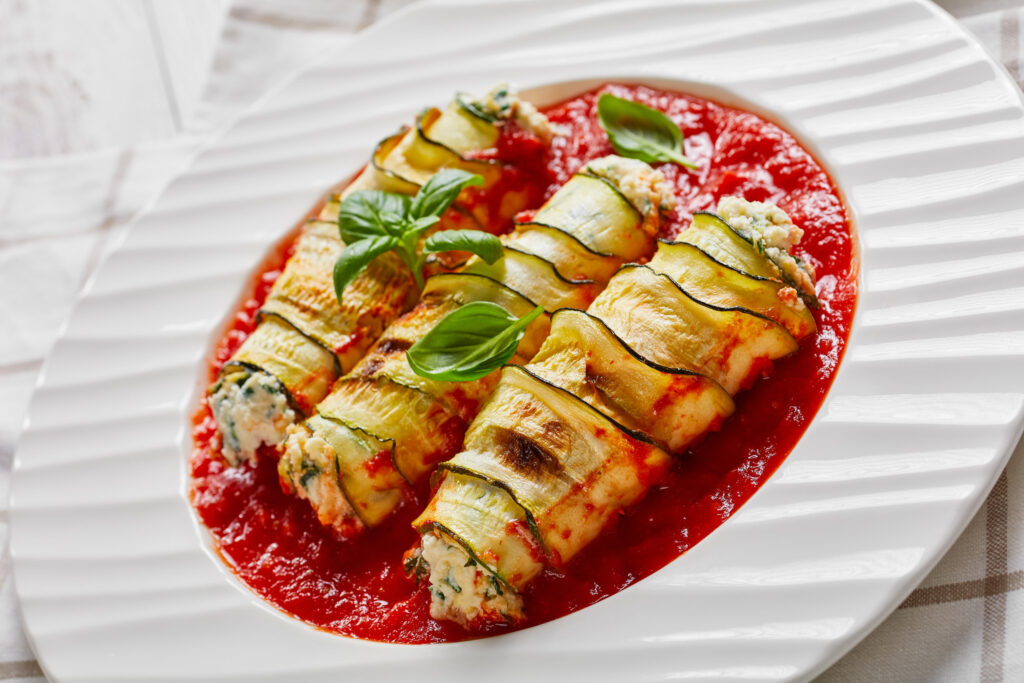 Rollatini with pasta, eggplant, sauage, and cheese
This is a great main dish that will impress your guestsand it's vegetarian.  It also works greatfor leftovers.  The sauce makes thisdish, so put some time into making a very good tomato sauce.  
Ingredients
Tomato Sauce
1

TBS

EVOO

2

Fennel sweet Italian Sausage

casing removed and broken into pieces

½

Medium Vidalia Onion diced

2

cloves

garlic finely chopped

28

oz

Manzano tomatoes

1-2

dried Puglia, Umbrian or similar chilis sliced into rounds

Red chili flakes will work as well

2

tsp

Honey

½

tsp

Kosher salt

½

tsp

Fresh ground black papper
Eggplant
2-4

Asian Eggplants

you can use the large Globe eggplants which are common in the US, the Asian variety is becoming more common. They are more uniform in diameter, and make nice slices. In addition, they taste better in my opinion
Assembly, cooking and serving
6

oz

Capellini pasta

I use Benedetto Cavaliera a delicious pasta. A bit on the pricy side, but worth every penny. Check it out, http://www.benedettocavalieri.it/en/.

¾

cup

Mozzarella grated

¾

cup

Parmesan reggiano finely grated

2

TBS

fresh marjoram or basil choped

¼

tsp

Kosher salt

½

tsp

fresh ground black pepper

2 ½

cups

tomato sauce fresh.
Instructions
Tomato Sauce
Place the EVOO in a Dutch Oven, then add the sausages. While frying break up the meat into smaller pieces. Fry until the sausage pieces begin to lightly brown.

Add the onion and garlic and fry until fragrant

Add the Manzano tomatoes and mix well

Add the chilis and honey, mix.

Taste! Add salt and pepper if needed.

Simmer until you have a thick sauce. If you wish a smoother sauce, use an immersion blender to blend up the tomatoes and sausage pieces. I prefer things a little more chunky.

Simmer and reduce until the desired thickness is reached. Measure out 2 ½ cups of the sauce, set aside. The remainder of the sauce can be used in another dish.
Eggplants
Wash the eggplants, keep the skins on.

Using a mandolin, slice thick slices longways from the Eggplants, between 3/16 and ¼ in thick. Too thin and they will tear, too thick and they will be very difficult to roll.

Place in a single layer on a cookie sheet and salt each piece of the Eggplant. Let these sit for 1 hour.

Rinse off the Eggplant pieces well and dry them with paper towels. This is an important step. If not rinsed well, the dish will be way too salty.

Fry, roast or grill the Eggplant pieces. I prefer to use a stove grill pan and a little olive oil and my bacon press. This gives nicely browned and stripped pieces of eggplant.

In frying the Eggplant they tend to splatter, just be aware. Once cooked, blot on paper towels and let cool.
Assembly, cooking and serving
Placethe 6 oz of capellini in salted water (like the sea) and cook until just under al dente.  It will cook further in the over.

Do not cut the pasta, the longer strands, once mixed with the cheese and spices, works just fine.  

Then add the mozzarella, parmesan, marjoram or basil, salt and pepper and mix well.

Increasing the Parmesan made sense because I love this cheese, and it has greatly improved the dish.   It is also important to use good cheese.  Get Parmesan that is at least 24 months aged and grate it yourself, when I can getit I use 3 1/2 years aged.

Take two pieces of the Eggplant, overlap them and just roll up some of the capellini mixture.  When rolling up these packets the pasta will hang out both ends, do not worry, it all gets covered with sauce anyway.

Spray a baking dish with PAM or similar spray.  Place the rolled-up pieces in a baking dish.  

Pour the Tomato Sauce over the Rollatini. Spread it over all the pieces. Sprinkle whatever is left of the cheese over the Rollatini.

Cover with Aluminum foil, place in a pre-heated 375 degree F oven and cook for 25-30 minutes.  Make sure the sauce is bubbling and the cheese melted. Remove from the oven, let sit for a bit, 5-10 minutes, then serve and dig in!