Interestingly, this dish is frequently ascribed to Malaysia, but actually it is originally from Brunei, a small country on the island of Borneo. Recipes abound some with fish, some with shrimp and others vegetarian. Pulut Panggant translated into English means BBQ glutinous rice. I did not find this recipe too burdensome. You have to plan ahead however as the glutinous rice needs to soak for about 6 hours. In my opinion there is no need to soak this rice overnight. Also I cook my rice in a great rice cooker from Zojirushi that has a setting for glutinous or sweet rice. If you cook lots of rice, as I do, purchase a rice cooker similar to the Zojirushi. This dish is wrapped in banana leaves and is fried instead of steamed. The glutinous rice is cooked with coconut milk and water.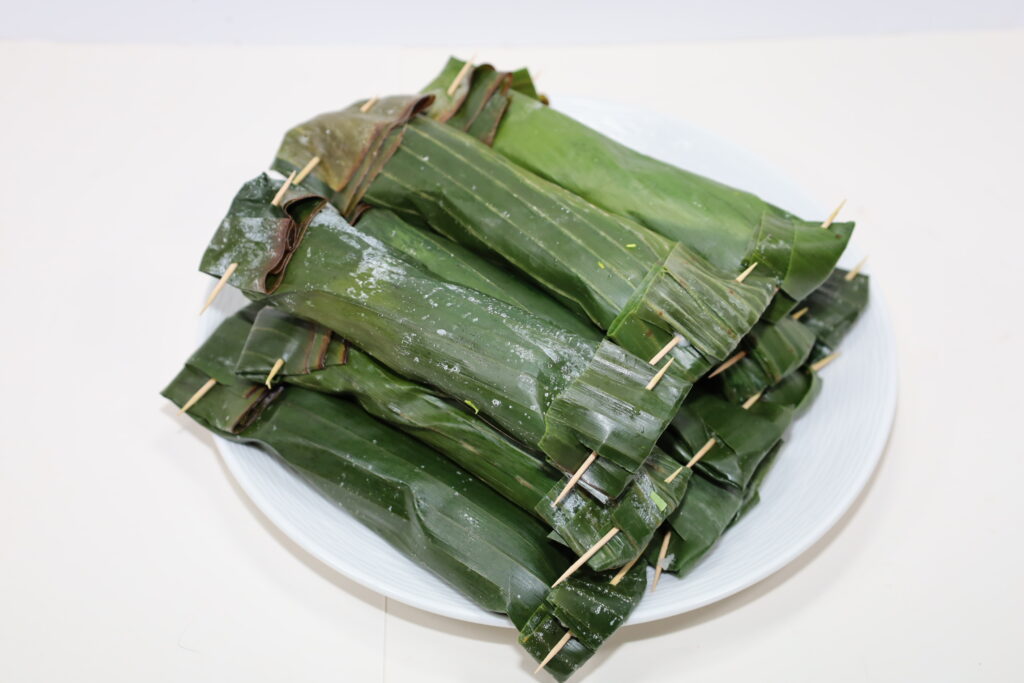 Pulut Panggant
This dish, originally from Brunei, is made throughout east Asia.
Ingredients
Rice
2

cups

Glutinous (sweet) rice

1

TBSP

Honey

½

tsp

Sea Salt

14

Ounces

Coconut milk (pure)

14

Ounces

Water
Shrimp & coconut mix Filling.
½

cup

Dried Shrimp

3

Shallots diced

1

inch

Ginger chopped

2

Lemon grass stems

2

TBSP

Honey

1

tsp

sea salt

1

tsp

turmeric

2

TBSP

Peanut oil or other vegetable oil

1-2

Birdseye Chilis, chopped fine

Depends on how spicy you want the dish.

2

cups

unsweetened coconut
Assembly
6

TBPS

Peanut oil or similar oil
Instructions
Rice
Place the rice in a bowl and cover with water. Leave for 6 hours.

Once soaked place the rice in a strainer and drain well.

If using a rice maker, add the rice, salt, honey, coconut milk and water.

Set the rice maker on glutinous rice, if you have that settting. Otherwise place in a pot, and cook over medium low heat. Cook until the rice is al dente.
Shrimp & Coconut mix Filling.
Place the shrimp in water for a good 20 minutes. Drain and save the water. Roughly chop the dried shrimp.

Chop the shrimp and place in a small food processor bowl. Add the shallots, garlic, lemongrass, ginger, honey, sea salt and turmeric. Process until the mic is a smooth peanut butter consistency.

Place the peanut oil in a fry pan. Add the shrimp paste and the chilis. Fry until very fragrant.

Add the coconut and continue to fry. Use some of the shrimp water to keep the mix moist. Add the chilis and continue to fry.

Remove the cooked coconut shrimp mixture and place in a bowl.
Assembly
Cut the leaves into rectangles, about 4 x 6 inches. Clean them with paper towels, then plunge them into boiling water for a couple of minutes to make them pliable.

Remove the leaves from the boiling water, and lay out on a clean flat surface. Cut the fibrous side from the leaf.

Place about 2 TBPS of the glutinous rice onto the leaf. Then about 3 tsp or more of the coconut mix o top of the rice.

Roll the banana leaf similar to rolling up a sushi roll.

Once rolled up, fold over the ends and fix with a tooth pick.

Place 2 TBPS of the oil into a fry pan. Then add 4-5 of the banana rolls. Do not crowd the fry pan.

Fry them about 5 minutes each side, until the banana leaves are well browned.

Place them on paper towels. Serve warm or hot.

Once cooked these can be warmed in the oven.