This dish is not spicy and can be used with a dipping sauce. The shrimp are savory, but delicately so. However, on rice, or with noodles it works well. These shrimp are wrapped with Spring Roll wrappers. It is important to keep the oil between 350 and 375 degreew F when deep frying these wrapped shrimp, see the blog. These can be served at room temperature, warmed, or hot.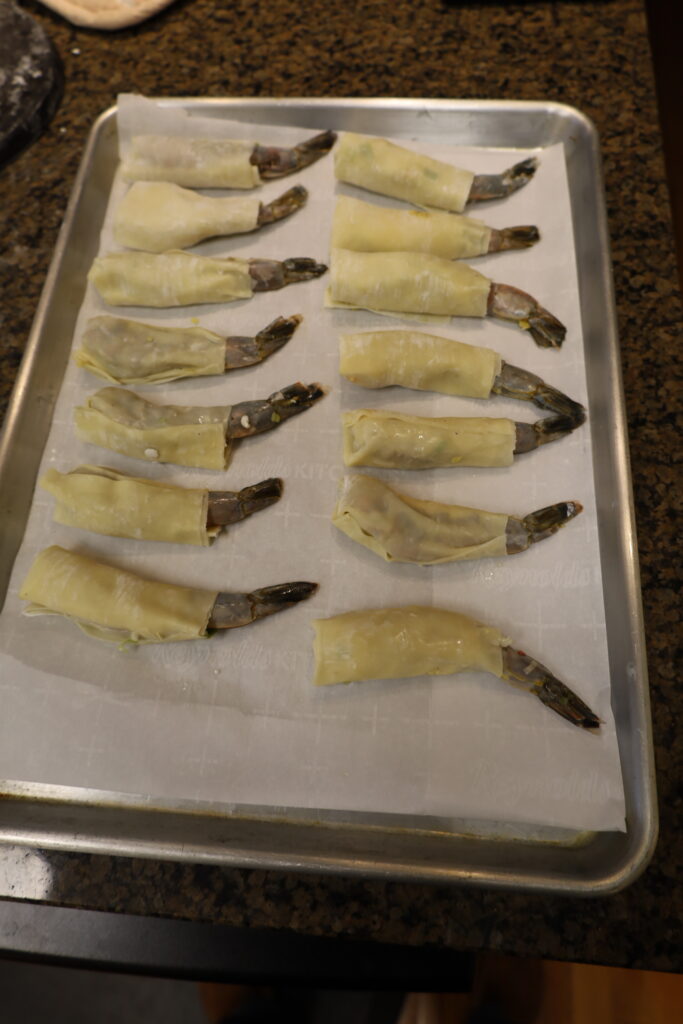 Deep Fried Wrapped Shrimp
Marinated shrimp wrapped in egg roll wrappers and deep fried.
Ingredients
Shrimp Marinade
~20

Extra Large Shrimp 26/30

1

Scallion finely chopped

3

inches

Fresh ginger grated

¼

tsp

sea salt

¼

tsp

honey

¼

tsp

Fresh lime juice

¼

tsp

Sesame oil

½

tsp

Sesame seeds (yellow)

½

tsp

Corn Starch

½

tsp

Freshly ground black pepper

1-4

Birdseye Chilis sliced thinly

Depending on how spicy you want these shrimp to be.

2

tsp

Soy Sauce
Assembly
1

Package

Egg Roll skins

Canola Oil (see note)
Instructions
Shrimp Marinade
Place the scallions, ginger, sea salt, honey, line juice, sesame oil, sesame seeds, corn starch, black pepper, chilis and souy sauce in a gallon plastic bag..

Peel the shrimp leaving the tails. Take out the notocord as well, if you are so inclined. Place the shrimp in the plastic bag, leaving them for at least 2 hours. You can leave them overhight.

Place a egg roll wrapped on a clean flat surface. Straighten the shrimp. Moisten the wrapper, then place the shrimp on the upper edge of the wrapper. Fold onve the bottom half of the wrapper sealing the edge, then roll up the shrimp in the wrapper. Set them on a parchment covered cookie sheet.

Fill a deep pot with canola oil or similar oil. Bring the temperature to 350-375 degrees F. Make sure you keep the temperature stays within this range.

Fry the shrimp to a golden brown. You can check the interior temperature of 120-140 degrees F. Do not overcrowd the shrimp or let the oil temperature drop too much.

Remove from the oil, and place on a wire rack, then place them on paper towels.

Serve alone or with a dipping sauce.
A number of different dipping sauces can be used. The one following is very tasty.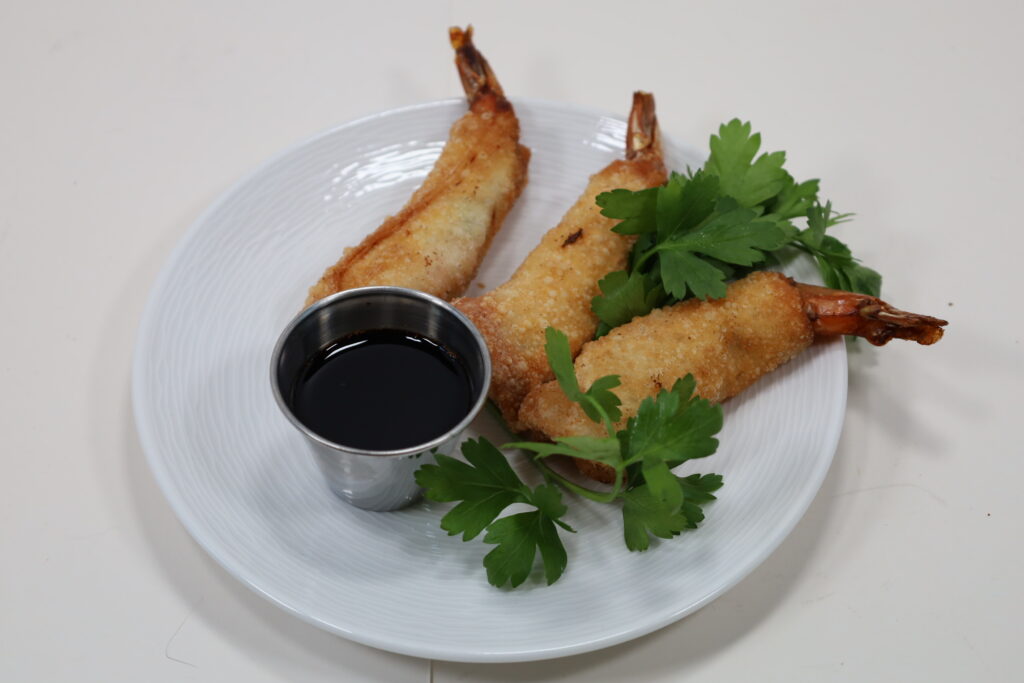 Dipping Sauce
This is a sauce that can be used for a number of Asian appetizers.
Ingredients
1

tsp

Dark Sweet Soy Sauce

1

tsp

Chili garlic sauce

1

tsp

Soy sauce regular

2

TBPS

Honey

2

TBPS

rice vinegar

2

tsp

Sesame oil
Instructions
Mix all the ingredients in a small bowl.
Notes
Links to Recommended Ingredients: