Although I love garlic, onions come in a close second. A member of the allium genus family, onions are related to garlic, leeks and chives. Onions are found around the world and the "common onion" is the most frequently cultivat-ed. This vegetable is mentioned as far back as 5000 BC and was probably originally cultivated in Asia.
Onions were one of the first plants planted by the Pilgrims in America—although to their surprise, Indian cultures had been growing and using onions beyond memory. Health benefits of onions are frequently mentioned in both ancient and modern writings. They are loaded with antiox-idants and may benefit heart disease, diabetes, and cancer. Onions contain over 25 different varie-ties of flavonoids, or antioxidants, and may also help with digestion and bone density.
Onions can be pickled, eaten raw, fermented, cooked, and stuffed. In 2019 the world production of onions and shallots was 4.5 million tons. China produced 22 percent of that total followed by other Asian nations. In the United States some 125,000 acres of onions are grown and harvested yearly yielding over 3,300 tons of onions. Onions are the third largest fresh vegetable industry in the US. Most of these are grown on the west coast.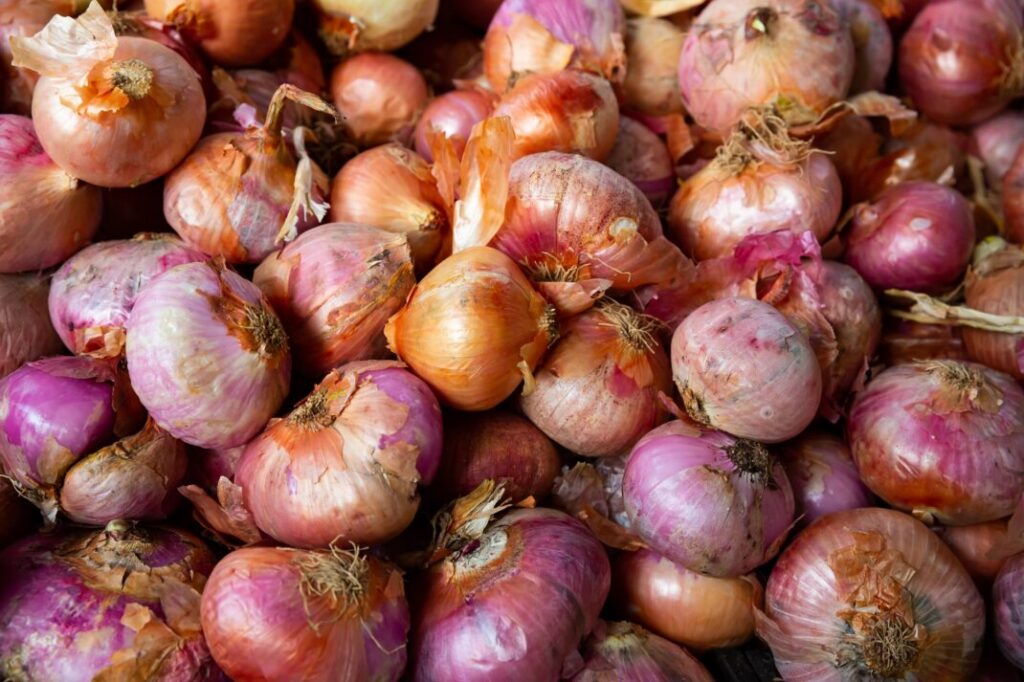 A Real Tear Jerker
Onions are avoided for a number of reasons, but one of them is they make us cry. Why is that? Onions have a "defense mechanism", They release a gas called Propanethial S-oxide which, when it encounters moisture, changes to sulfuric acid that can burn the eyes. This same gas is also responsible for the strong taste of onions.
How do you combat this? I just put up with the mild irritation, however others are more sensitive. Having good ventilation can help. Cutting the onion quickly, but carefully, is also an option. Wearing goggles is another option although I never do this. Rinsing the eyes with clean cool water or eye drops, and applying cold compresses to eyes have all been suggested as remedies if the acid gases get into the eyes.
Green onions and leeks cause less tearing than yellow, red and white onions. The mild Vidalia onion also causes less tearing. I use the Vidalia onion extensively, not for their lack of tearing but because they are sweeter and taste better. In a stew however Iuse regular white or yellow onions. Varieties that do not produce tears have been developed, called Sunions, but these are not readily available currently.
Green and Spring Onions
How to cut an onion
Another common question that often arises is the proper method for cutting onions. Originally it was a challenge for me too, because I didn't have a clear process.
However, Chef Pepin in his inimitable way has taught me much over the years, including how to dice an onion.
• Cut the onion in half.
• Set the onion on its end and slice almost through in one direction
• Next, lay it flat and slice again 90 degrees in the opposite direction, which should yield diced onions.
It is important to cut in the correct direction, or you'll end up with a mess. As the old adages state, a picture is worth a thousand words. For more instruction, visit our website to review a video I made, or refer to the link above for the master's instruction.
Buon appetito and wrap it up!