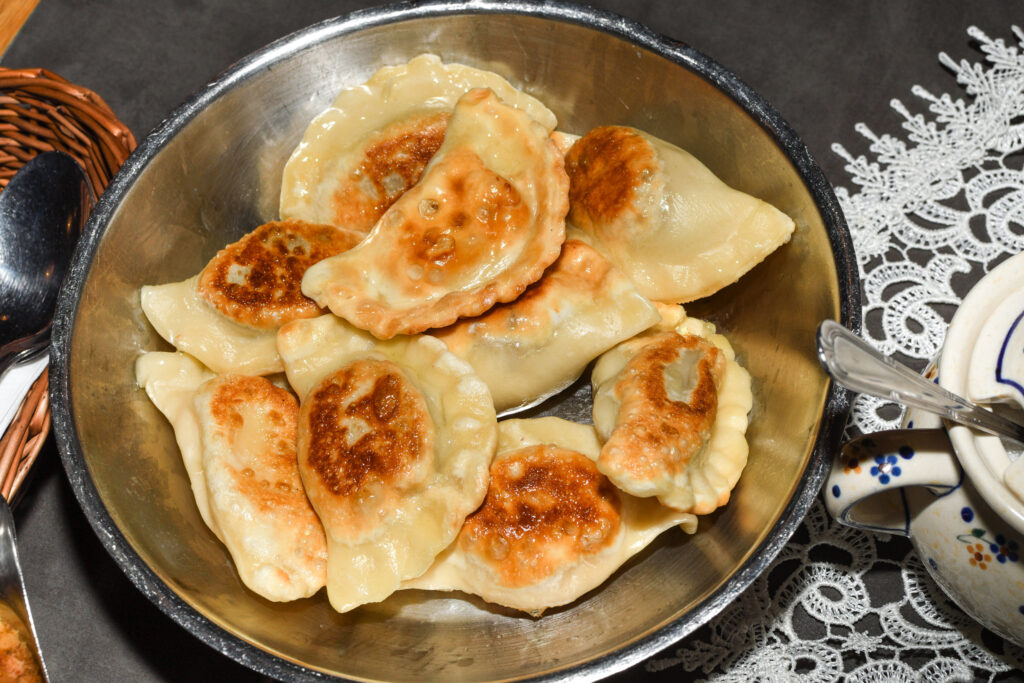 Not Handicapped Pierogies
Pierogies are a handheld pie that is a great addition to any Tailgate. They can be made the day prior and brought to room temperature or warmed and kept warm until served. This recipe is a wonderful take on the classic. They can be made smaller, but the 3 inch round is a good one for hand held eating. This dish is also in the first volume of our book series.
Ingredients
Dough
1

large

egg

½

cup

womemade or storebought yogurt

3

TBS

unsalted butter

melted

½

tsp

sea salt
Filling
8

oz

Yukon gold potatoes

Cut into 1 1/2 inch pieces

1 ¼

tsp

Kosher salt

¼

cup

cheddar cheese finely shredded (1 ounce)

1-2

TBS

heavy cream

Most heavy cream, even that labeled "organic" comes with stablizers, thickeners and other ingredients. Look for cream that is organic. I find this at regular grocery stores, and places like Whole Foods.
Assembly
1

egg beaten

1

Vidallia or sweet onion sliced

1

TBS

unsalted butter or ghee
Instructions
Dough
Whisk egg, yogurt and butter together in a bowl

Keep stirring the dough until it comes together. This may take some time.

Using your hands, smash the dough against the side of the bowl, kneading the dough until it forms a ball.

Place the dough on a clean floured surface and knead until smooth.

Roll out the dough to about 1/8 inch thick using a rolling pin. You can use a pasta machine for this.

Cut the dough into 3-inch circles, using a round cookie cutter.
Filling
Cook the potatoes by placing them into a sauce pan, covering by 2 inches with water. Add 1 TBS of salt, bring to a boil over medium heat. Cook until potatoes are tender.

Drain the potatoes, place back into the sauce pan and cook on low, cooking off the excess moisture.

Use a ricer or food mill and rice the potatoes into a bowl, discard skins.

Stir in cheese and salt. Add the cream until the consistency is firm enough to roll into a ball.
Assembly
Fry the onions in 1 TBS EVOO until carmelized.

Spoon about 1 tsp of the filling into each 3-inch circle, a little off center.

Fold the Pierogi over into a half moon. Use your finger and run either water or egg around the edge of the dough to seal.

Make the classic Pierogi edge.

Bring 4 quarts of water to a boil, add 2 tsp Kosher salt.

Boil the pierogi until they begin to float, about 2-3 minutes.

Melt 1 TBS unsalted butter or ghee in a fry pan, fry the pierogi until brown and crispy, flip to the other side.

Place on a plate and top with the fried carmelized sliced onions.
Notes
There are YouTube videos on how to do the classic Pieogi edge. If you want something simpler, use a fork pushing down around the half moon edge. You can also a Pierogi (Ravioli) press. I use the Küchenprofi press. It doesn't make the classic edge, but good enough.