Ethiopia is a fascinating country; one I hope to see some day. It is a very devote country with the majority of its inhabitants being Orthodox Christians. These Christians fast over 200 days out of any given year. Therefore, they have a rich culinary history of vegetarian dishes. In addition, Ethiopia has been invaded, conquered, and exposed to a multitude of cultures, British, Italian, Egyptian, and even Cuban have all been involved in wars in Ethiopia and left their mark. So, the cuisine has been extensively influenced by other cultures. Regardless, the Ethiopians have been able to maintain a very distinct Ethiopian cuisine that is varied, delicious, and both vegetarian and non-vegetarian.
One of the main dishes in Ethiopia is the flatbread – Injera. This bread is made with Teff flour. Teff is the smallest grain in the world, and an ancient grain. It is gluten free, and therefore has become popular with those who want a gluten free diet. It can be used in the making of beer, puddings, baked goods and even as a rice substitute. For Injera, the flour is made into a batter and fermented. In Ethiopia, Teff flour is mixed with water and left for 4-7 days to ferment. Here in the US, most recipes suggest using all-purpose flour in addition to the Teff flour for a lighter final product and the use of rapid rise yeast. I use this approach below. Then the Injera is cooked similar to a crepe. It is thicker than a crepe, but not as thick as a pancake. Traditionally, the injera is placed on a plate, and various stews and sauces are placed on the injera. Corners are then torn off and the stews and sauces scooped up and eaten with the right hand. I have great respect for this culture, however, I suggest that things be wrapped in the injera, and eaten with knife and fork. You can cut the Injera in half and wrap it with whatever stew or sauce you wish. For those who are much more traditionally inclined, I ask forgiveness.
Injera is served with a multitude of sauces and stews. I have a few included with this site, including a red lentil stew (see below). I wrap the stew with the injera, roll it up and enjoy, but you are welcome to serve Ethiopian food traditionally as described above.
I use a crepe pan and a batter spreader to cook the Injera, and it works tremendously. I prefer the Le Creuset enameled crepe pan. But use what works for you.
Injera
The Ethiopian flat bread, Injera
Ingredients
2½

Cups

Warm Water

1¼

Cups

Teff Flour

1

TBSP

Honey

2

tsp

Active dry yeast

1

TBSP

Baking Powder

1

tsp

Sea Salt

Cooking Spray

1

TBSP

Apple Cider Vinegar
Instructions
In a blender mix the water, all-purpose flour, Teff flour, honey, yeast, baking powder, and salt. Blend until you have a smooth batter.

The batter should be a little thicker than crepe batter, but not as thick as pancake batter. If you need it thinner, add water: if thicker, add more all-purpose flour.

Once you have your batter, place at room temperature for ~2 hours. Let it sit until you have a very bubbly froothy batter.

Once the batter has fermented, add 1 TBSP apple cider vinegar and mix well.

Heat a crepe pan on Medium Low (depending on your range) and spray with cooking spray.

When the pan is hot enough, apply pour 4 ounces of batter onto the pan (I use a 2 ounce laddel, using 4 ounces total). Spread with the crepe spreader to a nice round shape. Brown one side then flip the Injera and brown the other. Stack the Ethiopian flat bread until cool if you are not going to use them all, and freeze with a piece of parchment between each.
Notes
It is important to make sure that the batter is not too thick or too thin. Try to end up with a batter a little thicker than crepe batter but thinner than pancake batter.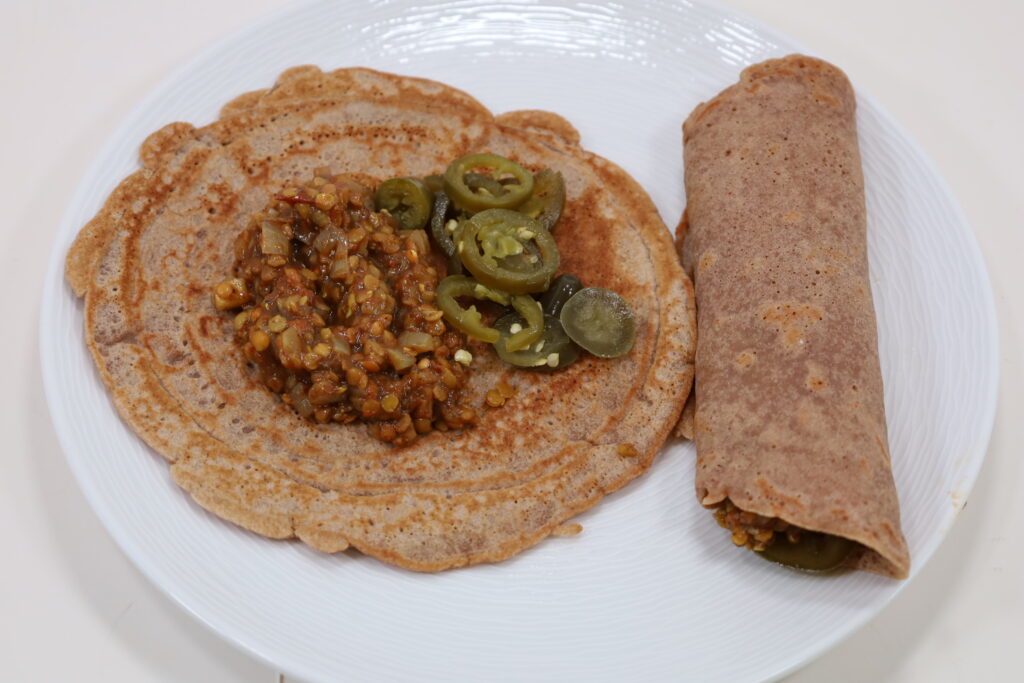 Ethiopian Red Lentil Stem (Kik Wat)
This is a vegetarian stew, delicious that goes well with the Injera.
Ingredients
2½

Yellow, Sweet of Vidalia Onions chopped fine

2½

Red Onions chopped fine

12+

Garlic cloves minced

¾

cup

EVOO

¼

Cup

Berbere Seasoning

2

tsp

Berbere Seasoning

1¼

Cups

crushed tomatoes, Roma Tomatoes

2½

Cups

Red Lentils

5

Cups

Vegetable broth

¾

tsp

Cardamom ground

2

TBSP

Aleppo Chilis flakes or ground.

You can adjust this to your taste.

2

tsp

Fresh Ground Black Pepper

This is to your taste.

2

tsp

Sea Salt

This is to your taste.
Instructions
In a large Dutch Oven heat the EVOO over medium low heat.

When the oil is hot, add the onions and garlic. Fry until both are fragrant.

Add the Berbere (½ cup plus 2 tsp) and mix all well.

Add the tomatoes and mix well. Cook for about 15 minutes.l

Add the lentils and broth, continue to cook.

Add the cardamom, Aleppo Chili opowder, pepper, salt and continue to cook until the lentils are soft.

Stir frequently, since this stem can burn easily. Add more broth as needed.

Taste the stew frequently, and add spices as needed.
Notes
I prefer things spicer so I add more black pepper.
I add Aleppo chili powder, for more spice. This doesn't appear to be a classic addition to this dish, but to me, it tastes great!
This recipe makes over 3 quarts of stew, which for a single guy is a lot of food. You can cut the recipe in half for less volume. Also you can freeze and vacuum pack the stew, it keeps well and just needs to be re-heated.