Beignets are the Louisiana official state Doughnut. The beignet usually uses a choux dough, a moist dough that allows steam to puff up the beignet, a choux pastry. Making a choux pastry is a bit of a challenge and the recipe below is a fairly simple moist yeast dough. In the 17th century Settlers from France brough the beignet with them to the area of Canada called "Acadia". Many of the Acadians left when the British took over Canada and migrated to the Southern United States. These folks became known as Cajuns and brought with them the Beignet. Of course fried dough dates back to Roman times, but the Beignet, as we know them, came from France as described. Today in the US New Orleans is well known for it's Beignet's.
The following recipe is unusual. These Beignets are savory, not sweet, and are stuffed with a vegetable stuffing. But the dough is similar and the cooking process the same. I will add a sweet Beignet blog later.
Interestingly, I have begun to see filled Beignets here in Lexington on menus in restaurants. In one case a sweet version coated with honey, and in another a mushroom type filling.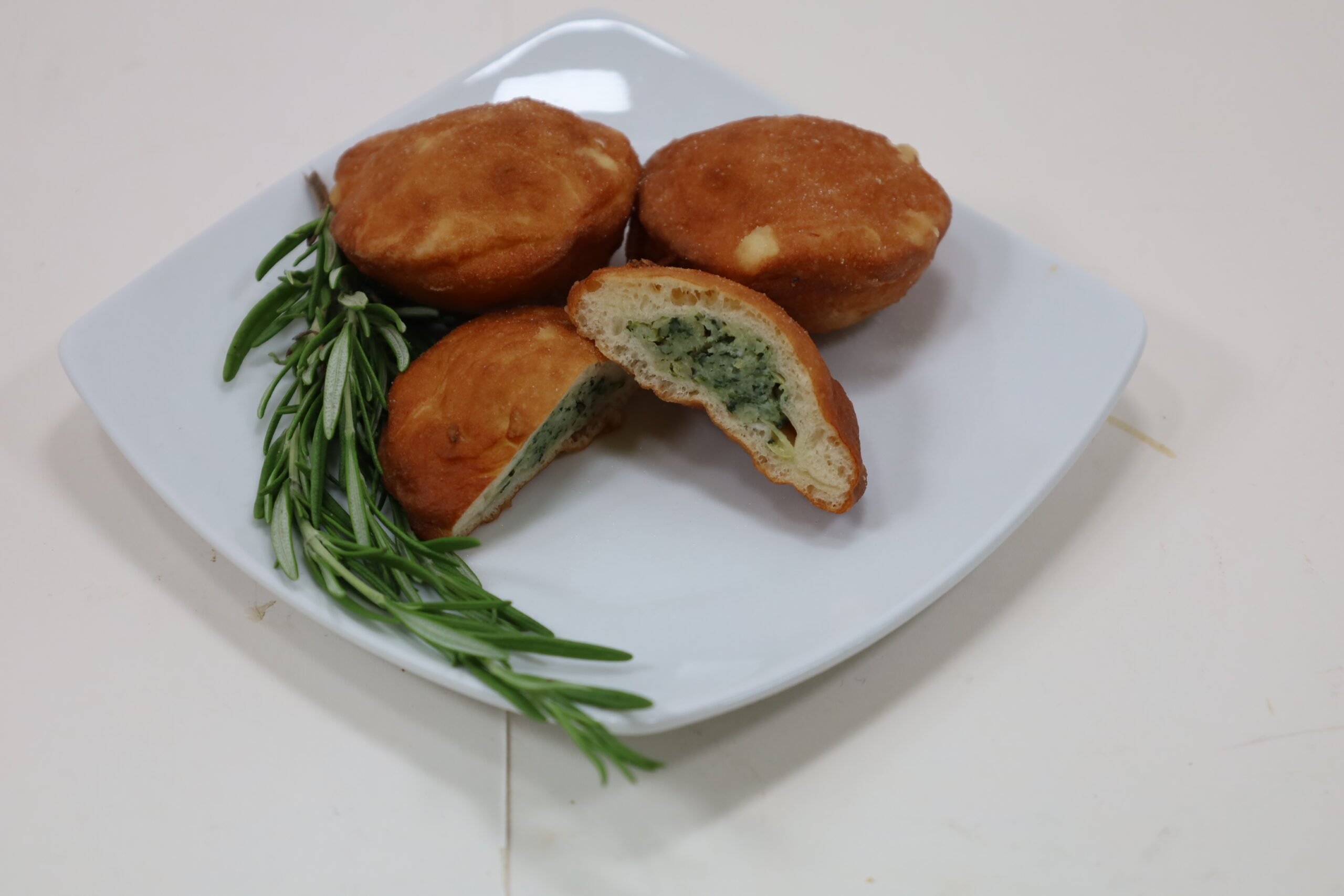 Beignets Stuffed with Spinach and Artichoke
A savory stuffed Beignet that will impress your guests.
Ingredients
Dough
1

cup

water (95-115 degrees F)

3

TBPS

honey

1

cup

Organic cultured Buttermilk

4

tsp

Active dry yeast

1

Large egg

½

tsp

Baking Soda

¼

tsp

sea salt

3½

cups

Bread flour
Filling
1

Lb

Fresh spinach*

15

ounce

Artichoke hearts

4

ounces

Cream cheese at room temperature

4

ounces

Mozzarella cheese grated fine

2

garlic cloves minced

4

ounces

Parmesan Reggiano finely grated

4

ounces

Bread Crumbs

2

tsp

Italian seasoning

¼

tsp

Freshly ground black pepper

1

TBPS

Lemon juice

Sea Salt to taste
Assembly and Cooking
Cooking oil, canola or similar

2

ounces

Parmesan Reggiano cheese medium grated

Finishing salt such as Maldron as needed
Instructions
Dough
Whisk the water, honey and buttermilk well.

Add the yeast and let set until bubbly.

Add the egg and whisk well until combined.

In the bowl of a stand mixer, add the baking soda, sea salt and flour and whisk well.

Using a dough hook, mix in the water mixture until a dough ball forms.

When the ball incorporates all of the dry ingredients and is well formed, remove the ball and place on a flat clean floured surface.

Knead the dough until you have a shiny dough ball forms. This dough is moister than other doughs, so keep this in mind.

Place the dough in an oiled bowl. Cover with plastic wrap and place in a proofing box. Let the dough double in size.
Filling
Blanch the spinach until cooked. 1 pound of spinach will equal about 1 cup of cooked and drained. Drain the spinach and squeeze to remove as much liquid as possible. Then chop roughly. Remove any hard stems.

Drain and chop the artichoke hearts to about ¼ inch or less size.

Place the chopped spinach, artichoke hearts and mozzarella in a food processor. Process until finely chopped, but not creamed.

Place the spinach/artichoke hearts/mozzarella cheese mixture in a bowl with the garlic cloves, Parmesan cheese, bread crumbs, Italian seasoning, black pepper and lemon juice. Mix all this well, us your hands if necessary.

Taste the filling and add salt and other spices as needed. Then set aside.
Assembly
Punch down the dough and shape into a rough rectangle on a floured surface.

Roll out the dough to about ¼ inch thick. Cut into sections keeping them covered to prevent the dough from drying out.

Using a cookie cutter, 2-3 inch, cut circles out of tthe dough.

Lay them out on your flat surface. Place 2 tsp of the filling in the middle of one circle. Wet the edges and place a second circle on top of the first. Seal the edges well.

Place the sealed Beignets on a parchment covered cookie sheet. Cover them to keep them from drying out.
Cooking and Serving
Set up your deep-frying assembly as described in my blog. Always concentrate when deep frying. It is not the time for multitasking or texting. Focus on the oil and cooking the Beignets. Lack of focus is a set up for fires and serious injury.

Carefully drop the sealed Beignet's into the hot oil. Do not over crowd the oil and keep the temperature 350-375 degrees F as consistently as possible.

When the Beignet's are golden brown, remove and place on a wire rack. Then place on paper towels.

Sprinkle with the Parmesan. Taste and sprinkle with the salt if taste allows.
Notes
*Consider keeping the spinach water for use in soups. Just freeze in a plastic 1-4 cup container, then remove and vacuum pack. It will keep for weeks.