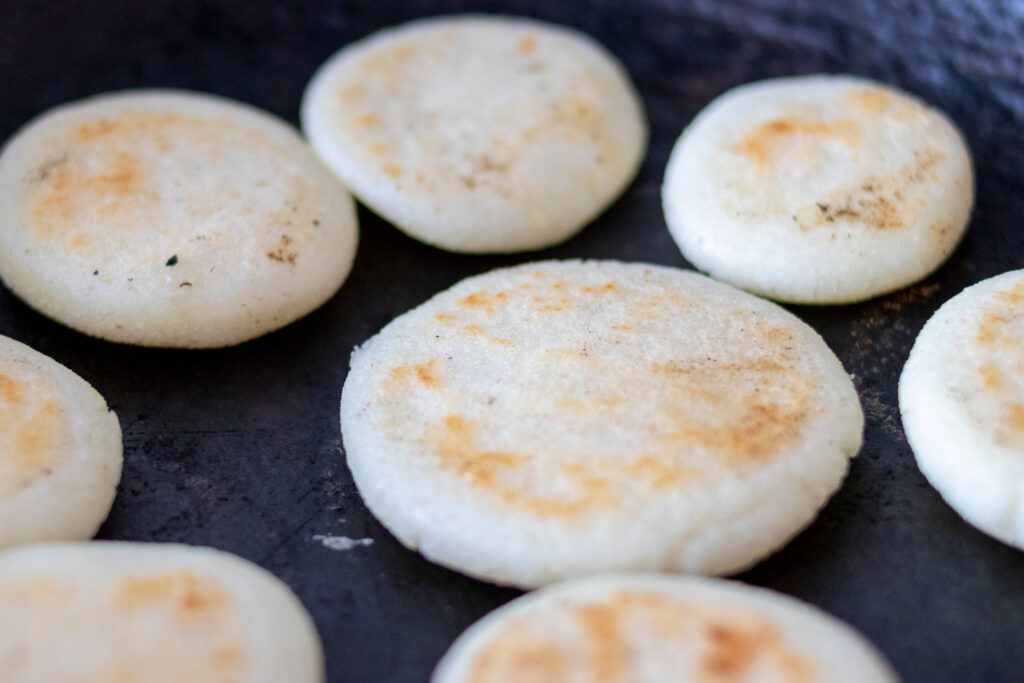 Arepas are corn griddle cakes made from pre-cooked cornmeal and are popular in Colombian and Venezuelan Cuisines, where they are frequently served. They have been described as a cross "between a tortilla and an English muffin". These can be stuffed, used sandwich style, or used "open faced". They can be fried, baked, steamed or boiled. The stuffing is quit variable, chicken, pork, beef, fish, vegetables and cheese are all used. One of the classic Columbian Arepas recipes are stuffed with cheese (see the blog on this recipe). These, in my opinion, are better cooked by frying in butter and EVOO. The ratio of Masarepa to liquid, for most recipes, is 1:1, which provides for the very nice Arepas dough. Arepas takes patience and practice, but is well worth the effort. This recipe will be found in the first volume of our book series.
Arepas Plain
Arepas can be filled and stuffed with all kinds of fillings. Cheese, meat, etc … This recipe is plain without stuffing. There are also have recipes for fillied Arepas in this site and in the book series.
Ingredients
2

cups

Masarepa

1

tsp

sea salt

2

cups

Chicken broth (or water)

I feel the chicken broth adds much to the flavor of the Arepas.

1

TBS

EVOO

1

TBS

unsalted butter
Instructions
Place the Masarepa and salt in a bowl and whisk together well.

Pour in the broth (or water) and mix well with your hands.

When well mixed, set aside for 15-20 minutes covered.

Divide the dough into 8 pieces.

Press the balls into about ½ inch thick discs, using your hands.

Place the EVOO and butter in a cast iron grill pan over medium high heat.

Fry the arepas about 5 minutes per side, and until there are good grill marks and some charring on each side.

Cut these in half and fill with whatever filling is desired.