This blog will be a bit long, which doesn't match the simplicity of making these onigiri. These rice balls, which come in many different sizes and shapes, different fillings, and different preparations are simple and delicious. As you can see from the featured image, you can be very creative in shape, design, filling and just about everyting involved in onigiri, except the sushi rice. These are made with sushi rice, or with plain rice, and fillings of all different kinds, and even fried. Making the sushi rice is probably the most difficult part. Put on smily faces, decorate with carved pieces of vegetables, just use your creativity. They are made in Japan, Korea and elsewhere in Asia. However, one has to say that Onigiri has become distinctly Japanese and has been imbued within the Japanese culture.
Onigiri has a long history beginning as far back as the Yayoi period (300 BC – 250 AD) and, at that time, was made of glutinous rice and wrapped in bamboo leaves. During the Heian Period (794 AD – 1185), the rice balls were made of brown rice and provided to servants. During the Sengoku, up to the middle of the 17th century Onigiri became part of the bento given to farm workers. The nori wrapped rice triangles and surrounded by a plastic wrapper become common from the 1970s on.
Onigiri can be stuffed with Kim Chee, tuna, salmon, omeboshi (Japanese plumbs), mayonaise, pork, vegetables and just about any filling you might believe would work with sushi rice. The rice "ball" can be wrapped in nori, or circled with a strip of nori, or made just plain. Yaki-onigiri is made from stuffed rice balls that are fried either in vegetable or sesame oil. I will have a blog concering yaki-onigiri later.
However, almost all of these recipes use sushi rice, see the blog on sushi rice. And almost all of them use nori in some way. The triangle wrapped packets can be easily made using a product that folds in steps keeping the nori from the rice so it doesn't get soggy. The ones I use are Jun Onigiri Nori Rice Ball Triangle Sushi Seaweed Wrappers, from Korea. These keep the nori and the rice seperate until you are ready to eat and combine them. But you can use just plain nori sheets without the fancy plastic wrapper, if you are going to eat them fairly soon after making them, otherwise the nori wrapper can become too moist. I will do a seperate blog on these wrappers at a later date.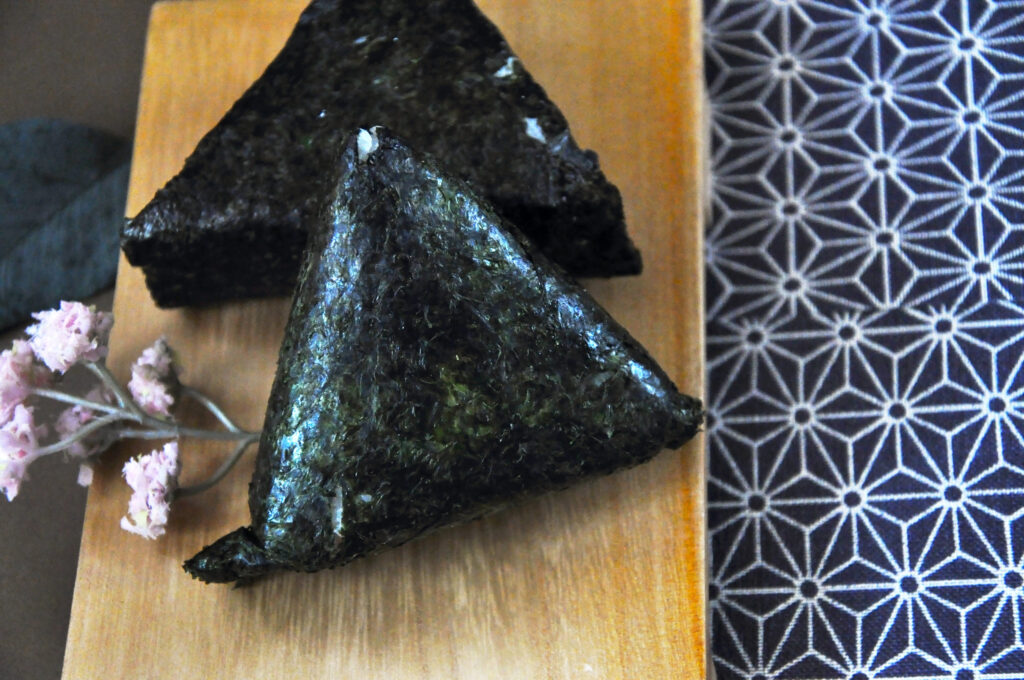 A number of different onigiri molds found in places like Amazon. The triangle is traditional and I use a simple mold that works well and is easily found on Amazon. They come in two different sizes, and I frequently use the smaller size. However, you can also use your hands, moisten them with water and make whatever shapes you wish. One easy way to make filled balls is to take a piece of plastic wrap, place the warm sushi rice on the wrap, then a filling. Just pull up all the edges forming into a ball and twise them to form the ball. I also put a bit of the sushi rice on top of the filling, which seems to help make an even rice layer. Onigiri make great additions to lunch, picknicks and are easily transported.
The fillings, as mentioned, are also varied and open to individual creative approach. All vegetarian works well, as does shrimp or pork. Onigiri can be fried, as mentioned above, and I will do a seperate blog on this approach.
In the following recipes I will list four fillings, Bonito flakes, Kim Chee, tuna and salmon. Also the sushi rice recipe I use is already on my site. Don't forget to put in the Kombu to the rice and water in the rice cooker, which adds an added layer of flavor. All in all, this is a wonderful and easy wrapped packet that can be used as an appetizer, lunch, bento box, or taken to a tailgate. Further they are eye-appealing as well.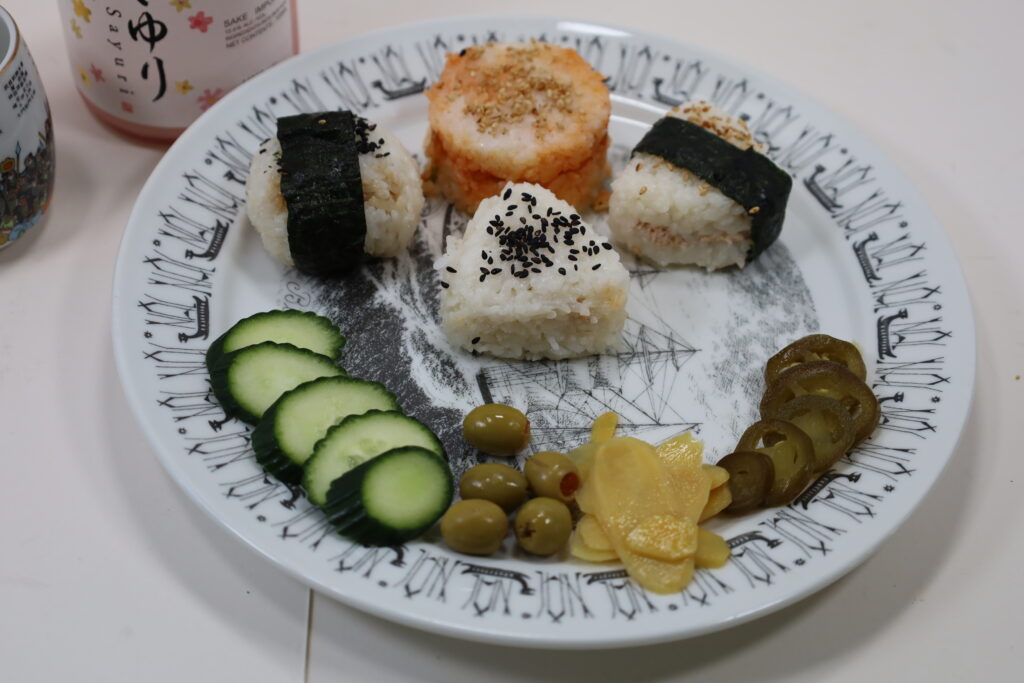 Onigiri
This recipe is great for making a simple delicious appetizer or main dish. I describe 4 types of filling and in the picture made 3 of them as described. The fillings described below will fill onigiri depending on the size of the onigiri. Smaller sizes obviously use less filling and you can fill more. Larger ones will use more filling.
Ingredients
Kimchi Filling
¼

Cup

Kimchi (Homemade if possible)

1

tsp

Gochujang

See notes.

1

tsp

Sesame Oil

1

tsp

Roasted sesame seeds

¼

tsp

Fresh Ground Black Pepper
Tuna Filling
1

Garlic clove minced

2

tsp

Soy Sauce

2

tsp

Honey

1

Jar 6.7 ounces of tune in olive oil

See notes.

1

tsp

Sesame Seeds
Bonito (Okaka) Filling
2

Packets of bonito flakes (approximately 3 ounces)

See notes.

2

TBPS

Soy Sauce
Salmon Filling
2

tsp

Soy Sauce

1

garlic clove minced

2

tsp

EVOO

1

Salmon filet about 7 ounces
Assembly
4-5

Cups

Cooked sushi rice still warm

This will take approximately 2 cups of uncooked sushi rice. See Notes.

Nori sheets

See notes.

White and Black Sesame seeds
Instructions
Kimchi Filling
Chop up the kinchi into smaller pieces about 1/2 inch or less.

Add the gochujang, sesame oil, sesame seeds and black pepper and mix well.

Set aside or place in the refrigerator for use later.

This will fill about 4-6 onigiri.
Tuna Filling
Add the garlic, soy sauce, honey and tuna to a fry pan and stir fry for a few minutes until the garlic becomes fragrant.

Turn off the heat and let the filling cool, then add the sesame seeds.

Set aside, or place in the refrigerator for use later.

This will fill about 10 onigiri, depending on size.
Bonito (Okaka) Filling
Mix the bonito flakes and soy sauce in a small bowl and mix well.

This will fill only about 5 onigiri. You can double of triple the recipe.
Salmon Filling
Mix the soy sauce and garlic well in a small pyrex cup.

pour the EVOO over the filet, and spread with your fingers and hands, or use a brush.

Place the coated salmon filet in a pyrex baking dish.

Bake until the fish flakes easily.

Flake the fish into small pieces, set aside to cool. Once cool use or place in the refrigerator for later.
Assembly
4-5 cups of sushi rice still warm. It is important to keep the rice warm. So let the sushi rice cool enough to handle. Wet your hands to form the various shapes you wish, this keeps the rice from sticking to your hands.

Is using molds, fill the mold about half way with the rice, add the filling, then cover with more rice. Use the top and push down to make a firm solid Onigiri. But do not pack it, just enough to make something that can be handheld and eaten.

Cut nori strips and wrap as you desire. Sprinkle with the sesame seeds.