Shrimp can be wrapped in all kinds of noodles and then deep fried. They make a great appetizer or full meal and have a great presentation. These can be a great addition to a tailgate party as well. Using a good dipping sauce will crank up the savoriness of this dish. Wheat Flour and rice flour noodles can be wrapped around shrimp and deep fried in a variety of ways. But I have not seen a recipe for glass noodles or Mung Bean noodles used in this way. I have used 3 types of noodles in the dish and pictures below, wheat, rice, and glass noodles. I use 3 Ladies brand for the rice noodles, for Ramen type noodles I like J-Basket type of Japanese Ramen noodles, and bean thread noodles.
The most difficult part of this dish is the wrapping of the noodles. Wrapping them firmly does not work that well, and once deep fried they look like a couple of spiders with long legs. However, using a small strip of rice paper makes these packets more compact. You can do this, or leave them without, up to you.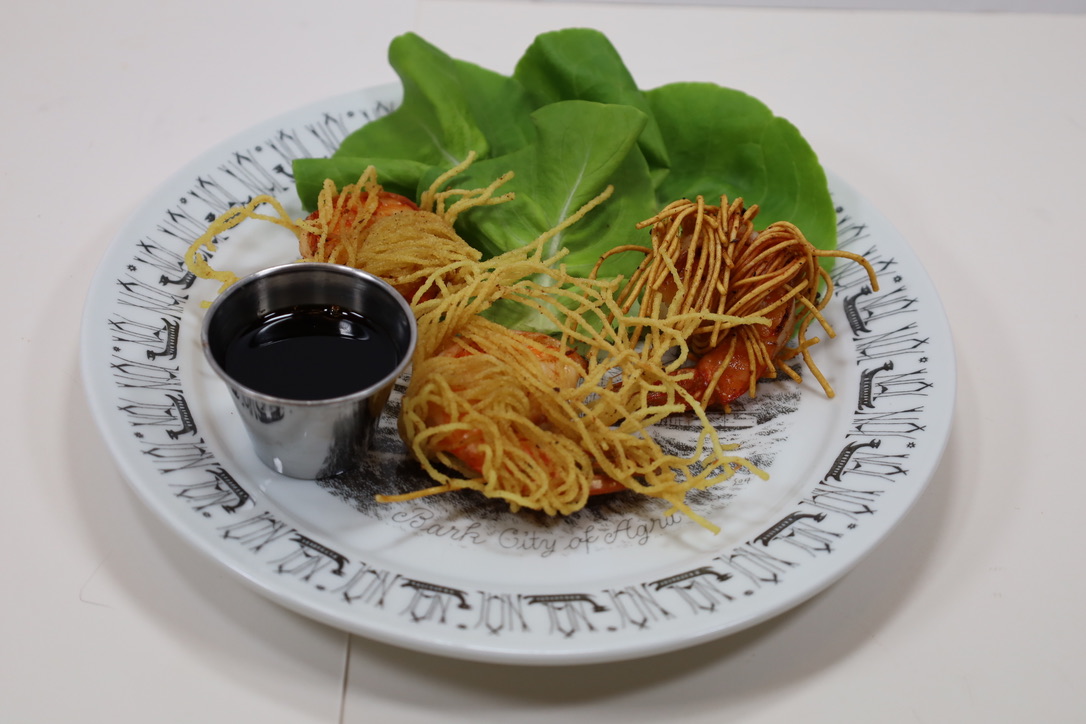 Above are 3 pictures. The first is the shrimp deep fried without the rice paper "holder". The second are the more compact deep fried wrapped shrimp. The last one is the 3 different types of noodles, wheat, rice and bean thread noodles. Further these have the rice paper "holder". Note that the rice paper shrimp have much more compact packets, but it is up to your preference.
Noodle Wrapped Deep-Fried Shrimp
Shrimp wrapped in various types of noodles and deep fried make a great savory and delicious dish.
Ingredients
Shrimp & marinade
1

lb

Large shrimp 26/30

Can be jumbo 21/25

1

TBSP

Chili garlic sauce

https://www.amazon.com/gp/product/B01756BJGA/ref=ppx_yo_dt_b_search_asin_title?ie=UTF8&psc=1

½

tsp

onion powder

1

TBSP

sesame oil

1

tsp

sea salt

2

ounces

Rice Stick, rice noodles

You can use one of these types of noodles, or use a mix. Use about 2 ounces of each if using all 3, or 4-6 ounces of a single noodle

2

ounces

Ramen type noodles

2

ounces

Glass noodles

1

quart

water or broth

1

tsp

tumeric

1

TBSP

soy sauce

I use Kikoman soy sauce, https://www.amazon.com/Kikkoman-Soy-Sauce-10-oz/dp/B00EWNAH68/ref=sr_1_4?crid=2DT0PO0R5UG4R&keywords=kikkoman+soy+sauce&qid=1646932124&s=grocery&sprefix=kikoman%2Cgrocery%2C83&sr=1-4

½

tsp

sea salt

1

tsp

ground black pepper

1-2

TBSP

Peanut or vegetable oli

1-2

sheets

Rice paper

I use 3 Ladies here as well, https://www.amazon.com/gp/product/B00EAFNGMA/ref=ppx_yo_dt_b_search_asin_title?ie=UTF8&th=1&psc=1

For the deep fryy, add vegetable oil, about 2 inches in the pan.

Bring the oil to 350-375. Do not crowd the pan, add 4 or so shrimp and deep fry them.
Instructions
Rinse the shrimp, and peel the shell leaving the tail. Pat dry on paper towels.

Add the chili garlic sauce, onion powder, sesame oil, and salt and whisk well. Place the shrimp in a bowl and mix well. Marinade for 30 minutes.

In a sauce pan, place the water/broth, tumeric, soy sauce, sea salt and pepper. Bring to a simmer and turn off the heat.

Place the noodles in the pan liquid, and let stand for at least 5 minutes. Then drain them. Let the noodles cool.

Add 1-2 TBSP oil to a fry pan. Remove the shrimp from the marinade and add them to a fry pan. Fry until nicely browned on both sides, but not completely cooked. They will finish cooking when deep fried.

Set the shrimp aside until cool enough to handle.

Wrap the shrimp with noodles, about 10-15 strands depending.

Place the rice paper in water and when pliable, cut strips about 1/2 inch each. Once the shrimp is wrapped with the noodles, wrap the piece of rice paper around the noodles. This helps to keep them in place, see the pictures. You don't have to do this step and the shrimp will look like the pictures below.

Deep fry the noodle-shrimp wrap until browned about 30-60 seconds. Keep the temperature between 350-375 and use a thermometer. Then remove the shrimps and place them on a wire rack, then place them on paper towels.

Serve with dipping sauce. They can be served at room temperature.
Notes
*I suggest that you keep the noodles seperate. If you are using all 3, place 2 ounces in the sauce pan, when pliable take them out and place in the second noodle, then the third. 
Dipping Sauce
This is a simple sweet and savory dipping sauce you can use for the shrimp.
Ingredients
½

cup

Soy sauce

⅓

cup

Honey

¼

cup

Sliced green onions
Instructions
Place the soy sauce and honey in a bowl and whisk until well mixed. Then add the green onions.

Use this as the dipping sauce for the wrapped shrimp.