Mpanagtigghi (pronounced "Mep-an-a-tig-ge") is a very unusual cookie made with cooked ground meat. This sounds odd, but the taste is tremendous. The Mpanatigghi is a Sicilian chocolate and meat cookie. The origin of these cookies is thought to be from the Spanish empanada. In fact the name is derived from Spanish meaning to wrap or cover with bread dough. In Sicilia these cookies are famous in Modica. They are thought to have arrived in Italy during the 16th century. One story tells of nuns disguising meat inside these and giving them to priests who were observing the fast during lent in order to sustain them during that time. Additionally, these are also called "travel biscuits" since these cookies are high in nutrition and have long shelf life (up to 2 weeks). Try to put aside the idea of a meat cookie and try these unusual but delicious cookies. These can be coated with powdered sugar, which I feel adds to their flavor, or not as in the pictures below. Add an amaro, such as Montenegro, and you have a wondderful dessert!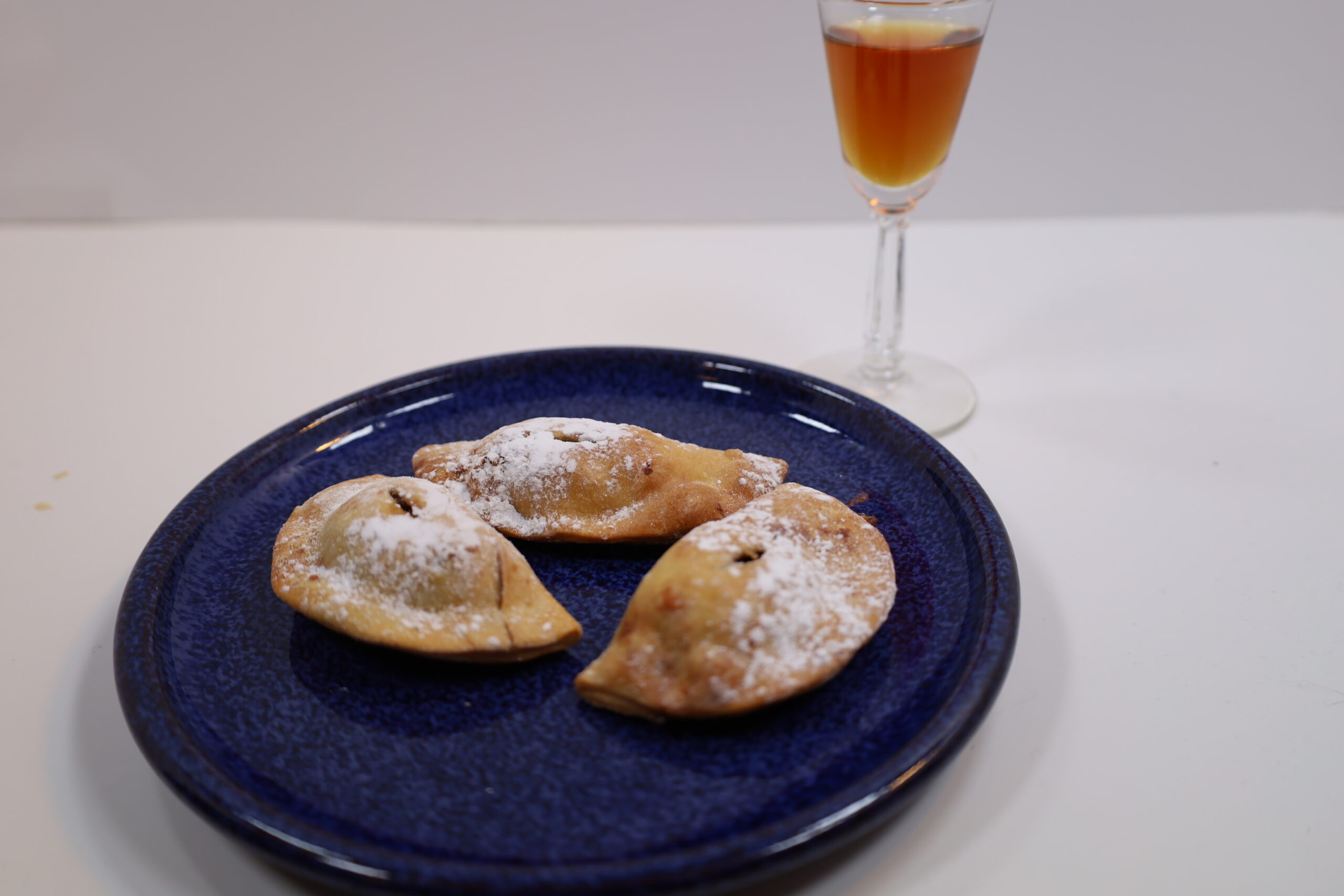 Mpanagtigghi – Sicilian Cookies
These are classic Sicilian cookies and made with meat. Yes meat … but they are delicious.
Ingredients
Dough
2½

cups

Kind Arthur All-Purpose Flour

4

TBSP

unsalted butter cold

3½

TBSP

Honey

5

Egg yolks

¼

cup

Marsala Wine

Ice water as needed by tablespone
Filling
1

TBSP

EVOO

4½

ounces

80/20 Ground Beef

¼

tsp

Sea Salt

4½

ounces

Whole (or sliced) almonds (about ¾ cup)

2

ounces

Candied fruit

2

ounces

Bittersweet chocolate chopped

2

ounces

honey

½

tsp

Cinnamon ground

½

tsp

Nutmeg ground

4

Latge egg whites
Assembly, baking and serving
1

Large Egg

1

TBSP

ice water

Powdered sugar
Instructions
Dough
In a food processor bowl the flour and salt and pulse to mix well.

In a seperate bowl, whisk and mix the honey, egg yolks and Marsala wine.

Cut the buter up into small pieces and place in the food processor and pulse until it is pea sized.

Add the liquid to the flour and pulse until a dough ball begins to form.

If more liquid is needed, add the ice water by tablespoon. Process until a good dough ball forms.

Remove the dough ball to a flat, clean floured surface. Form the dough into a flat disc.

Cover with plastic wrap and place in the refrigerator for 1-2 hours. You can refrigerate overnight.
Filling
In a skillet add the EVOO over medium high heat. when the oil begins to shimmer add the meat. Add the salt and cook until browned. Set aside.l

In the bowl of a food processor add the almonds, and process until fine.

Add the candied fruit, chocolate, honey and process until there is a medium fine meal consistency.

Add the beef, cinnamon, bnutmeg and pulse to combine.

Add the egg whites and pulse until well mixed.
Assembly, Baking and Serving
Heat the over to 350 degrees F

On two cookie sheets place parchment paper.

Take out the dough and flatten. Using a pasta maker roll out the dough to about 1/8th inch thick.

Place 1 ½ – 2 tsp of the filling offset on each of the flour disc, Moisten one side of the disc with water, fold over to a half moon shape and seal.

Place the egg and water and whisk well.

When you have all the discs filled and sealed, brush each cookies with the egg wash.

Using a sharp knife, cut a small slit in the top of each of the cookies.

Bake 20-30 minutes untio golden brown. Remove from the oven and cool.

Dust the cookies with powdered sugar and serve.