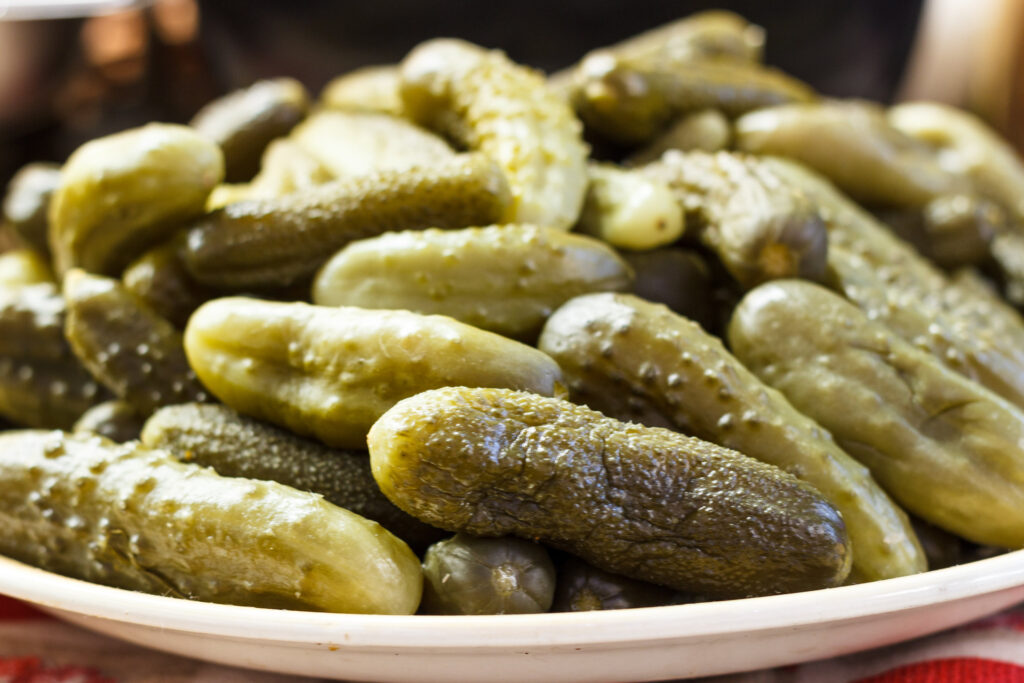 I am a pickle-holic! Olives, Dilly beans, Diakon and Dill PIckles are part of my diet. I have tried all kinds of recipes for dill picklets both pickled and fermented. I have never been able to get the fermented pickles to taste good. Not sure what I am doing wrong, as my SauerKraut and Kim Chee has always worked and I eat quarts of these fermented vegetables. So I have given up on fermenting dill pickles, but pickling the cucumbers has worked well for me. If you have a good recipe for fermenting, let me know. But you can try this recipe and I am sure you will enjoy these wonderful pickles.
Dill Pickles
Ingredients
2¼

lbs

pickling cucumbers

You can use English cucumbers sliced into "chips"

2

cups

water

3

cups

Apple Cider Vinegar (Organic)

2

TBS

Pickling salt

1

large bunch of fresh dill

¼

cup

honey

1

TBS

yellow mustard seeds

2

tsp

Dill seeds

2

TBS

black peppercorns

10

garlic cloves cut into slices

½

Vidalia or sweet onion sliced into thin sliced

¼-½

tsp

red pepper flakes

This is optional, I prefer a bit more spice. This can also be left out.
Instructions
Place the water, apple cider, pickling salt, honey, mustard seeds, dill seeds, and black pepper corns in a saute pan and bring to a boil. Boil for 5 minutes, then turn off the heat and let cool. It does not need to cool completely, just enough for you to pour over and fill the jars.

As with any fermenting or pickling wash the canning jars, and tops in the dish washer.

Wash the cucumbers, cutting off the flower end.

Cut the cucumbers long ways into quarters. These can also be cut into 1/2 inch slices. If the curumbers are too long so that they can't be covered with the brine, cut them in half.

Slice the onion and garlic. Divide so that you have portions for each jar.

Once the jars are clean, pack them with the cucumber spears, garlic, onions and dill sprigs.

Pour the pickling brine over the jar ingredients. You should have enough to cover the congtents.

Cover the jars, and set in the refrigerator.

You can eat these the same day, however, I much prefer to let them sit so there is a good dill pickle taste. They will keep for weeks, and frankly are better the longer they sit.